Happy New Year and 2015! One of the most popular New Year's Resolutions each January usually is fitness related.
Everyone wants to get into better shape for the summer and upcoming year. For hockey players, getting into shape for the fall is what the goal is.
Summer is the time to recover from the season, build muscle, improve quickness, and then the hockey season is all about maintenance.
To be a superstar in the National Hockey League in 2015 it takes pure talent as well as an incredibly high work ethic. Steven Stamkos is a superstar in this league that works hard in the offseason and follows a specific diet to maintain elite status.
Stamkos prepares his body right in the offseason and  is instructed by a trainer he has worked with since the summer after his rookie year in the league, Gary Roberts.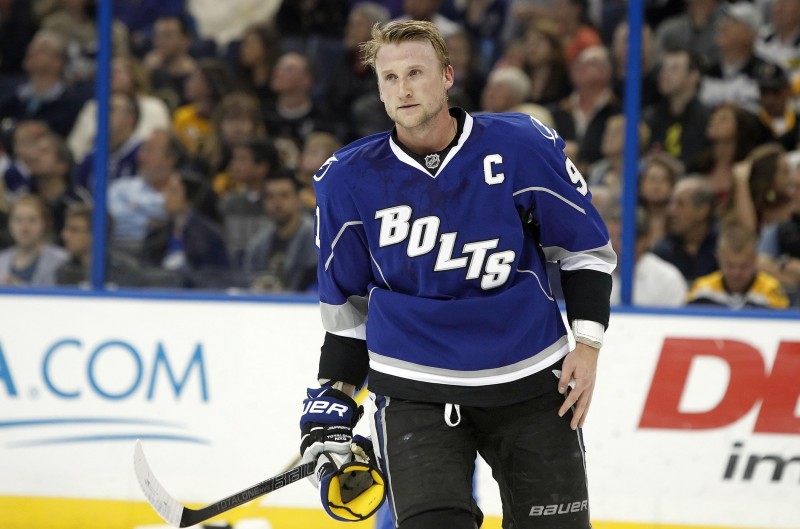 Gary Roberts Strong Work Ethic
Gary Roberts and Steven Stamkos have a unique relationship. Stamkos was a rookie in the league during Roberts's final season with the Tampa Bay Lightning during the 2008-2009 season.
Roberts became a fitness fanatic and a passionate advocate for working out and having proper nutrition during his NHL career. Roberts played in the league from 1986-2009. In 1,224 NHL games Roberts scored 438 goals, 472 assists, 910 points, and had over 2000 penalty minutes. He won a Stanley Cup in 1989 with the Calgary Flames.
He definitely played a physical style and pointed out that in the NHL in the past there were a lot of things you could get away with that would not be accepted today.
"What we used to be able to do years ago, were if your legs didn't feel good one night, you could put your stick around somebody and you could hang on. They could drag you around the ice and you could hide and get away with it. Nowadays with the rule changes and the speed of the game, it's going to be tough to hide out there," said Roberts.
Roberts's Early Retirement and Comeback to Hockey
After the 1996 season Roberts retired from hockey for 18 months due to neck injuries. After a few months of unhealthy food choices, a new career he was not passionate about, and a sedentary lifestyle, he decided to rededicate himself to training and over time he felt like he might be able to potentially play hockey again.
Roberts, who admittedly developed a lifestyle of drinking beer and eating wings, completely dedicated himself to nutrition and fitness and revived his NHL career. Roberts was incredibly able to play 12 more seasons in the NHL and consistently kept a high performance diet and training program.
He learned as much as he could about the fitness industry and was able to play into his early 40's because he prepared the right way and had a top notch work ethic. He became passionate about fitness and nutrition, and wanted to share what he learned over the years to younger players.
Roberts Mentors Stamkos: Summer 2009
Roberts asked Stamkos to train with him in his personal gym at his house in the summer of 2009. The results were a 51 goal sophomore season for Stamkos. Suddenly people took notice of Roberts's training program. What worked so well? Stamkos was easily able to relate to his trainer.
"To be able to relate to a trainer was huge. He has gone through it, has played in the NHL, knows what the body feels like on a day-to-day basis. Watching him helped too. There was a 42 year-old-guy at the time who was the hardest-working guy on our team," said Stamkos
Hockey Specific Workouts
Roberts creates offseason regimens for each player he trains and makes it hockey specific as well. The general program includes general stengthening and postural corrections in the athlete to recover from the hockey season.
After the first four weeks they get ready for the heavier lifting. Roberts's philosophy is including hockey specific workouts in his programs, while making sure players don't overtrain, and enhancing  recovery time with rest and proper nutrition each day. He has a cook that prepares meals for all the athletes he works with.
Speed is worked on every other day with the athletes participating in sprints, side to side lateral movements, as well as sprinting while pushing a heavy sled. At the end of workouts there is treadmill work to be done except this treadmill is self-generated !
The treadmill work includes five 30 second sprints where a speed of over 12 MPH must be maintained for interval sprints. Below is a video where you can see Roberts's personal philosophy and thoughts on fitness and nutrition as well as exercises that he does with two of his clients: Steven Stamkos and Stephen Weiss.
Gary Roberts High Performance Centre
Gary Roberts is currently the head trainer at the Gary Roberts High Performance Centre located inside the Fitness Institute  in North York, Ontario. According to the Fitness Institute Website, Gary Roberts has been training clients there since the Fall of 2011 and also has partnered with Beretta Farms in promoting health nutrition to the players.
Neal (@jneal_18) opting for the skate-thru at @fooddivo 'a #REFUEL station. #PREPweek pic.twitter.com/c0KxBCzXLI

— Gary Roberts High Performance Training (@GaryRobertsHPT) August 27, 2014
The meals are all organic and designed to ensure optimal recovery from the workouts. Here is a video of a training day for Steven Stamkos, Roberts's original client.
Roberts's High Intensity
Roberts will continue his new career with the same passion and intensity he had on the ice. His client list continues to grow, but he prefers to only have a certain number of clients to maximize their results and focus on what they need to be successful.
Other players that have been trained by Roberts include Nazem Kadri, Jeff Skinner, James Neal, Cody Hodgson, and more. He also works with players in the AHL and Canadian Hockey Leagues. A Penguins prospect Reid McNeill had high praise for Roberts after spending the summer of 2013 following his program.
"He's unbelievable. He definitely knows how to train you in a way that will prolong your career, it's not so much a sprint, it's more a marathon," said McNeill.
Roberts tries to help his clients stay on the ice to the best of his ability and does some mobility and flexibility work with his clients. An example of his desire for success and continued competitiveness is seen by Roberts when he occasionally runs with his clients during their workouts. Not many personal trainers today are seen doing that.
If you want to know more about the Gary Roberts High Performance Centre, check out the Fitness Institute website via the link below. To get nutrition advice and up to the latest information from Roberts you can follow him on twitter @GaryRobertsHPT.
http://www.fitnessinstitute.com/
Article Quote 2 from Dan Rosen article featured on nhl.com- http://www.nhl.com/ice/news.htm?id=640438
Article Quote 3 from Ian Altenbaugh article from hockeysfuture.com- http://www.hockeysfuture.com/articles/94621/reid-mcneill-among-the-newest-players-to-spend-off-season-training-with-gary-roberts/