The Dallas Stars are the envy of many teams across the NHL – and if they aren't, they should be. Not only do they have a championship-caliber roster heading into the 2023-24 season, but they also have more than a handful of prospects that should be knocking on the NHL's door this season. Because of this, they are set up to be a problem in the Western Conference for the foreseeable future.
While the Stars simply have too many bodies in place for all of their top prospects to join the team right out of the gate, the roster is always a fluid situation as players come and go for various reasons. When opportunities present themselves, these are the prospects that could step in and fill a role in the NHL.
(D) Lian Bichsel
Selected 18th overall in 2022, Swiss defenseman Lian Bichsel checks a lot of boxes that NHL coaches and general managers look for. He is big (6-foot-5, 225 pounds), surprisingly mobile, and he takes care of business in his own zone. He won't add electricity to the Stars' blue line in terms of offense, but he has all the makings of a future elite shutdown defender in his prime. The overall maturity of his game may very well lead to a spot in the NHL sooner rather than later.
---
Latest News & Highlight
---
"That's why they wanted me," Bichsel said during development camp. "I like to have the puck on my stick, I like to make plays but also I like to hit guys and be nasty on the ice." (from "Stars development camp observations: Lian Bichsel hype, Ben Bishop's return, more", The Athletic, 7/6/23)
Given the sheer amount of defenders the Stars already have on one-way contracts, Bichsel is more than likely destined to begin his first season in North America with the Texas Stars of the American Hockey League (AHL). There, the coaching staff will work with him to develop his offensive game, which would elevate his overall ceiling. But his bread and butter will always be forcing opposing forwards to look over their shoulders when they're in the Stars' zone.
With offensive guys like Thomas Harley and Nils Lundqvist already on the Stars' blue line, Bichsel would offer a different look and another element to the Stars' defensive group. If and when Bichsel does get the call, it may only take a thunderous hit or a solid defensive sequence to sell Dallas on their team's top defensive prospect.
(C) Mavrik Bourque
Mavrik Bourque is, without a doubt, one of the Stars' top prospects. Drafted 30th overall back in 2020, he's a center that could be shifted over to the wing, and his offensive game is already apparent just one season into his professional career. Last season with the AHL Stars, he recorded 20 goals and 47 points in 70 games; to put that into perspective, Roope Hintz finished his first and only full AHL season with 20 goals and 35 points in 70 games back in 2017-18.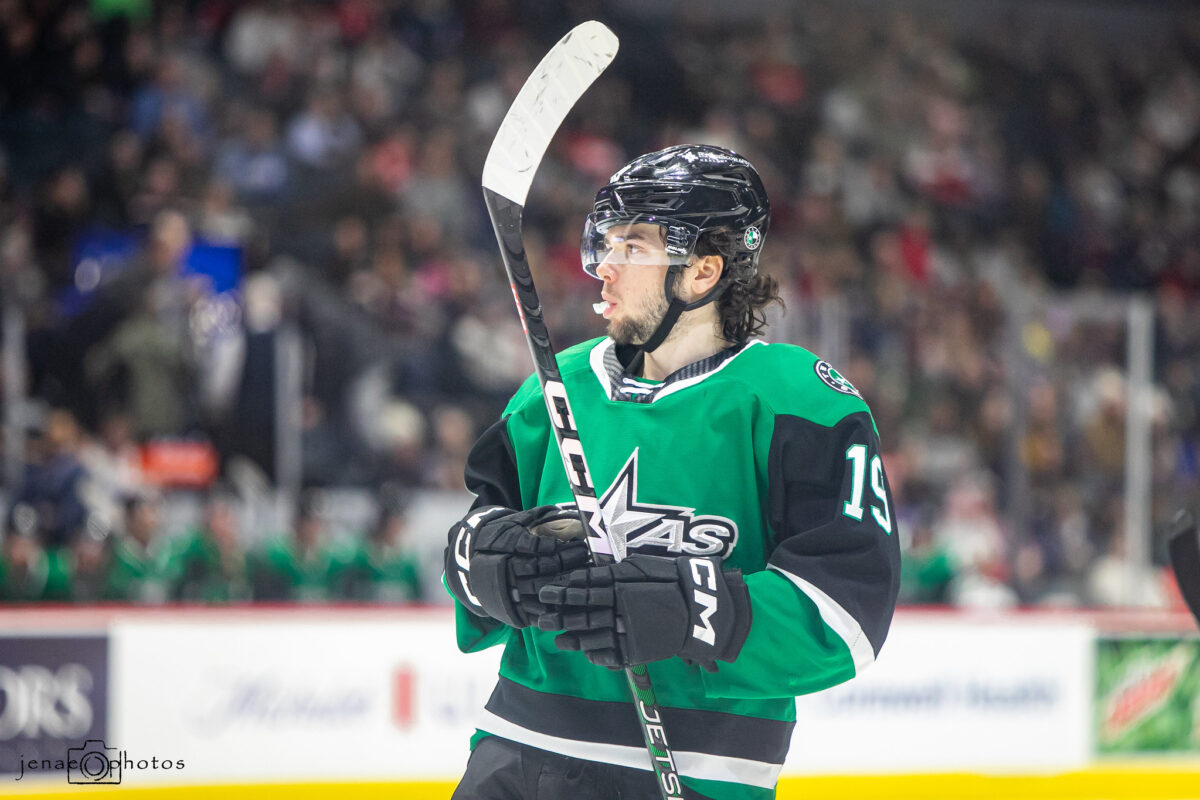 To make his way into the NHL lineup, a spot in the Stars' top nine would have to become available to him. If he were to force his way onto the roster from the get-go, that opportunity would likely come on the wing. That being said, injuries or line tinkering by head coach Pete DeBoer could create an opening for Bourque to fill.
Regardless of how Bourque secures his opportunity, he looks to be one of the Stars' most NHL-ready prospects. To go back to Hintz, he followed up his first AHL season with 22 points in 21 games before making the leap to the NHL on a full-time basis. If Bourque can light the AHL on fire the same way that Hintz did back in 2018-19, he'll find his way to Dallas before long.
(D) Christian Kyrou
With 20 goals and 77 points through 64 games last season, Christian Kyrou was an absolute menace in the Ontario Hockey League (OHL). The silky-smooth puck-moving defender managed to find another level to his game after he was traded to the Sarnia Sting mid-season. He finished out the campaign with nine points in 14 playoff games while playing a big role for the Sting. He may have been drafted 50th overall back in 2022, but it's already starting to look like the Stars got a steal in the second round of that draft.
The Stars clearly liked what they saw out of Kyrou this season, signing him to an entry-level contract back in March. The soon-to-be 20-year-old looks set to embark on his first season as a pro with the AHL Stars. Given his overall lack of size (5-foot-10, 183 pounds) and his propensity to have the puck on his stick, he might be a good partner for Bichsel this season in the AHL. Their skillsets compliment each other, and there's enough talent between the two of them to form a truly dominant defensive pairing.
If the NHL roster encounters injuries to the offensive pieces on the blue line, the Stars may opt to give Kyrou a taste of the big league. His brother Jordan made the St. Louis Blues' opening night roster in his age-20 season before finishing out the season in the AHL. It is unlikely that Christian begins his season in the NHL, but if he can carry over the momentum he had last season in the OHL, he could be wearing skyline green before the end of the season.
(C) Riley Damaini
As the only player listed here that wasn't drafted within the first two rounds of his draft, Riley Damaini stands out among the crowd here. Drafted 137th overall back in 2018, he is also the only player on this list that has already played games in the NHL, scoring his first NHL goal in his first NHL game back in December of 2021. Though he hasn't been in the NHL since February 2022, he has continued to make a name for himself in the AHL.
The 2021 winner of the Dudley "Red" Garrett Memorial Award as the AHL's top rookie has been a steady contributor across three seasons with the Texas Stars. Demaini has 103 points through 150 AHL games, making him one of the veteran young guys on the AHL roster. His offensive potential might be limited at the NHL level, but his high compete level and overall experience could lead him to Dallas under the right circumstances.
Demaini isn't the sexiest name on this list, nor is he the player capable of making the biggest difference should he earn playing time in the NHL. However, the self-described "rat" could be exactly what the Stars need if they find themselves needing a bit of snarl in their lineup down the stretch. With so many other prospects chomping at the bit to make their NHL debuts, he is a bit of an underdog that could be fun to cheer for if he makes his triumphant return to the NHL.
(C/RW) Logan Stankoven
If any rookie or prospect can crack the Stars' opening night roster, it's Logan Stankoven.
The 47th pick of the 2021 draft was the captain of the Kamloops Blazers of the Western Hockey League (WHL) last season, and he finished the year with a whopping 34 goals and 97 points in 48 regular season games. He followed that up by notching 10 goals and 30 points through 14 playoff games. No matter how much pressure he faced, Stankoven simply dominated at the WHL level. He also had three goals and 11 points in seven games with Team Canada during the World Juniors.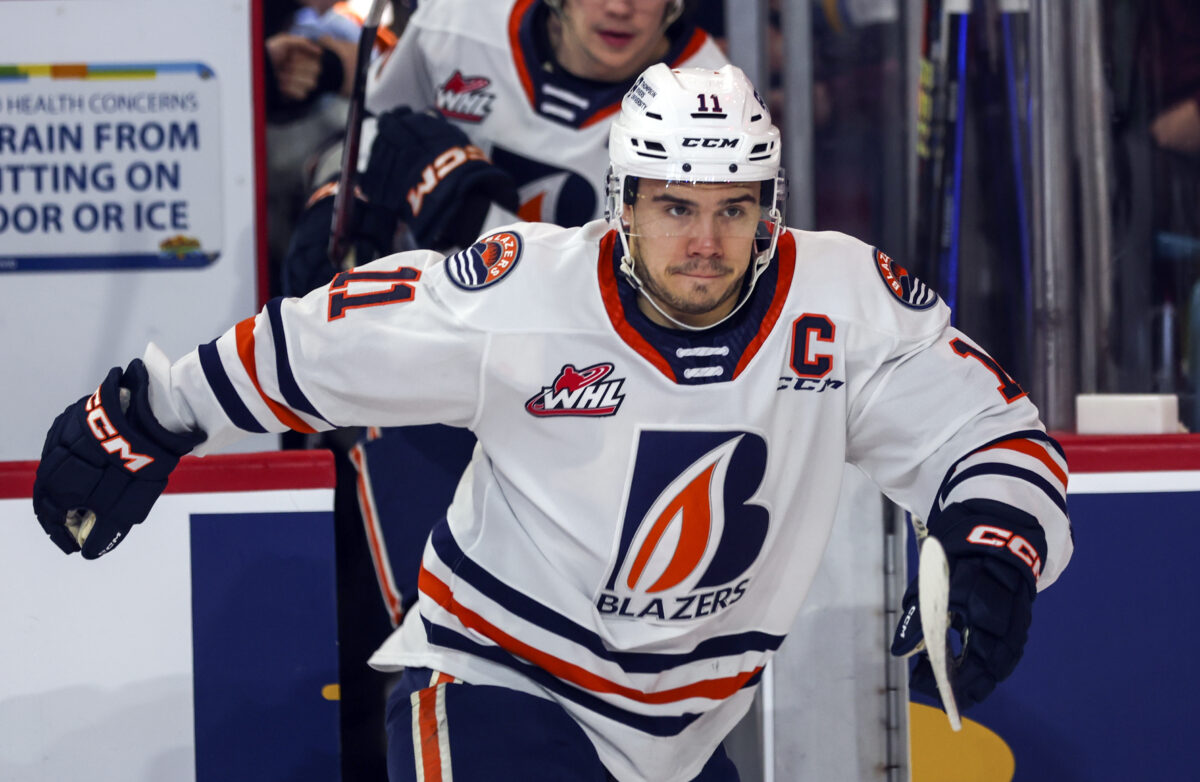 What Stankoven lacks in size (he stands at just 5-foot-8, 170 pounds) he makes up for in raw offensive skill. He buzzes around the offensive zone with authority and he is just as lethal as a shooter as he is a passer. He could find a fit in the Stars' middle six, possibly along Tyler Seguin and Matt Duchene in what would be a potentially potent offensive line. His sheer offensive ability and potential would elevate the Stars' ceiling as a team, and that might be exactly what they need to return to the Stanley Cup Final.
Who did I miss? Share which prospects and rookies you think have a chance to join the Stars' roster in the comments section down below!
---