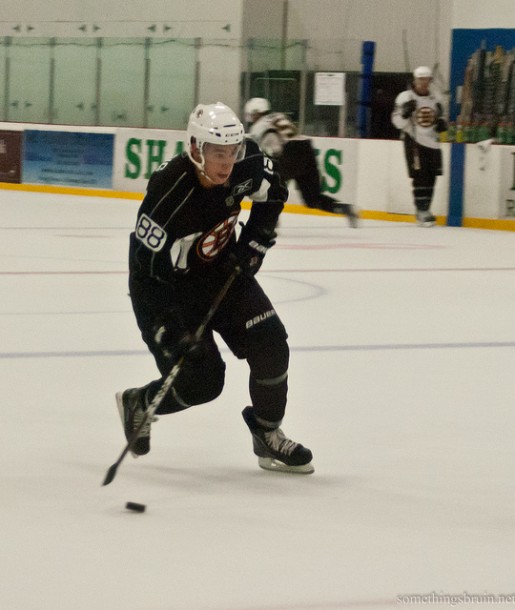 A week has passed since the end of the Boston Bruins' 2011 Development Camp in Wilmington, MA. Time to look back at those five entertaining and enlightening days with a specific eye towards the biggest surprises and best performances of those on-ice sessions. First, let's take a brief look at some of the biggest and most unexpected revelations at Ristuccia Arena last week: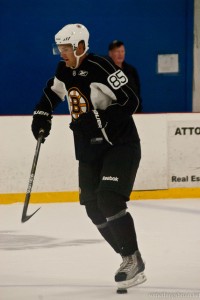 Justin Florek – On more than one occasion, Florek, who will return for his senior season with the NMU Wildcats this winter, looked like a force on the ice. With strong physical play, both along the boards and in front of the net, the Marquette, Michigan native looked not at all out of place in his second summer in Wilmington.
Florek's shot was the real story, though. In the first scrimmage on Day Four he scored two excellent goals with powerful snipes that really put him on the map. My notebook was laden with "nice shot by Florek" notes… his wrister is both hard and accurate, with a reasonably quick release.
At 6'4, and nearly 200lbs, he has the frame and gritty mindset to be a force in front of the net. His skating is mediocre and he doesn't have excellent puck skills, so it's hard to project him much beyond a third-line Michael Ryder scoring type as his top potential… that said, his size should give him a decent shot at making it down the road… well down the road.
Josh Jooris – Jooris was a true revelation at camp as the undrafted and unsigned invitee did not look a smidge out of place among his talented comrades in Wilmington. After a 32 point freshman year with Union College of the ECAC, Josh didn't disappoint with a very solid showing.
A playmaker by nature (of his 32 points with Union, 23 were assists), he definitely showed the capability to be a solid distributor while displaying some creativity and vision. His skating was solid but not flashy in the drills, but he does a nice job changing the pace carrying the puck into the offensive zone to gain separation from defenders and open lanes.
The Burlington, Ontaro native was by far the best unsigned, undrafted invitee in my eyes, and while I doubt the B's will go so far as to sign him, his performance will probably earn him some second and third looks around the league and was a good step forward toward his NHL dream.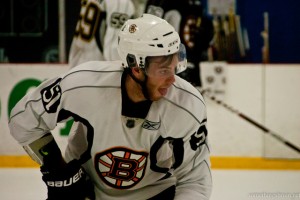 Anthony Camara – With an exceptional performance in Dev. Camp – Camara has certainly earned some attention. At 6'0, and solidly built, Camara played the physical game he was billed with… but he also displayed some decent puck skills, and offensive acumen that while unheralded, is definitely present.
His plus play is his checking and board game, without a doubt. He did a really good job mucking along the walls beneath the goalline, absorbing hits and keeping possession of the puck for his squad. He delivered some highlight-reel, crunching hits and plays with the kind of reckless abandon teams' adore in their bottom-line players. Still, he has some moves and offensive upside, and possesses a really nice power/finesse move to the outside.
One of the youngest players in the 2011 draft, Camara has a lot of growing to do. He's certainly not a plus finisher – his shot definitely needs work. In two full seasons in Saginaw, he's never scored ten goals or twenty points – hopefully something which will change this season. But his possession play and his hockey sense are really wonderful and he looks like a kind of intermediate between Shawn Thornton and Milan Lucic's games – which at the very least is exciting to think about.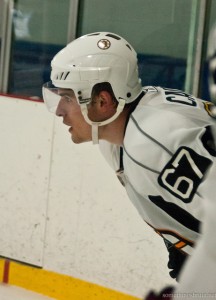 Marc Cantin – When the Bruins' signed the undrafted free agent in March following his fifth season in the OHL with his third team (Mississauga… he spent time with Windsor and Belleville in previous seasons) – there was predictably little fanfare, what you'd expect from acquiring a young man who was passed over twice in two previous drafts. However, his solid and eye-opening performance in Dev. Camp makes him a very intriguing young prospect.
The two things everyone notices about Cantin off the bat are his aggressive physical play and his solid to above-average mobility in all directions. The 21-year old dishes out punishing hits to unwary forwards and does a solid job staying with his man – he's very hard to shake.
A defensive-defenseman by nature, his statline through his first four OHL seasons didn't eclipse twenty points, but his final season with Mississauga St. Michael's Majors was a stunner, and he put up 10 goals and 41 points, garnering a second-team All-Star nomination and his third trip to the Memorial Cup. In Dev. Camp, his passes were solid and he seems to see the ice real well despite obviously not owning plus-skills offensively.
He has a lot to prove still, but with his impressive performance in camp, I can't help but be high on his chances to succeed. He doesn't have massive upside, but he projects nicely as a mid-to-bottom pairing shutdown and PK-guy. With a good rookie season in Providence, look to this youngster to earn a shot at the big club in 2012 or 2013.
Zach Trotman – The B's 7th-round pick in 2010 really stood out with some strong physical play and an excellent shot in five days at Ristuccia. The soon-to-be junior at Lake Superior State made a solid appearance at Development Camp.
With good mobility in spite of his 6'4, 200+ lbs. frame, Trotman does a good job playing the part of the defensive defenseman. He's got a mean streak, too, effectively punishing opponents along the boards and in front of the net.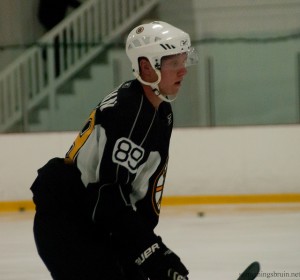 His shot is what struck me (thank god not literally). His slapper is certainly above-average, but his wrister is really a plus tool for a guy of his frame and talents. Very heavy with a nice release, it's not just thrown wildly toward the net, he has the ability to pick his corners and on more than one occasion ripped it top-shelf to beat the Dev. Camp netminders.
At this point in his development, it's difficult to say where he'll end up – but after this surprising showing, I have to think an upside as an above-average bottom-pairing defender is in the cards.
Brian Ferlin – The talented young man from Jacksonville, Florida will be attending Cornell University this fall, following at least one more hockey camp – the U.S. National Junior Evaluation Camp in August. Hopefully, this will earn him a spot on the roster of the U.S. U-20 Team for the World Juniors in Alberta this winter. His play at Dev. Camp may not have factored into that decision, but it was certainly indicative of his capabilities.
Ferlin is a talented offensive player with the wheels to break down opponents on the rush (despite a slightly awkward skating motion) and the offensive skills to find teammates or finish the play himself. At 6'1, 200+, he does well along the boards and was an effective part of the most productive line in the scrimmages (with Florek on the wing, centered by camp champ, Ryan Spooner).
A graduate of the USHL, Ferlin shows excellent hustle and drive both along the boards and when on (or chasing down) the rush. He evinced some sound hand-eye coordination and the ability to find the gaps in the zone or dish to a teammate who has. His shot is definitely above-average, and he did well in shoveling home several shots under pressure.
At his best, Ferlin probably fits in as a plus third-line NHLer with some decent production capabilities. I am curious to see if the B's or Cornell will try to tamper with his odd skating mechanics, as they seem to work well for him. A trip to the World Juniors may be a longshot, but if he does, it certainly couldn't hurt his growth.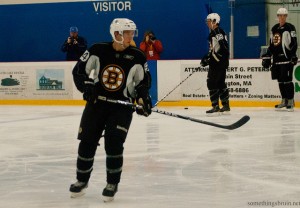 Bruins' 2011 Development Camp Superlatives:
Biggest Surprise: Tie – Marc Cantin, Anthony Camara
Best Slapper: Tie – Dougie Hamilton, Zach Trotman
Best Wrister: Jared Knight
Best Passer: Ryan Spooner
Best Puckhandling: Tie – Ryan Spooner, Alex Khokhlachev
Best Hitting: Marc Cantin
Best Hit: Anthony Camara on Alex Fallstrom
Best Skater: Ryan Spooner
Fastest Camper: Jared Knight
Best Defensive Pairing: Tommy Cross – Dougie Hamilton
Best Offensive Line: Justin Florek – Ryan Spooner – Brian Ferlin
Best Goalie: Michael Hutchinson
Best Defenseman: Ryan Button
Best Forward: Ryan Spooner
Camp MVP: Ryan Spooner
Most Ready For Prime Time: Tie – Ryan Spooner, Jared Knight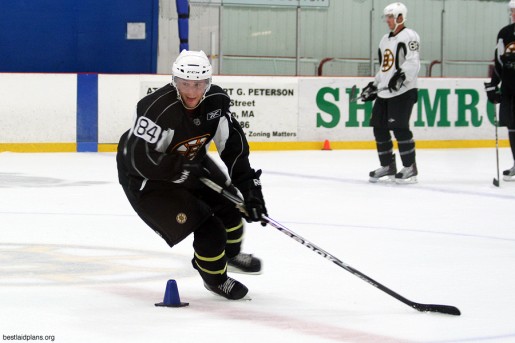 – thanks to slidingsideways for the Spooner image
Bob is a Boston Bruins Correspondent for The Hockey Writers. He lives in the Boston Metro Area with his wife, Amanda and their five-year-old son, Cormac.