The 2020-21 NHL season is upon us, and the Chicago Blackhawks lost their first two games by a relatively large margin. Based on injuries and their rebuilding status, this was expected. Especially against the defending Stanley Cup champions. Two games is a pretty small sample size, and with no exhibition games everyone is still working out the kinks. It's a little too early to throw in the towel. Besides, the Blackhawks showed marked improvement from their first game to their second. Let's dive into some observations from the Blackhawks' first set of games against the Tampa Bay Lightning.
Blackhawks' Game Results
@ Lightning, Wed. 1/13, Loss 5-1
@ Lightning, Fri. 1/15, Loss 5-2
---
4. Blackhawks' Stats Leaders
Dylan Strome and Alex DeBrincat are on top in the way of production so far, with a goal and an assist a piece. Adam Boqvist also has two points, as he was credited with the secondary assist on both power goals scored through the first two games. Patrick Kane has one goal, and Andrew Shaw one assist.
Related – Blackhawks News & Rumors: Colliton, Soderberg, Seabrook & More
Strome scored the first Blackhawks' goal of the season, coincidentally the only goal the team managed on Wednesday night. It was a bit of an accidental goal late in the third period when the Blackhawks were on the power play. Strome attempted to center the puck from behind the net, and it went off a skate and then the goalie's stick before sneaking through for the tally.
But a goal is a goal. Strome also assisted on Alex DeBrincat's beautiful power play goal on Friday night.
DeBrincat went on to feed Patrick Kane for his first tally of the season a few minutes later.
None of this comes as a big surprise. It certainly is nice to see some power play goals (two of seven attempts) to start the season. But more even strength goals are certainly needed. Pius Suter did his best to add his contributions; he leads the team with eight shots on goal (four in each contest).
Dominik Kubalik, on the other hand, is off to a slow start. For some reason he only played 11:30 minutes on Wednesday and didn't register any shots on goal. He played more on Friday (16:09 minutes) and was credited with three shots on goal. Look for Kubalik to step up in the near future, and for some of the depth players to contribute as well.
Work horse veteran Duncan Keith continues to lead the way on the back end. Although he didn't have the most minutes Wednesday night, he made up for it on Friday night with 23:44 minutes of ice time. His average TOI of 21:44 minutes leads the team, as well as his six blocked shots.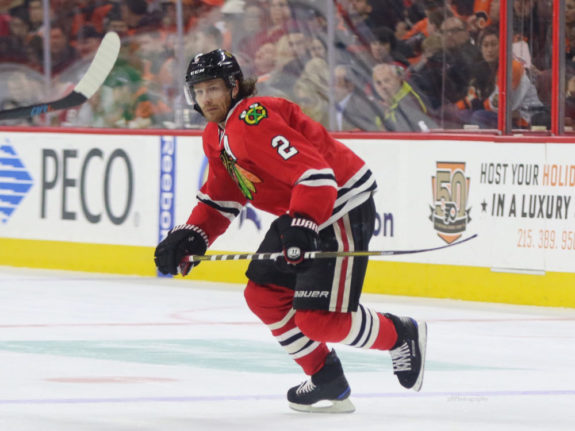 With the absence of Jonathan Toews, Strome has been tasked with the majority of the faceoffs for the team. In the first two games he took 34 draws and won 20 of them, for a very respectable 58.8 faceoff percentage. David Kampf was second in line, taking 20 draws and winning 65% of them. Hopefully they can keep this up, as the other regular centers (Suter and Lucas Wallmark) are both under 38% at the dot.
3. Suter, Mitchell, Kurashev Impress in NHL Debuts
Three players made their NHL debut with the Blackhawks in these first two contests, and they all did quite well for themselves. Suter debuted on Wednesday night. As referenced above, he led the team with eight shots on goal. The Blackhawks' Swiss acquisition was expected to mix into the top-six forwards, and it looks like he will do just that. He even had a chance to center Kane and DeBrincat in Friday's matchup. Head coach Jeremy Colliton has mentioned his ability to be dangerous in front of the net, as witnessed by this between-the-legs shot attempt.
Here's a closer look at Pius Suter's between-the-legs shot. #Blackhawks pic.twitter.com/qUBuCop0U7

— Brandon Cain (@brandonmcain) January 16, 2021
If Suter can keep this up, he's going to be fun to watch this season.
Defenseman Ian Mitchell also played for the first time in the NHL in the Blackhawks' first game of the season, as well as the second matchup on Friday. He was paired with Calvin de Haan, and you could tell the elder defenseman trusted his younger counterpart. Mitchell looked impressively comfortable and confident for this being only his first and second outing. He didn't stand out in any particular way, which is a good thing. That means he was playing solid and not making rookie mistakes.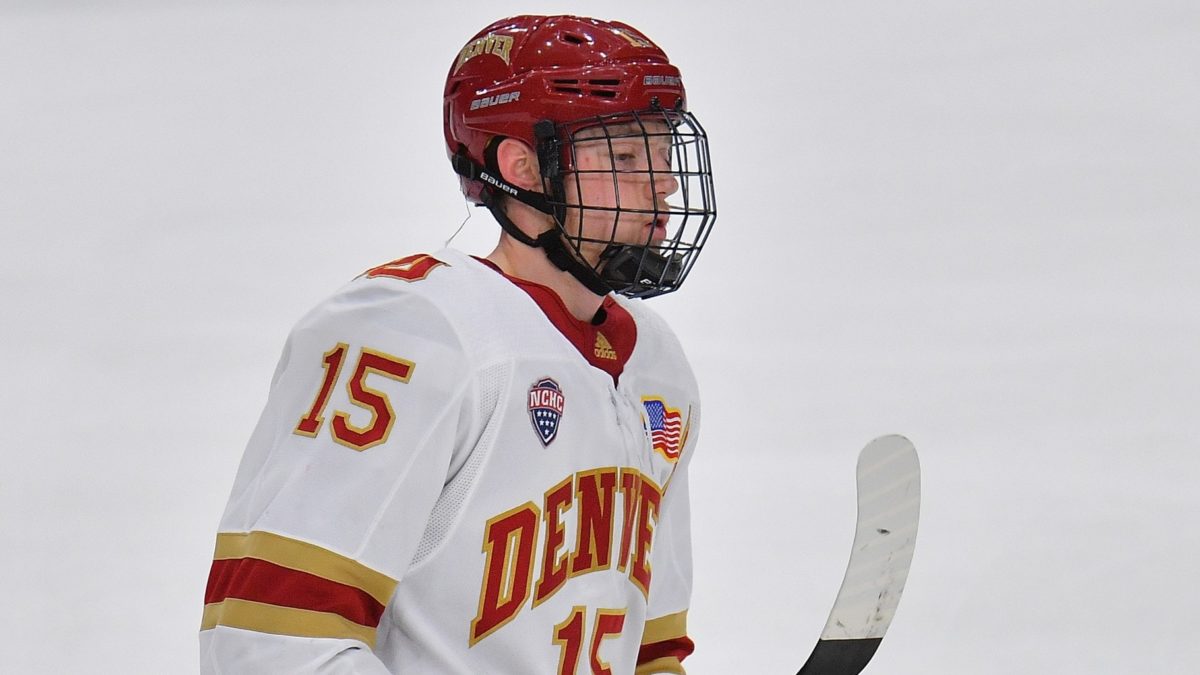 Finally, Philipp Kurashev replaced Brandon Pirri in the lineup on Friday. The 21-year-old played on the second line with Strome and Kubalik. He finished the night with two shots on goal and 14:05 minutes of ice time. While Kurashev might be one of the prospects that will rotating in and out of the lineup this season, he showed promise in his first outing.  
2. Crease Competition
Malcolm Subban got the start in net on Wednesday, whereas Collin Delia suited up Friday. Both goaltenders had their good and bad moments. Subban stopped 28-of-33 shots for a .848 save percentage, and Delia stopped 32-of-37 shots for a .865 SV%.
Subban struggled with tracking the puck and his rebound control. But this is to be expected after not playing for many months. Delia had a couple big guffaws where he had trouble playing the puck. It led to one goal allowed, and almost another.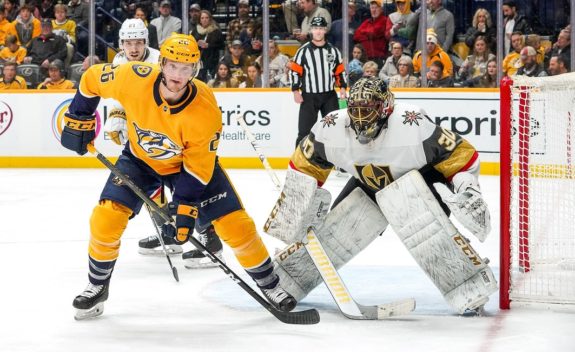 At this point, it's tough to say who is the better goaltender and who will get the next start. Many are claiming Kevin Lankinen should have a chance, but I think it's too early for that. Subban and Delia deserve a few more games to get comfortable and shake off the rust. Since Delia's confidence seemed the most shaken during Friday's contest, I would give him the net Sunday against the Florida Panthers to hopefully build his confidence back up. Then pass the baton to Subban for the second Panthers matchup.
Related – Blackhawks Need Taxi Squad to Drive Better Results in Net
I could see the Blackhawks switching between Subban and Delia every other game during their two games sets with opponents, so that they can both have exposure to learn and improve. This will also keep them fresh, and force teams to game plan for both goalie tendencies.
1. Blackhawks' Positive Adjustments
On Wednesday the Blackhawks were outplayed for most of the game after a fairly even first 10 minutes. They were down five goals and got a garbage goal at the end of the game.
On Friday the Blackhawks hung with the Lightning for most of the matchup, with the exception of a couple breakdowns in the second period that led to three quick goals by the opponent. But being down 3-0, they showed resiliency and fought back with two bam-bam goals of their own. They were pressing hard to tie it when an odd man rush led to a Lightning goal late in the game.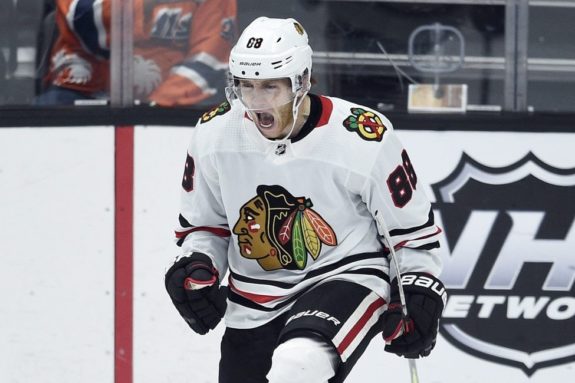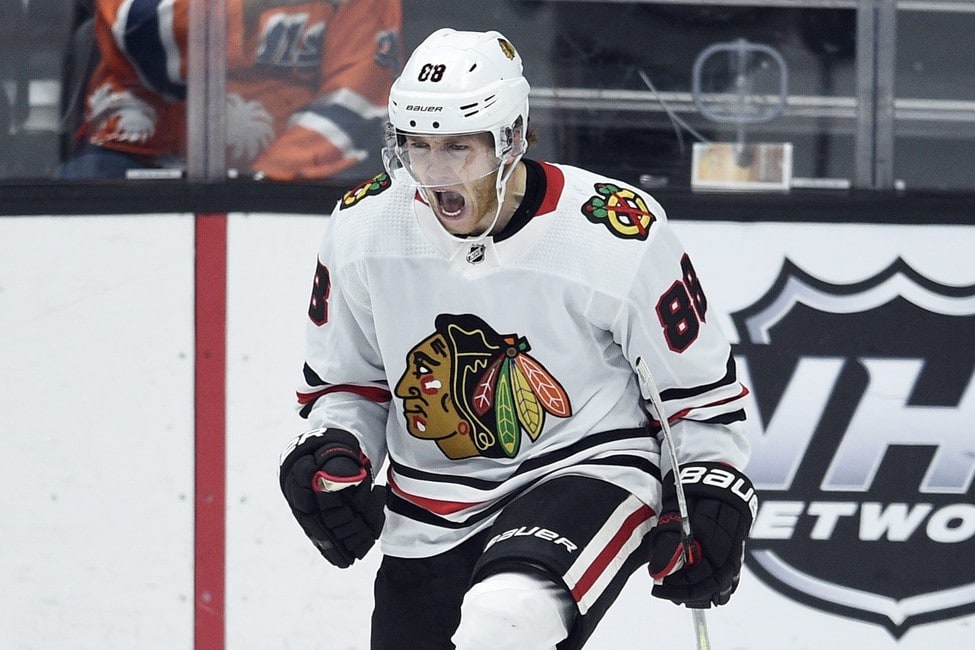 On Friday the Blackhawks were tighter defensively. They recorded 35 shots on goal Friday compared to only 23 Wednesday. All four lines made positive contributions. It was a much better overall effort, and this is something the team can build on moving forward.  
---
The Blackhawks didn't look the greatest these first two games. But they are just getting settled in. We should have a much better idea of where they stand when they match up against more middle of the road teams next in the Florida Panthers and the Detroit Red Wings. This season is going to be all about growing pains and development. But the whole idea is to get better as they go along.
It all starts Sunday and next Wednesday with a set of games against the Panthers, and then Friday and next Sunday when the Blackhawks host the Red Wings. Stay tuned for more observations, analysis and hopefully improvement as we go. Never a dull moment!
---
---
Looking for more Blackhawks content? Tune in to our YouTube Channel for Blackhawks Banter every Monday night at 7:00 p.m. CST (8:00 p.m. EST), or on our Facebook Page. Episode 10 is featured below.