It was the battle of the bottom. The two worst teams in the NHL squared off on Tuesday night. The Columbus Blue Jackets and the San Jose Sharks are deep in a race to the bottom of the standings for the top draft lottery odds. Not that you'd be able to tell based on how hard these teams played each other in this one. From the first faceoff through the overtime goal, this game was a wild ride.
The Sharks got off to an early lead from a quick Alexander Barabanov goal, but then things swung in the Jackets' favour. They scored the next three in a row before trading a few back and forth. Ultimately the game wound up heading to overtime and resulting in a victory for Columbus. The win came largely on the back of star Johnny Gaudreau who scored five points, including the game-winner. There were some takeaways from this win for the Blue Jackets, let's have a look at a few.
Blue Jackets' Power Play Is Getting There
We've talked ad nauseam about the Blue Jackets' power play this season. Mostly about how it makes no sense that a power play starring Gaudreau and Patrik Laine can be converting on less than 20 percent of its opportunities. The important thing to remember is when new players get together sometimes it does take a few months or even a season to get to that level of knowing where each player is going to be at any given moment. Chemistry isn't always instant, but it looks like it's starting to brew in Columbus.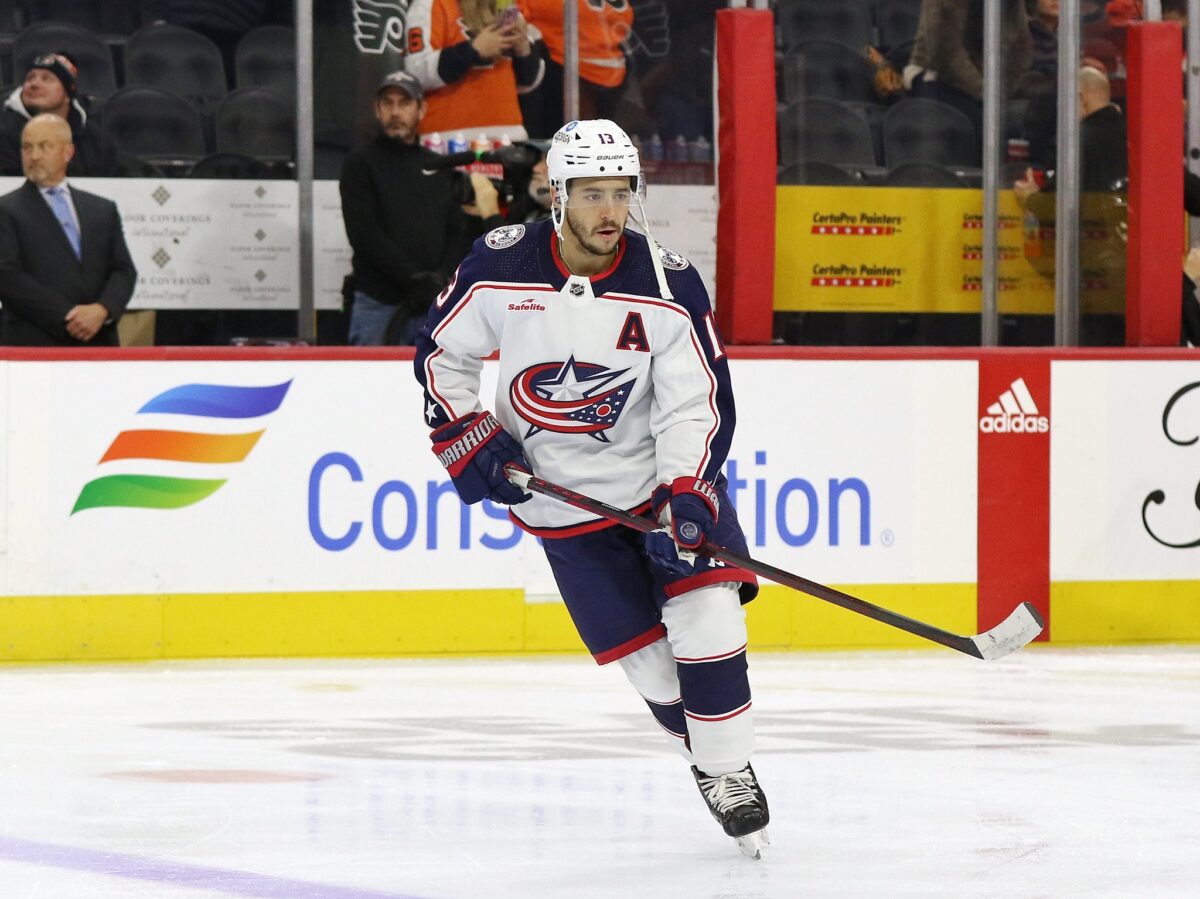 No, they didn't technically score on the power play against San Jose. However, they looked pretty darn good. Particularly in their first opportunity in the second period, which led to a Kent Johnson goal seconds after their man advantage expired. Their puck control was exquisite and kept the Sharks from touching it for about a minute and a half.
They've found an excellent combination for their top unit, headlined by Gaudreau and Laine, featuring the gritty captain Boone Jenner, high-energy rookie Kirill Marchenko, and quarterbacked by the smooth-skating Adam Boqvist. There is a lot of hockey IQ in that group and the puck was bouncing around like a pinball between them. Maybe a few too many passes and not enough shots on goal, but possession is the first step in a successful power play. With the talented personnel on that unit, there's no doubt that it will be successful eventually.
Daniil Tarasov Still Has Some Growing to Do
Daniil Tarasov started his first NHL game since Jan. 17. He got the win but he also showed why he is the Blue Jackets' goalie of the future – not the present.
---
Latest News & Highlights
---
Tarasov was aggressively reckless when it came to playing the puck. At times it paid off when he came out to the blue line to quickly transition the puck and recorded his first career assist on Johnson's goal. Other times it nearly didn't, like when he bobbled the puck behind his own net and Nico Sturm stole it and almost scored into a wide-open net on a wraparound attempt.
There was a lot to be desired from Tarasov in this one, as there normally is from a goalie who lets five goals past him through regulation. There were definitely a few tough moments, most notably the soft wrister from Logan Couture that made its way through traffic and past him with 0.7 seconds left in the second period.
The young Russian has shown promise at times this season, but Tuesday night's game was a bit of a stinker. Important to remember, he turns 24 later this month, which is still pretty young as far as goalies go. With Korpisalo out of the picture now, Tarasov should be the backup to Elvis Merzlikins next season which should be a big step forward. Then if you look past next season to a couple of years after, he could challenge for the starting role. So while there have been a couple of weak showings by him this year, from a development standpoint he is still well on track.
Johnny Gaudreau Is Wow
In the 6-5 win for Columbus, Gaudreau factored in on five of those goals. There's a reason why he's the highest-paid player on the team. It's because on any given night he's capable of an incendiary offensive performance like this. Tuesday saw the third five-plus point game of his career and his second in 365 days. That's not an ability possessed by that many players across the NHL.
Related: Blue Jackets News & Rumors: Ceulemans, Merzlikins & More
It seemed like Gaudreau had the puck on his stick constantly. Whether it was setting up a play from the half-wall while on the man advantage, making a run and gun pass into the zone, or sneaking behind the defense for a quick breakaway, he was a massive difference-maker for the Jackets.
Once the game headed to the extra frame it just seemed like if the Blue Jackets were going to win, it would be off the stick of Johnny Hockey. It took over four minutes to get there, but the combination of him and Laine was enough to seal the victory. It was a storybook ending for Gaudreau in his most productive game as a Blue Jacket.
At the end of the night, the Jackets are a little bit worse off in the race for the best odds in the draft lottery, but they still find themselves in last place. A small step ahead in the standings, through a fun night that resulted in their first win in four games. A win that has to be good for their overall morale as they kick off a four-game road trip.
Next up is the Los Angeles Kings on Thursday, which will be the first game against Joonas Korpisalo and Vladislav Gavrikov since their trade earlier this month.