Over the past couple of games, New Jersey Devils captain Nico Hischier has spoken about his team needing a full 60-minute effort. On March 18, Hischier's team lost their game and an important two points in a span of 2:30. After a difficult opening frame, they earned two goals in the second period and entered the final intermission with a 2-0 lead over the Florida Panthers.
Related: Devils News & Rumors: A Tough Schedule, Foote Recalled & More
Statistically, everything was in New Jersey's favor. They entered the contest with a record of 6-0-1 when playing a road game on a Saturday this season and were an impressive 28-0-2 when leading after the second period. A collapse seven minutes into the final frame became the story as the Devils witnessed their lead evaporate.
"We had the perfect situation going into the third and we just gave it away," said Jonas Siegenthaler. "It shouldn't have happened."
Here are three takeaways and some quick hits. 
Devils Faced a Desperate Panthers Team
The Devils knew what to expect before they stepped onto the ice to face the Panthers. A quick look at the NHL standings told the story.
"Tonight is going to be a hard game," said head coach Lindy Ruff during his pre-game media availability. "It's a great game to be involved in and our desperation has to be as good as theirs."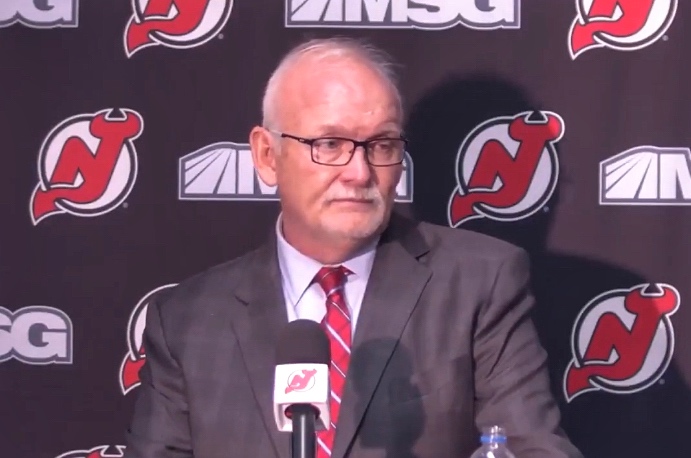 The Panthers are in the hunt for a wild-card spot with their biggest competition being the Pittsburgh Penguins, who are 5-4-1 in their last 10, and the New York Islanders, who have won their last two contests. On March 16, Florida scored seven goals in the first 20 minutes of their matchup versus the Montreal Canadiens and eventually won by a final score of 9-5.
---
Latest News & Highlights
---
Desperation was in the air as 17,321 fans took their seats in Sunrise, Florida, on March 18. The Devils' Atlantic Division opponent came out with the pedal to the metal and quickly earned the first four shots of the game. Florida dominated play as Ruff watched his team get outworked and outplayed. There was no doubt that if it wasn't for their goaltender, New Jersey would have been in an early hole, which leads me to my next takeaway.
Schmid Put on a Clinic
"Huge save from Akira Schmid!"
It was a phrase fans heard play-by-play announcer Bill Spaulding frequently say during the broadcast when referencing netminder Akira Schmid. The 22-year-old earned a second consecutive start and was undoubtedly the best player on the ice in the opening frame with 16 saves on 16 shots.

The team in front of him was not as prepared when the puck dropped at center ice at FLA Live Arena. There was a lack of support among the Devils' five-man unit, miscommunications, and overall there was no connection among the players on the ice. Schmid finished the game with a save percentage of .925 making 37 saves on 40 shots. After the game, Ruff summed it up best by saying, "I'm embarrassed what we did to our goaltender."
Hischier Continues to Show Up
During MSGSN's broadcast, Bryce Salvador highlighted the recent play of New Jersey's young captain. Prior to last night's game, Hischier collected eight goals and nine assists in his last 15 contests. Additionally, he was credited with three game-winning goals and two scored shorthanded during that span.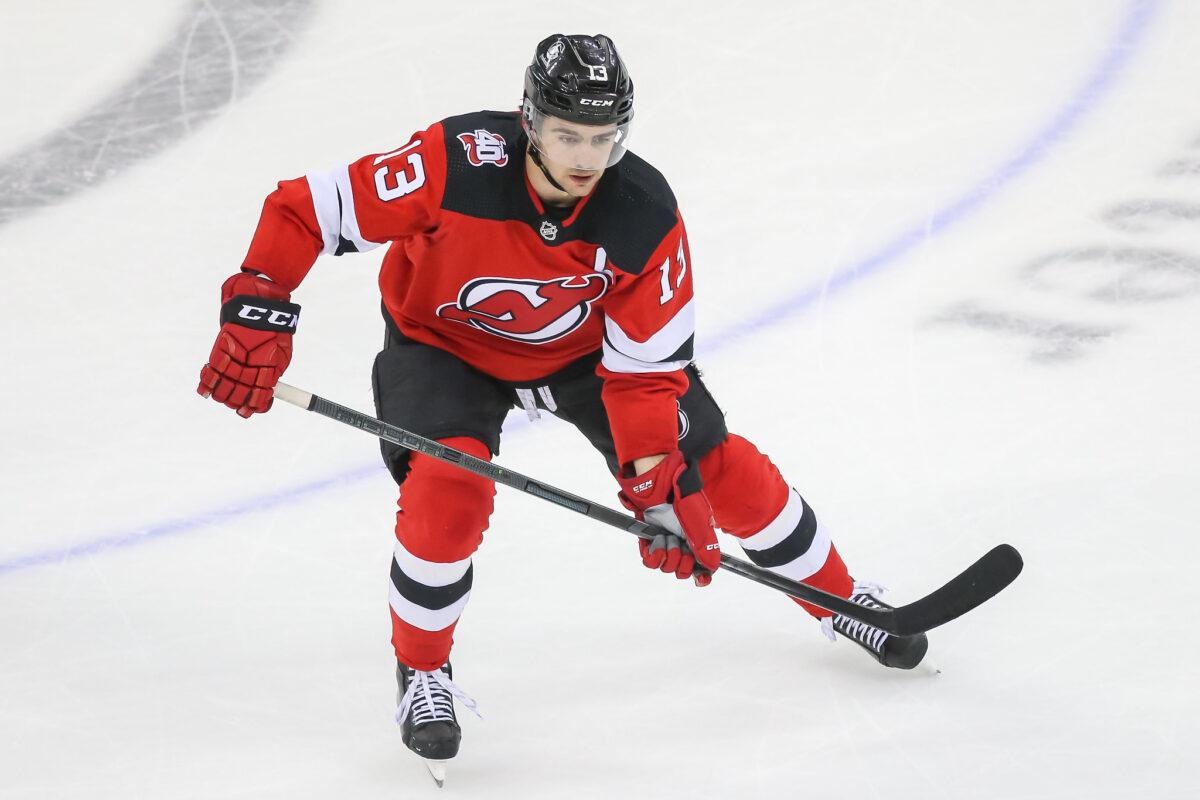 The 24-year-old earned his team's first goal against Sergei Bobrovsky and the Panthers early in the second period. Defenseman Brendan Smith was called for a tripping penalty, which led to a penalty kill unit that consisted of Hischier, Yegor Sharangovich, Ryan Graves, and John Marino. Both blueliners earned assists as Hischier took advantage of a 2-on-1 rush. He now has three points in his last two games (one goal, two assists).
Quick Hits & Observations
Ahead of the 2023 NHL Trade Deadline, general manager (GM) Tom Fitzgerald said he wanted to add some sandpaper to his lineup in hopes of making his team tougher to play against. As fans know, the GM acquired Timo Meier and Curtis Lazar. Against the Panthers, the team's newest forwards had a combined eight hits, leading all Devils skaters.

Siegenthaler played an unusually aggressive game, especially after the whistle. According to NHL Statmuse, the 6-foot-2 defenseman averages 1.31 hits per game, which is the most among the team's top five defensemen but is fifth among all Devils skaters. Against the Panthers, he had two hits and took four hits from Colin White, Matthew Tkachuk, and Ryan Lomberg. He showed a feisty side and played with an edge that will be necessary in the postseason.
Ruff once again juggled his lines around and switched Meier with Ondrej Palat. Below were the forward lines used: Tomas Tatar – Hischier – Dawson Mercer Palat – Jack Hughes – Jesper Bratt Meier – Erik Haula – Jesper Boqvist Yegor Sharangovich – Michael McLeod – Curtis Lazar The coaching staff continues to search for balance throughout all four lines as the regular season winds down. It is about finding the right chemistry among his players, and with two of them still becoming acclimated to their teammates and systems, more lineup changes should be expected.
The Devils will wrap up their three-game mini-series versus the Tampa Bay Lightning tonight, March 19, at Amalie Arena. New Jersey has a record of 0-2-1 in their last three games and is three points behind the Carolina Hurricanes. They will look to quickly turn things around after an extremely disappointing loss.
"That was more than a gut punch," said Ruff during his post-game media availability. "That was not Devils hockey."