For the Tampa Bay Lightning, production from their top two offensive threats is key to sustained success. Steven Stamkos and Nikita Kucherov have the elite skill set to impact a game with their sniping and play-making abilities. Opponents have their hands full with each, as it usually takes more than one player to slow them down.
Last season, the pair started out on a tear. They were the driving force behind the Lightning's scorching hot start, losing four times in the first month and a half. Two of those defeats came in extra time, so the team really only lost twice from Oct 6 to Nov 18. This year, things are a bit different. Stamkos and Kucherov were held off the scoresheet during the Lightning's first couple of games. The team went 1-1, blowing a third period lead to the Vancouver Canucks after sneaking out a win over the Florida Panthers.
Why is the duo struggling?
Stamkos & Kucherov Have Been Figured Out
In today's NHL, speed kills. The Lightning have plenty of that, evidenced by a lineup featuring Kucherov, Tyler Johnson, Victor Hedman and the second fastest skater at last season's All-Star Skills Competition, Brayden Point. The ability to adapt is another important factor. Both Stamkos and Kucherov accepted their new roles a season ago, with the game's elite sniper (Stamkos) turning into more of a play-maker and set-up man for the team's newest scoring threat (Kucherov).
Such a big move required Stamkos to shift his thinking. A one-time 60-goal scorer, the captain passed up prime scoring opportunities to pass the puck to his linemate who rarely missed a season ago. Early this season, those same cross-ice passes were intercepted by opponents and sent the other way.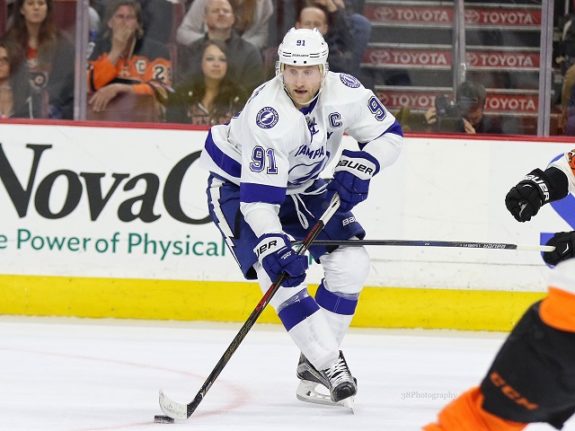 After a brutal loss to the Canucks two weeks ago, when his two best players combined for three shots on goal and a minus-2 rating,  head coach Jon Cooper faced a dilemma. Did he dare break up the top line of J.T. Miller, Stamkos and Kucherov? If he did, would the move work or backfire so badly that his two best offensive threats would start tuning him out?
Credit to both parties, the move worked. Playing alongside the reliable Point and Yanni Gourde, Stamkos is beginning to break out offensively. He's shooting the puck more too, a good sign that the goals will come. Meanwhile, Kucherov is thriving as a member of the triplets line once again, tallying three goals and five assists for eight points since being reunited with Johnson and Ondrej Palat.
Lightning Spreading Out Minutes
With both Stamkos and Kucherov struggling late last season for various reasons, most notably for being relied upon to break open close games, Cooper decided not to wear his top offensive threats down this season. The numbers bear this out. In 2017-18, the top two Lightning scorers combined for eight of the team's 48 game-winning goals. A majority of those were scored by Kucherov, who had seven, second only to Point's 12. Stamkos, meanwhile, tallied one but it's almost a guarantee that he was on the ice and had a hand in his linemates' success.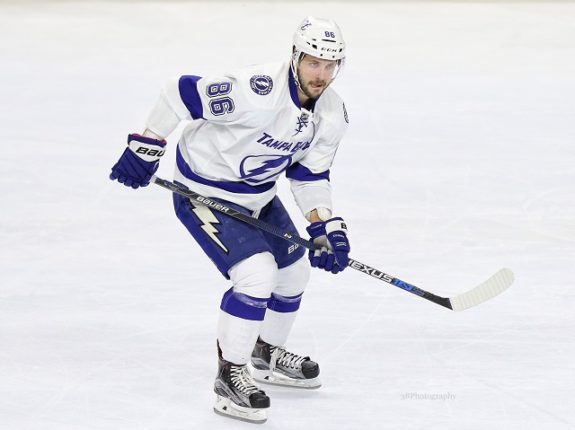 Fast forward to this season. The duo has been together for eight periods in nine games, combining for two winning tallies. That's the same amount as Gourde, whose two game-winners lead the team. A large portion of the top six has chipped in though, with Johnson and Palat the only ones who haven't scored.
In terms of minutes, Kucherov is averaging between 16 and 18 per game this year. In fact, he's gone over 20 twice in nine contests. Last season, he averaged 20+ minutes in 37 of 80 games. Stamkos is also playing between 16 and 18 minutes, though his time on the penalty kill has put him closer to 19 or 20 on a few occasions. A year ago, he saw 20 or more minutes of ice time 26 times over 78 games.
While it's good for limiting injuries and keeping both players fresh over the course of a grueling 82-game regular season, the lack of ice time early on finds both players struggling to get into a groove offensively. Stamkos's one goal and five points through nine games are the second worst of his career, above the four points he tallied early in his 2008-09 rookie campaign. For Kucherov, three goals and nine points are respectable but not his best.
Stamkos and Kucherov have picked things up recently. Kucherov is riding a seven-game point streak, while Stamkos has points in five of the Lightning's past seven games. They combined to score the team's lone goal in a 1-0 shutout win over the Colorado Avalanche on Oct 24 and helped to create the beautiful tic-tac-toe play that resulted in the tie-breaking goal by Point during a 3-2 victory over the Vegas Golden Knights Friday night.
Can Stamkos and Kucherov produce as expected or will they struggle offensively? While unknown, the Lightning are a more dangerous team with both players firing on all cylinders. They are one of the top duos in the NHL for a reason. Their ability to score and make plays is second to none, a nightmare for opposing coaches and teams alike.
*Statistics courtesy of the Tampa Bay Lightning.