At the beginning of the 2016-17 playoffs, two of the game's best entered the postseason in search of their first ever Stanley Cups. Yes, I know there are many others who still play without a Cup to their name, but two specifically that may have had their last opportunity with their respective clubs.
Alex Ovechkin and his Washington Capitals had a wonderful regular season on their way to another Presidents' Trophy. Come playoff time though, the Caps just couldn't find their way past the defending Stanley Cup champion Pittsburgh Penguins.
Henrik Lundqvist also entered the postseason after a good year from the New York Rangers. While they got past the first round behind some incredible play from their netminder, the Rangers fell to the fairytale Ottawa Senators in the second round.
The series losses for both clubs ended any chance for Lundqvist and Ovechkin to raise Lord Stanley's Cup this season and – as I will argue – for seasons to come if they remain with their current clubs.
Alexander Ovechkin and Capital Punishment
Blame has been thrown around for a number of seasons regarding who the scapegoat should be in Washington. From Bruce Boudreau to Barry Trotz and, of course, onto Ovechkin, the Caps haven't been able to get past the second round since 1998.
That year, they lost to the Detroit Red Wings in the Stanley Cup Finals in just four games. The Caps were led by Joe Juneau and Adam Oates who both notched 17 points in their playoff run, but the Capitals couldn't get it done.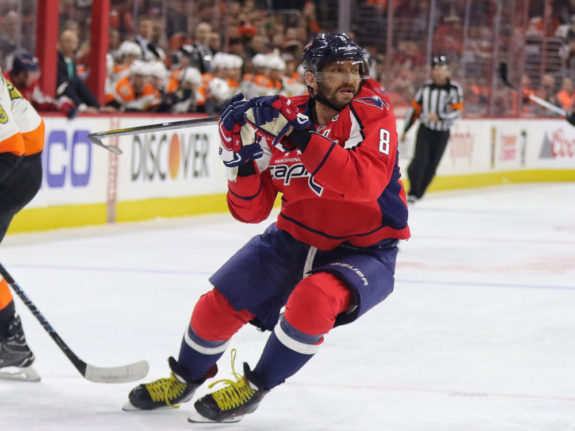 Now, the blame seems to always land on the shoulders of Ovechkin who has arguably given everything to the Washington franchise.
He made his debut for the franchise in 2005-06, scoring 52 goals and 106 points in just 81 games. He won the Calder Trophy for the NHL's top rookie and didn't slow down from there. Over 12 seasons, Ovechkin has played 921 games. Five times over that span he played a full season. He has 558 goals and 1,035 points during that time – including seven seasons of 50 or more goals.
In the playoffs, he has 90 points in 97 career games. That's an average of 0.93 points per game in the postseason – a stat that deserves no blame from the general public or hockey world for that matter.
He's won an Art Ross, six Maurice Richard trophies, three Ted Lindsay awards and three Hart Memorial trophies in his Washington career and still – he's said to be the reason behind the team's lack of Stanley Cups.
In Capitals History
If that's not enough, he ranks fourth all-time on the franchise's list of regular season games played (921), he's first in goals (558), second in assists (477) behind only his current teammate Nicklas Backstrom and first in points for the franchise (1,035). Only one player in the history of the franchise averaged more points per game than Ovechkin has (Dennis Maruk averaged 1.26), but Maruk only played 343 games for the franchise.
But the playoffs are where teams become champions and players become heroes, so let's see where he ranks among his fellow Capitals when it comes down to crunch time.
He's third in games played (97), first in goals (46), third in assists (44) and first in points (90). While his point-per-game average isn't as good as his regular season one, 0.93 is still impressive.
Time for Change?
Signed through the 2020-21 season, his nearly $9.6-million cap hit will be tough to move. On top of that, he has a no-trade clause and teams looking to build their franchises might not be willing to give up all of their younger pieces for a 31-year-old winger.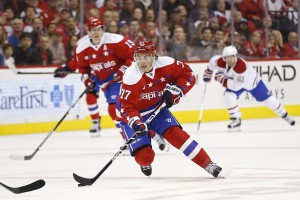 That being said, he's still Alex Ovechkin and there would be a market out there for a player of his magnitude.
But why should he move? Even though it's an honourable trait to remain with one franchise for the entirety of one's career, I believe that Washington's window is closer to being shut than it is open.
Just to keep the same lineup as their 2016-17 Presidents' Trophy winning team, they would need to sign T.J. Oshie, Justin Williams, Karl Alzner and Kevin Shattenkirk among others. That'll be made tough with the need to fork over significant money to restricted free agent (RFA) Evgeny Kuznetsov. Add that to RFAs Andre Burakovsky, Dmitry Orlov and Nate Schmidt and it might be tough to ice the same lineup.
Washington hasn't been able to build around Ovi yet and will have a hard time doing so with so many big names on the list of pending free agents. At 31, Ovechkin has to have the Stanley Cup itch in the back of his mind.
While his contract – and arguably his loyalty – remain with the Capitals, he might have to find a way onto a contender if he hopes to add the coveted Stanley Cup to his resume.
Henrik Lundqvist and the Empty Kingdom
He's been one of the best goaltenders in the game for a number of years. Still, the Stanley Cup has evaded the great King Henrik who has put on a show on Broadway for his entire career.
At 35, the Cup remains the ultimate goal for a player nearing the end of his career. While he doesn't have as much hardware as Ovechkin, Lundqvist did take home the Vezina in 2011-12 as the league's best goaltender when he played 62 games for the Rangers with a record of 39-18-5 with a 1.97 goals against average and .930 save percentage.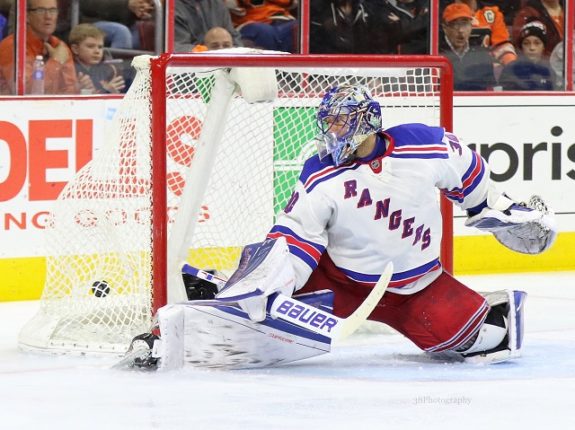 That year, the Rangers managed to make it to the Conference Finals – losing in six games to the New Jersey Devils. Since then, they've made the second round four of the five seasons. They worked their way into the Stanley Cup Finals in 2013-14, but lost in five games to the Los Angeles Kings.
Like Ovechkin, Lundqvist made his debut in 2005-06 playing 53 games and landing a record of 30-12-9. He finished with a 2.24 goals against average and .922 save percentage with two shutouts.
Since then, he's racked up a record of 405-249-76 in 742 career regular season games. He has 61 career shutouts to go along with a 2.32 goals against average and .920 career save percentage.
His playoff numbers are actually quite similar. While he has a losing record of 61-65 in 128 playoff games, he has a 2.28 goals against average and .922 save percentage with 10 shutouts. Still, he hasn't been able to get that coveted ring.
In Rangers History
When it comes to where he ranks in the history of the storied franchise, Lundqvist has given his team every opportunity to get to the promise land.
He ranks first in regular season games played (742), sixth in career goals against average (2.32) among recorded statistics, first in wins (405) and first in shutouts (61).
His postseason numbers top the franchise list as well. He's first in games played (128), first in wins (61) and first in shutout (10).
Time for Change?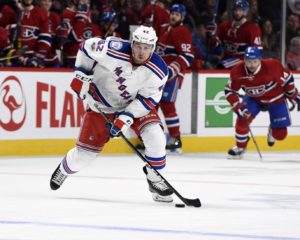 The Rangers spent the season being protective of their young stars. Guys like Oscar Lindberg and Pavel Buchnevich didn't see too much postseason ice-time, while others like Chris Kreider and Derek Stepan had a tough time producing in the playoffs.
Now, the Rangers will have to deal with a number of RFAs this offseason. Names like Mika Zibanejad, Jesper Fast and Lindberg are on that list, while Brendan Smith will become an unrestricted free agent on July 1.
With even more pending RFAs following the 2017-18 season (including Vesey, Kevin Hayes, J.T. Miller and Brady Skjei), the Rangers won't be able to afford to put together a super competitive team. Even this season, no one expected Michael Grabner to have the year that he did. Without him, the Rangers may have been more of a bubble team.
Now, Lundqvist is locked up until the end of the 2020-21 season. He has a full no-movement clause and likely isn't going anywhere. That being said, his position is much like that of Ovechkin. At 35, it's going to be tough to stick it out in New York if the Rangers aren't going to compete for a Stanley Cup.
So, while immediate changes are unlikely, time will tell whether these two possible future Hall-of-Famers will leave the confines of the cities they have known for so long to pursue the hockey dream of raising that coveted Stanley Cup – like former great Ray Bourque.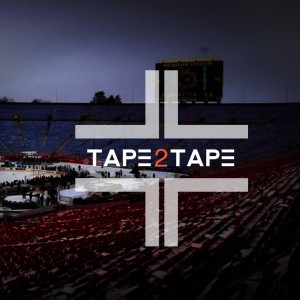 Have thoughts about the column? Let me know on Twitter at @AndrewGForbes or @Tape2TapeTHW.
Tape2Tape is a column looking at some of the biggest stories from around the world of hockey. Discussing different topics, it focuses on delivering some opinion to hockey's biggest fans. Whether you agree or disagree, we would love to hear your thoughts.