David Krejci will not play for Team Czech Republic at the World Cup, the Czech Ice Hockey Federation announced on Friday. A replacement player is expected to be named on Saturday.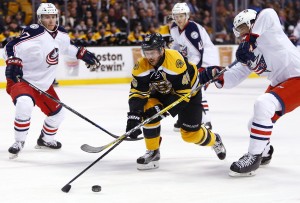 The announcement comes after a report in August that the Boston Bruins forward had been warned against participating in the international tournament as he continues to recover from left hip surgery. When he underwent the operation in April, Krejci was reportedly told to expect a five-month recovery time, with the intention that he would be ready for the start of the 2016-17 NHL season.
On Monday, Krejci spoke to the Cape Cod Times about his recovery and playing for his country at the World Cup.
"We're kind of taking it week by week, and we'll see what happens," Krejci said. "If I'm 100 percent (healed), then obviously I want to play," Krejci said. "It's a really big tournament, and I would love to be part of it."
Today's announcement indicates that Krecji is not at 100 percent and does not expect to be when the World Cup officially gets underway on Sept. 17. While a major blow to the Czech Republic, the Bruins have had Krecji in the lineup for just 119 games over the last two seasons and today's news at least gives the team the assurance that Krejci will not risk injury at the World Cup and is focused on being ready for the start of the regular season.
In 2015-16, Krejci tied for second on the Bruins with 63 points in 72 games.
The Hockey Writers coverage of the World Cup of Hockey 2016 is being brought to you by PrimeSport, the official Fan Travel & Hospitality Package Partner of the World Cup of Hockey 2016.