Robin Lehner returned to the Sabres net on Friday against the Bruins.  This was Lehner's first start since opening night and the first game he completed in the NHL since February 14th, 2015.  The big Swede would suffer a 4-1 loss, but looked comfortable and calm in the net.
As Lehner continues to come back from the high ankle sprain he suffered on opening night, it's important to have the right expectations in performance.  A high ankle sprain is one of the most difficult injuries for a hockey player to recover from.  Even worse for a goaltender who relies on their lower  body so heavily for lateral movement.   ombine the injury with the fact that he hasn't completed an NHL game in nearly a year; the 24-year-old has an uphill battle.
Getting the Timing Back
Although Lehner looked good in his first game back, some signs of rust can be expected in his first few games.  Getting back the timing and speed of the NHL will be his most difficult task.  I wouldn't put it out of the question for Lehner to struggle at times in his first few weeks.  This is why I believe it's very important to stress patience in the early stages of his return.
If you look at other goaltenders who have returned from injuries around the league you can see the trend of struggles in their first five games back.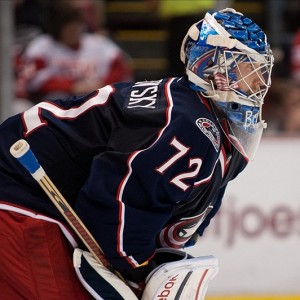 When Sergei Bobrovsky returned last season after missing a month with a groin injury he posted a 2.80 goals against average and a .895 save percentage.  Jimmy Howard also struggled in his first five games back from a groin injury as well last season posting a 3.20 goals against average and a .898 save percentage.  The final example is Semyon Varlamov who posted a 3.00 goals against average and a .888 save percentage in his first game back after missing around 3 weeks last season.
Goaltending is based so much on positioning and timing now that repetitions in game action is essential to be consistent.  The repetitions in game action has just not been there for Lehner.
After Friday's game Lehner talked to the media and discussed how it felt good to be back.  He talked about it being a relief to complete the game without any issues or pain.  In assessing his play, Lehner felt as though he was calm in his net, but needed more work.
I felt like I was pretty calm and controlled out there and played the puck most of the night pretty well.  I've just got to keep working.
I have confidence in the long term outlook for Lehner who the Sabres gave up a first round pick to acquire.  I don't think he can be fairly judged on his play until at least the middle of February, as long as he can stay healthy.
Also read: Understanding Where the Sabres are in the Process