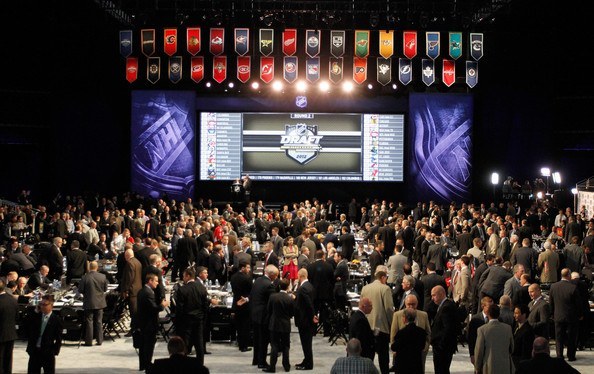 The Stanley Cup Finals are almost complete and the off-season is right around the corner. There have already been a couple of deals  leading up to the draft on June 24th and expect a floodgate to open in the next few weeks. With the salary cap looking rather stagnant and expansion draft details leaking out slowly, expect a very active trade front for the next month. Look for the Flames to be in the middle of those trade talks with the inevitable extensions to Gaudreau & Monahan preventing them from filling holes through free agency. In an attempt to read Brad Treliving's thoughts, below are three trades to improve the Flames for next season using their most expendable trade chips.
1. Emile Poirier + 2nd + 6th for Frederik Andersen
Why Calgary does it:
They get their #1 goalie – enough said. Though they will likely have to compete with the Leafs to land Andersen, which will drive up the price (especially considering the Flames are division rivals with Anaheim). While there are a handful of options for the Flames to address their goaltending issues, there is no better choice than Andersen when looking at age, contract, and the price of acquisition.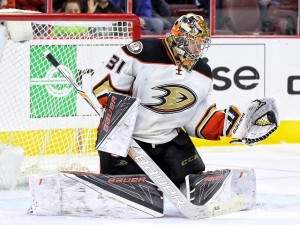 Why Anaheim does it:
As stated above, Anaheim might be hesitant to deal their prize goalie within the division, but they could have their hands tied in a saturated goalie market. They need to create cap space to re-sign key RFAs in Lindholm & Vatanen, and with John Gibson in the fold they cannot afford the luxury of Andersen. A trade involving Andersen will most definitely be in exchange for futures and Calgary has picks to spare. Add a promising forward prospect ready to get a shot at the NHL level and these teams look to make good trading partners.
If not Andersen? Varlamov or Fleury
2. Dennis Wideman for Jarome Iginla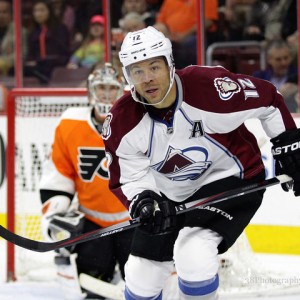 Why Calgary does it:
The prodigal son returns! While Iginla is not the player he once was, the move gives Calgary a legitimate offensive source with a right-handed shot – something they severely lack. It's unlikely he will be able to play up with the big boys (Johnny & Monny) all year but he should be able to log third line minutes and improve a powerplay that finished 22nd in the league last season. The salary is a wash in the deal and with their depth on defense, the Flames will not miss Wideman.
Why Colorado does it:
At this point it seems almost inevitable that the Avalanche move Tyson Barrie. Depending on the return, they will still be in need of adding a puck moving defenseman. With Rantanen and potentially Radulov on the right side, surely the Avs would rather use Iginla's cap space to improve the back-end.
There are a lot of important factors when examining the likeliness of this deal. First and foremost, both Iginla and Wideman have no movement clauses (NMCs) which mean they could nix any deal before it happened. However, things have not gone as planned for Iggy in Colorado and his former teammate and close friend Craig Conroy is currently the Assistant GM of the Flames. This could be the deciding factor as it would be an easy transition for the future Hall of Famer. If this is truly Iginla's last season, it's only fitting that he rides into the sunset as a Flame.
Wideman might be trickier. If the Flames approached Wideman and asked him to waive his NMC he could provide a list of teams that he would accept a trade to, or he could decline a trade outright. As a pending UFA after this season it's not far-fetched that he is ready to move on, though he might want to go to a contending team. In any case, the Flames will want to ship him somewhere for another unfavorable contract in the form of a winger who can play top six minutes.
If not Iginla? Lupul or Gionta
3. Joe Colborne + Pick #53 (FLA) for Pick #15 (MIN)
Why Calgary does it:
It appears the Flames are not willing to pay Colborne what he might earn in arbitration after a career year. With a number of young forwards looking to make a permanent jump to the NHL, Colborne could be the odd man out. Calgary currently has the second round picks, and with pick #6 & #15 the Flames could potentially package the two to move up into the top 5 to get a forward who could make the jump immediately. At worst, they bolster the prospect pool with two picks in the top 15.
Why Minnesota does it:
Another pick that is in play is Minnesota's pick at No. 15 if they can get good, young player who can contribute right now.

— Craig Custance (@CraigCustance) June 3, 2016
Even though they only have 4 picks to their name in the upcoming draft, it appears the Wild are open to moving their 1st rounder. The Wild are small down the middle and Colborne will add size and depth to that position. They also pick up a late 2nd rounder so that they keep a pick in the first three rounds.
If not Minnesota?  Carolina or Detroit
Result
It's important to note that these trades could be made in sequence with each other or as stand alone deals. Either way, they all aim to fill a hole in the Flames roster. The moves leave the Flames roster with one empty hole at forward and just over three million in cap space if Andersen inks a deal $5.5M/season. This gives them room to go after an additional free agent depth forward like Trevor Lewis or Jamie McGinn, or sign a depth defenseman to make up for Wideman's absence.