Read The 3 Most Underrated Defensemen in the NHL here!
If you like to be someone who flies under the radar while performing at an elite level, the NHL is not for you.
Every single player who steps on the ice is instantly thrown under scrutiny. They find themselves under the constant watch of their coaches and management, as well as fellow players. But most of all, they are watched step by step by the media and fans. Nothing goes unnoticed in the world of hockey.
That's why they are so few underrated players in the league. Everyone who deserves to be talked about, is. There's no getting away with a 30-goal season without being broadcasted.
There are a few exceptions from this though. Some players in the league put up very exciting numbers year in, year out, and yet continue to receive very little attention. The following players pay a large contribution to their team each game, and have the stats to prove it, yet somehow, they remain to be talked about far less than they deserve to be.
5: Brock Nelson
Brock Nelson, at the very ripe age of 23, has come into a talented Islanders roster and found himself a permanent spot with lots of opportunities for special teams time. Drafted 30th overall in the 2010 Draft, Nelson has played just two NHL seasons, but has already earned a role on the second power play unit and the virtual third penalty kill unit. Despite the time on special teams, he averaged just 15:52 a night last year, a number that could certainly increase in the upcoming campaign.
Nelson was able to pot 20 goals in just his second season, the third most on the team. Standing at 6'3, 196 pounds, there's no telling where Nelson's potential could take him. At this point, he looks like he could become a first line winger beside John Tavares in a couple of years. But, the fact that hardly anyone in the league is taking a close look at Nelson is absurd quite honestly. In fact, Nelson was 7th in points among players born in 1991 last year. He will definitely be apart of the Islanders future success, and a large part at that. As he continues to develop, teams are going to need to take note of him each night as a threat on the score sheet.
4: Bryan Little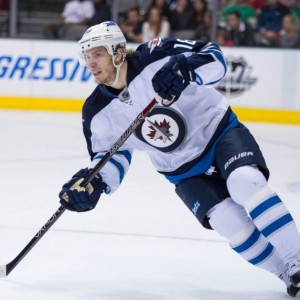 It's hard to believe Bryan Little has already played eight NHL seasons, but that's the reality for the 2006, 12th overall pick. Aside from an outstanding, and somewhat misleading, 31 goals season in 2008-09, Little has been steadily increasing each and every year. His points per game has risen each year until last, when it dropped by just 0.04 points per game. His Corsi For % has also increased every year, except for 2012-13, to the point where it was an impressive 54.1% last year.
Little got the ice time that goes with being an elite player, playing just short of 20 minutes a night. That includes the third most minutes among forwards on both the power play and penalty kill, playing 3:12 and 2:02 of each, respectively, per game. Following suit, Little ranked third on the Jets in goals and points last season, with 24 and 52. He has established himself as a perennial 20-goal scorer, accomplishing the feat in each of the last three 82-game seasons. He is a force offensively and isn't too shabby in the analytics department either. For those reasons, it is a shock that he isn't taken more seriously by the media or fans.
3: Wayne Simmonds
Wayne Simmonds, like Hartnell, seems to get the positives lost behind the negatives. He often finds himself on the bad side of the media, even portrayed as a goon sometimes. But behind that persona is a gifted goal-scorer that not many in the league can keep up to. Since being traded to the Flyers, Simmonds has scored 28, 29, and 28 goals in his three full seasons. Those totals have ranked him second, first, and first in goals on the team.
Simmonds was also first on the team in power play goals, with 14, while he added 24 points on the man advantage. He isn't just a goal-scorer though. He was also solid in his puck possession, ranking third on the team with a 50.5% rate, which was 2.2% higher than his teammates average. On the physical side, where Simmonds sometimes crosses the line, he dishes out 168 hits. He was also fourth on the team in takeaways with 33, just six behind the leader. Aside from the little things Simmonds adds to his team, it is still mind-boggling to me that a guy that consistently scores nearly 30 goals can keep getting so little praise. Keep in mind that there were only 15 30-goal scorer last year. At 27 years old, Simmonds still has the ability to add to his game and further cement himself as an elite player, perhaps getting the praise he deserves sometime soon.
2: Scott Hartnell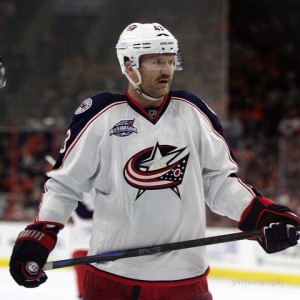 Scott Hartnell is known more for his antics and joking personality than his goal scoring. But his scoring abilities should definitely warrant some attention around the league. He is a two-time 30-goal scorer and has reached 20 eight times during his past 10 years. Hartnell is a constant scoring threat on the ice, but loses the reputation behind his comedic demeanour. Last year, his first as a Blue Jacket, he was second in goals with 28, and third in points, racking up 60. It's not bad when you realize Hartnell ranked 20th in goals, tied with the likes of Sidney Crosby, Evgeni Malkin, and Jonathan Toews.
Hartnell was able to earn a spot on the first power play unit last season, adding eight goals and 16 points on the man advantage. He also adds a physical element to the game, throwing 160 hits to go with his irreplaceable net-front presence. Hartnell consistently puts up offensive totals relative to a first-line player, while also providing an excellent attitude to the locker room. Not to mention, Hartnell also had the best Corsi For % among everyday players with a 51.5% rate, which came in 5% higher than his teammates. Hartnell is a world-class player that get lost behind is outgoing personality. But don't be fooled, he is a force on the ice and someone who deserves much more attention for his play than his antics on the ice.
1: Jaden Schwartz
Jaden Schwartz is just 23 years of age, but plays like a 10-year veteran. Drafted by the Blues 14th overall in 2010, he has made tremendous improvements in each of his three NHL seasons. Schwartz was second in gaols on the Blues last year, scoring 28, and third in points, where he totalled 63. On a team that revolves around its defence, it takes a gifted player to be rewarded with valuable ice time by Ken Hitchcock, while also putting up great offensive numbers.
Heading into his fourth season, there are still many areas where Schwartz could see improvement. For example, his Corsi For % was a very respectable 52.3%, but was still lower than his teammates rate. However, he does all the little things right, which could be a reason for why his value goes so unnoticed. He was second among Blues forwards in blocked shots with 46, behind only David Backes. He was also first on the team in takeaways with 59, 11 more than the next guy. As he develops and gains experience, his power play numbers should also increase. On the second unit last year, he tallied eight goals and 16 points on the man advantage. a number which would increase dramatically if he was promoted to the first unit. There's no doubt in my mind that within the next couple years, Schwartz will get the respect he deserves. But, for now, he ranks as the most underrated forward in the NHL.
Who do you believe is the most underrated forward in the NHL today?
Let us know in the comments below!
Contributor for the Toronto Maple Leafs and Prospects. Scout with the Oakville Blades of the OJHL. For questions, concerns, or comments, contact me at devinslawson123@hotmail.com or on twitter @SlawsonTHW.