The Montreal Canadiens clinched a berth into the second round of the playoffs with a strange 2-0 win in Game 6 on Sunday night. They'll face the winner of the Capitals / Islanders series, which will tie itself up on Monday night. Here are the eight best stats from the Montreal Canadiens opening round series.
.on to the next one…

— P.K. Subban (@PKSubban1) April 27, 2015
1. Leading For .3 Seconds
In Game 6, the Canadiens scored an empty-net goal with just .3 seconds left in the game. That was the first time in the entire series that the Canadiens had a two-goal lead, making the last .3 seconds the only .3 seconds they held a two-goal lead in the opening round.
A big part of that was how tight the series was at large. Only Game 5 and Game 6 were determined by more than a one-goal margin. The Senators won Game 5 5-1.
2. Price Climbs the Wins Ladder
Carey Price moved up to 21 career playoff wins. When he grabbed his 18th win he surpassed Gerry McNeil for 6th all-time among Canadiens goaltenders. The goaltenders ahead of him still are Bill Durnan (27 wins), Gump Worsley (29), Jacques Plante (59), Patrick Roy (70), and Ken Dryden (80).
In his Game 6 win, Price hit a new career-high for saves in a non-OT playoff game by stopping all 43 shots the Senators lobbed toward him. The shutout was the second series-clinching shutout of his career.
3. Flynn's 3-Point Debut
Brian Flynn grabbed a goal and a pair of assists for the Habs in his playoff debut. He's the first Canadien to have a three-point night in his playoff debut since Gilles Thibaudeau had two goals and an assist against the Hartford Whalers in 1988.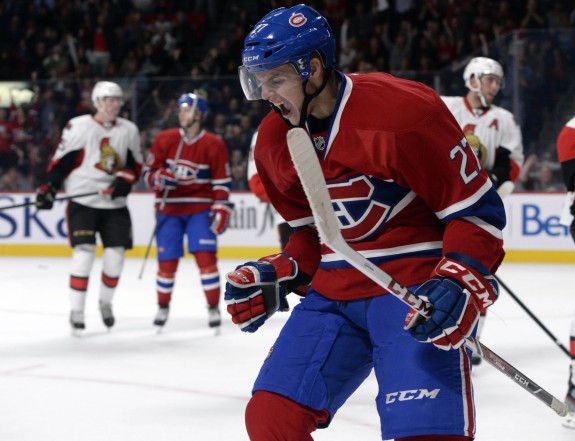 4. Galchenyuk's Second OT Goal
Alex Galchenyuk scored his second career playoff overtime goal in Game 2. He was just 21 years and 64 days old, yet he's only the second youngest player to net two playoff overtime goals for the Canadiens. Claude Lemeiux grabbed his second when he was just 20 years and 293 days old in the 1986 playoffs.
5. Speedy Goals
The Habs scored a pair of goals in Game 1 just 15 seconds apart. That's the fastest pair of goals in franchise playoff history since 1998 when they scored a pair of goals just 10 seconds apart.
.@CanadiensMTL's 2 goals in 0:15 are fastest by franchise in a playoff game since May 8, 1998 (Stevenson/Damphousse: 0:10 vs BUF). #MTLvsOTT

— NHL Public Relations (@PR_NHL) April 16, 2015
6. A Very Specific Trio
Dale Weise grabbed a pair of goals in a 2-1 Habs overtime win in Game 3. He happens to be the third Canadien to have a multi-point game in an overtime game where he scored every goal for the team. The other two where Jacques Lemaire (2 goals) in 1977 and Eric Desjardins (3 goals) in 1993. Both Lemaire and Desjardins' goals came in the Stanley Cup Finals.
Desjardins, like Weise, scored the game-tying goal with less than six minutes to go in the third period before notching the overtime goal.
7. Overtime Games Add Up
In this series the Canadiens franchise played their 145th and 146th overtime playoff game. That's the most by any franchise in the NHL.
8. How's Your Bracket?
73% of entries for #NHLBracketChallenge powered by Samsung picked MTL to win #MTLvsOTT, including 29.1% who selected them to win in 6 games.

— NHL Public Relations (@PR_NHL) April 27, 2015
More From This Series


Thanks to the NHL and team PR Twitter accounts, as well as Elias Sports Bureau for some of the statistics.
Dustin Nelson writes about news and the Minnesota Wild for The Hockey Writers.