Using notable NHL stats to look through the last week in the league.
1. 45 Goals x 7 Seasons
Alex Ovechkin scored his 45th goal of the season on Wednesday against the Rangers, which has him joining Wayne Gretzky, Mike Bossy, Mario Lemieux, and Marcel Dionne as the only players who have scored 45+ goals in seven or more seasons. That also extended his goal streak to four games, over which he had six goals and two assists.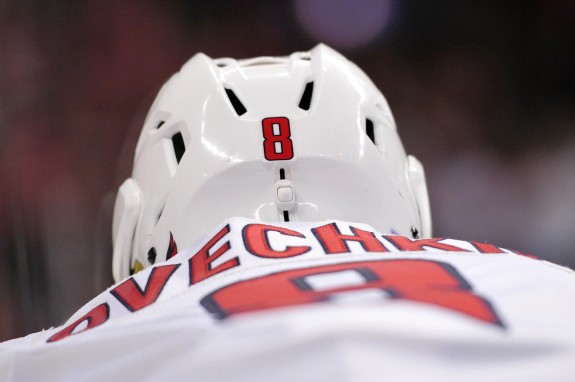 2. 208 Games
With Saturday's game against the Buffalo Sabres, Mats Zuccarello played his 208th career NHL game, giving him the record for most NHL games played by a Norwegian-born player in NHL history. He passes Espen Knutson, who played 207 games split between the Anaheim Mighty Ducks and the Columbus Blue Jackets.
Zuccarello isn't close to slowing down at just 27-years old. He has the potential to blow Knutson's record far into the rearview mirror by the end of his career. There isn't another Norwegian player currently in the NHL who looks like they can give Zuc's record a run for the money.
3. 700 Wins
St. Louis Blues coach Ken Hitchcock become only the fourth coach in NHL history to reach 700 wins on Thursday when the Blues beat the Philadelphia Flyer 1-0 in a shootout. The other three coaches to do the deed all coached for the Blues at one point as well: Joel Quenneville, Scotty Bowman, and Al Arbour. The four coaches have a combined 16 Stanley Cups and not one of them was for the Blues.
Congratulations to Ken Hitchcock on becoming the fourth coach to reach 700 wins. >>> http://t.co/lEI95jxlv4 #stlblues pic.twitter.com/XBcnvyxAOy

— St. Louis Blues (@StLouisBlues) March 13, 2015
In another record that same game, Blues goaltender Brian Elliott recorded his 20th shutout in a Blues sweater, his fourth of the year. 20 shutouts puts him tied with Jaroslav Halak for the most shutouts in Blues history.
RELATED: 3 Keys To A St. Louis Blues Strong Finish
4. Points In 11 Straight Games
Andrew Hammond lost his starting gig when Craig Anderson got healthy, a move that had to be difficult for Ottawa bench boss Dave Cameron. Anderson is the starter and Hammond has next to no experience, but he's been as hot as a goaltender could be. He got the net back on Thursday night and led the Senators to a win over the Canadiens. He got the net the next night again and again on Sunday, both resulting in wins. Hammond has helped the Senators to grab at least one point in each of his first 11 NHL starts.
He's only the third goaltender in the last 25 years to grab at least a point in each of their first 11 starts. Patrick LaLime did it in the 1996-97 season. Ray Emery is next best, having grabbed points in each of his first nine starts, in games spread across the 2002-03, 2003-04, and 2005-06 seasons.
Hammond has his work cut out for him if he wants to overtake LaLime's record. LaLime grabbed points in each his first 16 starts.
RELATED: Andrew Hammond Gives Ottawa Playoff Hope
5. 38 Wins
At this point it's clear that Carey Price is the frontrunner for the Vezina Trophy. He grabbed his 38th win of the season on Saturday, tying a career-high for Price. He previously hit 38 wins when he played 72 games in the 2010-11 season. He got there this year in his 56th start.
He's not only set a personal best in wins (and will, barring injury, pass 38 wins easily), he leads the league in wins, save percentage, and goals against average.
.@CanadiensMTL's @CP0031 recorded his NHL-best 38th win of the season (56GP), equaling a career-high (2010-11, 72GP) pic.twitter.com/LNRsrEZcae

— NHL Public Relations (@PR_NHL) March 15, 2015
I believe he's also just a few selfies short of Ilya Bryzgalov's in-season record for selfies with fans during a game. (Bryz's selfies were preseason though, so I'm not sure if it counts…I'll have to check with the Elias Sports Bureau on that.)
6. 200 Wins
Speaking of the Vezina race, Pekka Rinne, who is a shoo-in as a Vezina Finalist, grabbed his 200th career win on Saturday. He's only the third Finnish goalie to ever reach 200 career wins. Miikka Kiprusoff hit 319 wins by the end of the 2012-13 season, the last season he played. So Rinne has a good pile of wins to go before he even gets close to catching Kiprusoff. The other Finnish goaltender is Kari Lehtonen, who currently has 243 career wins and counting.
RELATED: Bench Pekka Rinne, For The Cup
7. 304:11
Pittsburgh Penguins prospect Matt Murray (2012, 3rd round) set a new AHL record by not allowing a puck to get past him for 304:11. It was Springfield Falcons forward Dana Tyrell who finally beat him at 18:49 of the third period this weekend.
He was just a minute and 11 seconds shy of posting his fifth straight shutout. That beat the previous AHL shutout record by almost 36 minutes. The record was held by Barry Brust, who set it while playing for the Abbotsford Heat in 2012. (If you're not familiar with him, Brust is an entertaining character.)
8. One Goal or Fewer
For seven straight games the Rangers have allowed one goal or fewer in regulation, which sets a franchise record.
#NYR Stats: This marks the first time in franchise history the Rangers have allowed one goal or fewer in regulation in 7 straight games

— New York Rangers (@NYRangers) March 15, 2015
That's especially impressive, because they keep hustling and putting wins in the standings without the services of Henrik Lundqvist. Aside from Lundqvist being one of the best goaltenders in the league, the Rangers have performed very poorly when they get below league-average goaltending. As I looked at before, the transition from Lundqvist to Cam Talbot and Mackenzie Skapski could have hurt the Rangers, but they've been incredible defensively and Talbot has been up to the challenge.
RELATED: No Lundqvist, No Problem
Dustin Nelson writes about news and the Minnesota Wild for The Hockey Writers.