Again we have gone on our little quest to grill 30 hockey writers about the teams they cover for The Hockey Writers. Today, we put Felix Sicard on the hot seat and the Anaheim Ducks as well. It should be a fun experience for what is a milestone post of sorts. Let's begin!
---
1. What went wrong in the playoffs? Was ultimately having three goalies more of a curse than a blessing?
The goaltending wasn't the main issue. It was more the lack of defensive depth. A Cam Fowler that was clearly not 100% early on did not help matters along with what was a grinding style that Los Angeles played over their seven game series with Anaheim. They turned on the switch and Anaheim could not answer the bell.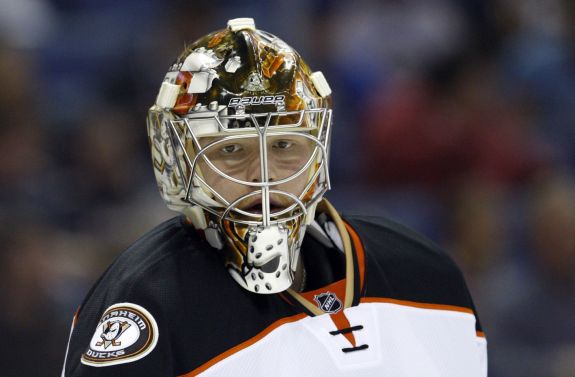 2. With Jonas Hiller gone, Frederik Andersen has taken over the number one spot with an iron tight grip. For this year, is he going to be "the guy" and how about going forward?
Frederik Andersen appears to be the guy right now, but Bruce Boudreau has shown in the past that he's not afraid to change starters on a whim, so stay tuned. It has become clear that Andersen's NHL15 like start is enough to give him a run of games that will almost guarantee him the number one spot for this season (say 55-60 starts). After that, all bets are off.
3. The Anaheim Ducks boast an array of depth players but who ultimately runs with the number one LW slot and why?
Patrick Maroon appears to be the number one left wing for the Ducks, and it's not hard to see why: he's a tenacious forechecker that can consistently make life miserable for the opposition. To boot, he's got a scoring touch. Do look out for Devante Smith-Pelly. He is the wildcard in all of this as they say and has the skill set and upside despite the youth.
4. Is the Corey Perry-Ryan Getzlaf duo one of the best in the NHL? Why or why not?
The Ryan Getzlaf-Corey Perry duo may be the very best in the NHL. While Getzlaf is a magician with the puck and sees the ice as well as anyone, Perry adds a lethal combination of skill and nastiness. There are few combos that have the brute strength while not being afraid to mix it up with anyone and everyone. All they need is that left winger.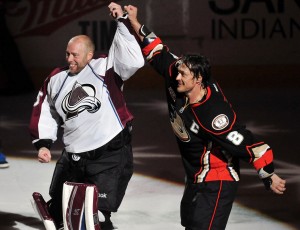 5. How do you think Bruce Boudreau handled Teemu Selanne's last year?
Boudreau handled Teemu Selanne's last year as well as any coach would when seeing a player clearly in decline. While Selanne put up decent numbers with limited usage, it's hard to argue that Boudreau made the wrong call with the Ducks' Pacific Division crown. Selanne probably played a year too long honestly.
6. If there is one significant weakness the Anaheim Ducks do have, what is it? What can they do about it?
The Ducks simply don't have an elite defenseman in their lineup at the moment, and while they do a good job by committee, a lot of it hinges on excellent play from all their blueliners. Were they to upgrade, it would probably come via trade for some of their younger players such as Emerson Etem.
7. When will Anaheim's Dany Heatley make his season debut? How effective can he be?
Heatley will be out at least a couple more games, but it remains to be seen where he'll fit in the lineup, if at all, especially with the strong play of Devante Smith-Pelly. Dany Heatley may be the odd man out when all is said and done but we'll see.
8. Did losing Nick Bonino to Vancouver even ruffle Anaheim's feathers at all?
Not in the slightest, Ryan Kesler has established himself as a dominant possession force for Anaheim and while Bonino was a good player for the Ducks, Kesler just brings more of a complete package to the table.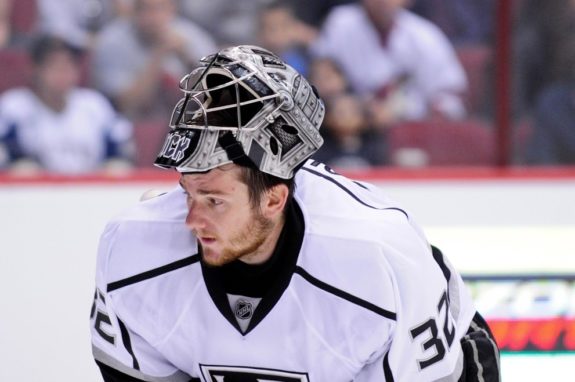 9. Which team worries Anaheim the most in the Pacific?
Both the Kings and Sharks are always a threat for the Ducks, but with San Jose coming out flat this season, it may be a race between LA and Anaheim for the top of the Pacific. It kind of looks like a two horse race early on but you never quite know in the Pacific.
10. Who is on the farm that we should know about in the Anaheim Ducks organization?
Chris Wagner had looked good in his AHL debut, but keep an eye on how John Gibson fares for Norfolk. Gibson may see a few trips down there to stay fresh during the season. He is just that kind of goalie who does need some reps to be more effective. As for Wagner, I definitely have my eye on him this year.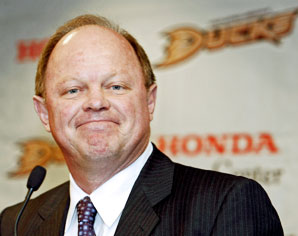 11. Are the Anaheim Ducks prepared to pull the trigger on the moves needed at the deadline to make a deep playoff run?
It's tough to say, but with the Kesler trade in the off season, the franchise is clearly in "win now" mode, so a blockbuster trade to bolster the blueline certainly should not come as a surprise were it to happen. A trade for defense almost has to happen for the Ducks to be considered as real threats in the West. That is just how it is in the wild, wild West.
12. How will the Anaheim Ducks finish in the Pacific? How far will they advance in the playoffs?
With the addition of Kesler, the Ducks certainly could pull off an upset of the Kings in the playoffs. If they get matched up with San Jose though, then they should be seen as a lock for the second round. If the puck bounces their way against LA, they could very easily be Western Conference Final bound and maybe beyond. That is just how the West works but do not expect it to be easy because it never is.
---
Up next, will be the final installment. That will be Gann Matsuda of Frozen Royalty and the Los Angeles Kings.