After winning their second Stanley Cup title in three years, expectations in Hollywood are through the roof. With only Willie Mitchell leaving the City of Angels, the Los Angeles Kings are primed to make a serious run through the playoffs again. However, things don't always happen on the ice as they are projected to on paper.
If you are looking for the traditional "Win the Stanley Cup" prediction for the best case scenario, you have come to the wrong place. Anyone with half a brain knows that the Kings are thirsty to win another title. So how about we dig a little deeper, eh?
Let's take a look at the best and worst case scenarios for the reigning Stanley Cup champions.
Best Case
Dustin Brown and Mike Richards Increase Their Scoring Totals
While both Brown and Richards are relied upon heavily for their leadership abilities, neither lived up to their potential offensively. While Brown did notch 15 goals, the gritty forward only posted 12 assists. His physical presence is invaluable, but his scoring leaves much to be desired. While skating on the top line with wizards such as Marian Gaborik and Anze Kopitar, Brown should be able to muster more than 27 points. In order to keep the Kings first line producing, Brown will need to step up his game.
Richards, on the other hand, finished fourth on the Kings in points. Once a point per game threat, Richards' dreadful 7.0 shot percentage didn't threaten goaltenders too much. Now I know what you're thinking: "What is this guy thinking, asking a fourth liner to score about fifty points?"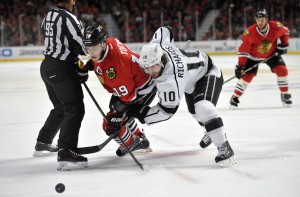 For Richards to wear the crown on the front of his jersey, his cap hit is $5,875,000, according to CapGeek. Despite playing between Kyle Clifford and Trevor Lewis, Richards still averages the forth most average time on ice for forwards. The Kings are muddled in a cap crunch and always seem to be searching for offense, Richards would greatly benefit the team by adding a scoring threat on the bottom half of the depth chart. With the Canadian creeping into his thirties and not getting any younger, Lombardi isn't stretching the envelope when asking for Richards to be more involved in the box score.
Worst Case
Marian Gaborik's Shiny New Deal Backfires
This one is a real head-scratcher. The Kings don't have a real weakness, and if the injury bug doesn't bite, the Kings are primed to make another run at the cup. Nevertheless, we will give it a go.
After being the king of the playoffs, Marian Gaborik was the beneficiary of a seven year, $34.124 million extension. The crafty winger notches points at a rabid pace, and playing with Anze Kopitar only enhances his offensive abilities. However, if age begins to catch up with the 32 year old Slovakian, or injuies begin to derail his body, Lombardi could worry about having Gaborik locked up in black and grey until he is 39.
Massive contracts, especially when a player's age is on the wrong side of thirty, can come back to bite. If Gaborik's offensive production is not up to par, the Kings could be forced to make another deadline deal to find another source of offense. Lombardi isn't afraid to make a splash at the deadline, but with only $208,106 left in cap room, the Kings could be hard pressed to find a trade partner. If Gaborik continues to stay healthy and shows off by stuffing the box score, Kings management will be alleviated of any potential headaches.
Agree? Disagree? What do you think? Let me know in the comments!