We're into the NHL preseason, so it's time to take a last look at a lighter subject before things begin to ramp up.
One way to look at how well a general manager is functioning is by looking at the players he has not retained. In the Bay Area, legendary football coach/general manager Bill Walsh once said it was better to move on from a player a year too early, than a year too late. Walsh had first ballot Hall of Famers in Jerry Rice, Joe Montana and Ronnie Lott. He moved on from all three. Combined, they spent 10 seasons playing for other teams.
Doug Wilson, the Sharks' GM since 2003, has moved on from enough players to easily fill entire rosters. But how good is an all ex-Sharks team?
When only looking at players in the NHL last season, it wouldn't even be close to a competitive roster.
Forwards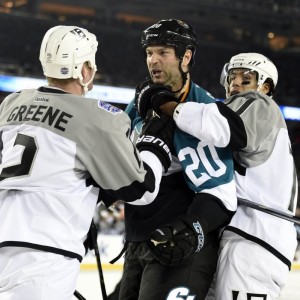 The top dozen former Sharks forwards who played in the NHL last season include:
Jamie McGinn, Milan Michalek, Daniel Winnik
Torrey Mitchell, Steve Bernier, Andrew Desjardins
Mike Brown, Tyler Kennedy, Travis Moen
Ben Smith, TJ Galiardi, John Scott
There is barely enough talent here to make a third-line on a Cup contender and really, it is mostly fourth-line talent. Wilson also moved on from other notables in the past few years, including Devin Setoguchi, Douglas Murray, Ryane Clowe, Michal Handzus, Martin Havlat (who played one NHL game last season) and Dany Heatley. Most of these players had seen their best days behind them by the time Wilson traded them or chose not to retain them. All were out of the NHL by the end of last season.
Defense
The top-six former Sharks defensemen who played in the NHL last season include:
Dan Boyle, Jason Demers
Brad Stuart, Josh Gorges
Christian Ehrhoff, Matt Carle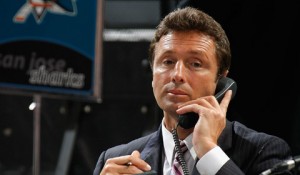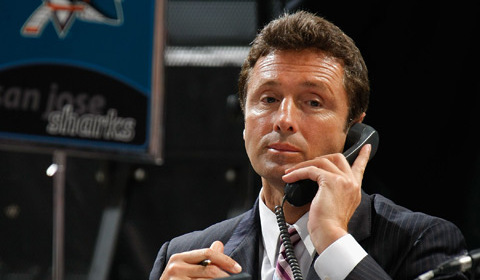 The blue line is clearly better than the forward group, but still, it isn't that great. The best career player is Dan Boyle, but he was well past his prime when Wilson choose not to re-sign him two years ago, acquiring a draft pick in return when he traded Boyle's rights. It was similar with an aging Brad Stuart, who was traded for a draft pick to end his second tour of duty with the Sharks. As a group, these are competent players, though, with the exception of Demers and Gorges, they have all seen better days.
One should look at what came and went with these players. Carle's departure was part of Dan Boyle's arrival, with Boyle spending several of his prime years in San Jose. Demers' departure meant the arrival of Brenden Dillon. Gorges' departure came with Craig Rivet's arrival and the draft pick which turned into Demers. On the downside of that deal, a pick was traded with Gorges, which became Max Pacioretty. Stuart's original tenure with the Sharks ended with the trade which brought Joe Thornton to San Jose.
Goalies
Thomas Greiss
Antti Niemi
Goalies have never been Wilson's strong suit. The Sharks spent years riding Evgeni Nabokov before turning to Niemi, who proved less than what San Jose hoped for in his four-year Sharks' tenure. Greiss has been an effective backup over the years, finally getting a real shot this past season with the Islanders. He performed well in the playoffs — perhaps well enough to garner consideration as a starter.
There's More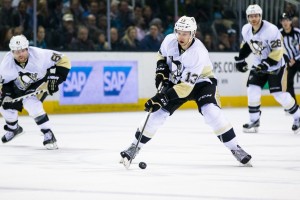 A deeper dive brings up a few additional interesting names. San Jose owned the rights to a pair of college players but traded them prior to the start of their NHL careers. The players, Nick Bonino and Charlie Coyle, have gone on to success in the NHL — Bonino was traded for rental players while Coyle was a key part of the deal which brought Brent Burns to San Jose.
All in all, it is hard to make a case that the ex-Sharks are lighting up the league. What does this show? Wilson has shown sound judgment in knowing when the Sharks are best served by having players move on.
Zeke's Notes
I considered rental players (players brought in near the trade deadline with expiring contracts) a separate category. Given that they became free agents at the end of the season, retaining these players is not really in the team's control. Brian Campbell is the most notable of these.
If I missed a notable player, I'm sure folks will inform me. This is the list I worked from, with an emphasis on those still in the league.
Forwards: Milan Michalek, Andrew Desjardins, Mike Brown, Ben Smith, Adam Burish, Tyler Kennedy, Tye McGinn, John Scott, James Sheppard, Martin Havlat, Bracken Kearns, Raffi Torres, TJ Galiardi, Michal Handzus, Benn Ferriero, Jamie McGinn, Torrey Mitchell, Daniel Winnik, Ben Eager, Devin Setoguchi, Kyle Wellwood, Manny Malhotra, Travis Moen, Steve Bernier, Marcel Goc, Dany Heatley, Ryane Clowe, Scott Nichol, Mark Bell, Jonathan Cheechoo, Mike Ricci, Marco Sturm, Wayne Primeau, Mark Smith, Patrick Rissmiller, Mike Grier, Jamal Mayers, Brandon Mashinter, Scott Gomez
Defense: Ian White, Douglas Murray, Christian Ehrhoff, Kent Huskins, Brad Stuart, Dan Boyle, Jason Demers, Matt Tennyson, Matt Irwin, Matt Carle, Josh Gorges, Craig Rivet, Mike Rathje, Scott Hannan, Tom Preissing, Rob Davison, Matt Irwin
Goalies: Alex Stalock, Thomas Greiss, Antti Niemi, Miikka Kiprusoff, Vesa Toskala, Brian Boucher
Before reaching the NHL: Nick Bonino, Charlie Coyle
Notable rental players: Brian Campbell, Roman Polak, Nick Spaling, James Reimer, Dominic Moore, Bill Guerin