Not often in life do the words "too much" and "talent" appear in the same sentence, much less in sports. Still, in the hockey world, where talent costs money and spending comes with the onerous task of fitting all of your contracts under a salary cap, too much talent often means not enough space – something the Tampa Bay Lightning will be learning the hard way in the 2015/16 offseason.
http://gty.im/471880708
Building a Strong Team – A Bittersweet Endeavor
The process of scouting, building your future team with draft picks and developing that young talent is crucial to your team's potential success going forward, especially in a league that has a constant influx of fresh, fast and skilled young players. You want your team to be as "stacked" as possible against the 3% chance you, along with the other 29 teams in the league, have to win the cup; you want to tip those odds in your favor.
Since joining the team in 2010, Lightning GM Steve Yzerman has done just that. He has built a solid, young team that has the potential to be a Stanley Cup contender for years to come. Fronted by superstar Steven Stamkos, for the past two seasons the team has come ever so close to securing its first championship since 2004, even with injuries to key players plaguing their postseason efforts.
That feat alone is enough to prove the amount of depth found in the Lightning roster, which consists of not only their captain, and face of their franchise, Stamkos, but other budding stars including former Lightning draft picks Alex Killorn (2007), Victor Hedman (2009), Nikita Namestnikov (2011), Nikita Kucherov (2011), Ondrej Palat (2011), and Jonathan Druin (2013). With these young players, along with veterans like Brian Boyle, Ryan Callahan and Anton Stralman, as well as the team's backbone – goalies Ben Bishop and Andrei Vasilevskiy – you've got yourself a competitive team with both parts explosive skill and seasoned experience.
Talent Overflow: The Lightning's Struggles
The issue, though, and the shadow that is currently looming over Mr. Yzerman's head, is the fact that this pool of talent is beginning to overflow – the first wave of which is coming this summer. On July first, the gates of the free agency open, and the Lightning GM will have to make some weighty decisions that will have profound effects going forward. With Stamkos on the verge of becoming an unrestricted free agent, and young players J.T. Brown, Killorn, Kucherov, Namestnikov, and Cedric Paquette among others slated to become restricted free agents, Yzerman has his work cut out for him. With roughly $22 million in projected cap space for the Lightning, it is all but impossible that he will be able to offer agreeable contracts to everyone.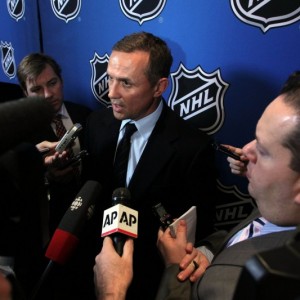 Nevertheless, this article isn't going to outline the different options Yzerman has ahead of the free agency, or predict the who will be in attendance come the beginning of training camp (though this writer has some potential routes for the Bolts), it's just meant to highlight the simple fact of operating in a cap-restricted world: it's hard to keep good teams together. For example, the (once) defending-Cup-champion Chicago Blackhawks, with its top-heavy salary commitments, now face serious questions about the future of its roster. Now Tampa, too, is feeling the winds of change brush warningly against its current Cup-contending window. This year could be the tipping point for a team with its future on the edge – what that means is anyone's guess.
In any case, the Lightning only have 3 players signed beyond the next two seasons (Ryan Callahan, Braydon Coburn and Anton Stralman to be precise), so regardless of what happens this year, the road ahead does not get any easier. Even if, let's say, Yzerman manages to keep Stamkos by trading some under performers (Matt Carle and Valterri Filpulla come to mind) and shedding a little salary, and then signs his core guys, the following year he still has to deal with the FA status of both his goalies and other cornerstones of the roster like Hedman, Palat and Tyler Johnson. I call this the second wave of the Lightning talent overflow.
Talent Comes at a Cost
It's an unfortunate but self-evident fact in the sports business; star players want to get paid. A lot. And while you want all of your players to put on their game face night after night, and do everything in their power to score points and add value to your on-ice game, matching or exceeding that expectation is often met with a demand for serious compensation when it comes time to sign a new contract.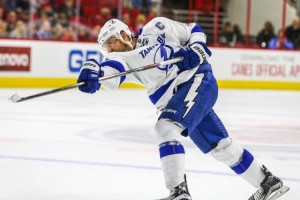 The days of dynasties, like the Wayne Gretzky-led Oilers or the Denis Potvin-fronted Islanders, are no more; teams, regardless of the size of their owners' wallets, just can't afford to use up too much of their available cap space on one or two players. They can't stack their team with talent like they could in previous decades (at least not in the long term). This fact means that major roster changes on teams are more likely going to be a regular occurrence, year over year. Even being a young superstar, your team's beloved captain and someone who genuinely wants to have a future in that same city can't guarantee you a permanent residency; not when a team is faced with a choice between you and so many other crucial pieces of its future.