Regardless of how the playoffs end for the Montreal Canadiens this year, fans can go to sleep knowing that their teams' future is brighter than it has ever been in the past decade.  Unlike some teams that have 1 player who is emerging as a star; the Canadiens have 3 players that are destined to be great. They are P.K. Subban, Jaroslav Halak and Mike Cammalleri. That's one solid player at each position; you don't need to look any further than the Pittsburgh Penguins to understand how far that takes you. Yes there are other notable and hard working players on the team and this article isn't about them, this article is about how the 3 of them will bring us to the promised land.
First let's look at defenseman P.K. Subban and what he will deliver in the coming years. For everyone outside of Montreal P.K. appears to be someone who was called up in desperation out from obscurity, for Montrealers this was a move long overdue. With a resume that includes 2 gold medals at the World Junior championships in which he got 9 points in 13 games and another 53 points in 77 games playing with the Hamilton Bulldogs this year (which puts him in a tie for 47th in league scoring at the AHL), it is difficult not to get excited about his potential. Oh yeah, did I mention he was only 20? Some of you may say that success at the AHL level doesn't necessarily mean success at the NHL level and you are right but what makes P.K. different is his ability to perform at any level whether that be AHL, World Juniors or NHL level. His speed, creativity, leadership and ability to deliver under pressure makes this kid the real deal. Just the other week he scored the game winner in OT for the Hamilton bulldogs in the playoffs  (2ndgoal of the game), in his first call up this year in the playoffs he registered 1 assists against the Caps, 2 games later he opened the scoring for the Habs against Sidney Crosby and the Pens. But numbers don't tell the whole story, seeing is truly believing in this case, check out the YouTube link on the page, in it you see P.K. rushing from his end to the other end with lighting speed and creativity to put the puck in the back of the net, by the way it was at the World Juniors. All this to say that Subban will not falter at the NHL level like many others have, he will be a treat for Montreal fans that have waited for him to take his rightful place in the Habs locker room and on the ice.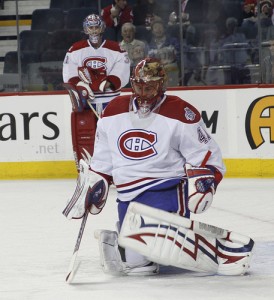 A team can't have a resurrection unless it gets solid goaltending and if the 2010 NHL playoffs are any indication then Jaroslav Halak is that man.  At 24 he is just entering his prime for a goalie and with a respectable 56 wins in 101 NHL regular season games Halak definitely has the pedigree to be the one to help his team succeed in the future. When looking at stats it is crucial to see an improvement from year to year, for Halak this year saw careers numbers. He improved his save percentage from .915% to .925%, his GAA also fell from 2.86 last year to 2.40 this year and finally he went from 1 shutout last year in 34 games to 5 in 45 games this year.  Clearly he isn't showing signs of slowing down and his recent playoff performance has definitely proved that he is the real deal. After being insulted by Alex Ovechkin, who said he saw Halaks hands shaking when he was drinking water after they scored on him, Halak was determined not to let the Caps win the series and sure enough he made it happen. Halak let in only 1 goal on 33 power play attempts by the Capitals and let in only 3 goals total in his last 3 games against the Caps, enough to have Bruce Boudreau pull out any hair he had left and kiss the playoff bye bye. As impressive as those numbers and feats are Halak or any other goaltender for that matter wouldn't be half the goalie they are if not for the team in front of them. For one reason or another Halak inspires his team to win, they do it by blocking an insane amount of shots as witnessed in the ousting of the Washington capitals where in the last game some 93 shots were attempted and only 43 made it though. Some say he inspires by staying quiet and low key others will argue it's his commitment to winning, whatever it is its working. With Halak at the back the Canadiens can afford to take chances in the other end and that brings us to the 3rd gem.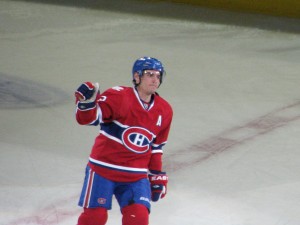 Mike Cammalleri was brought in by GM Bob Gainey at a cost of $30 million over 5 years, some hated the signing others loved it; one thing is for sure no one doubts the signing anymore. Cammalleri brings a long awaited sniper to the Montreal Canadiens and a more consistent and threatening forward than Andrei Kostitsyn will ever be. What Mike does best is that he has the ability to find the smallest hole and put the puck in, he is also relentless and hard working which frustrates the opposition. These traits make Mike Cammalleri a winner and it is with his on ice leadership that the Canadiens will be able to make it all the way one of these years. He is already proven that he is an elite playoff performer, he currently sits 2nd behind Sidney Crosby in points and 2ndin goals, he also is averaging a point per game through his career in the playoffs (14 points in 14 games). Regular season points are nice but playoff points show what you really play for come April and Mike has definitely shown that he plays to sip from the cup. What I like most about Cammalleri is that he actually looks like he is having fun on the ice, during every interview you see him smiling and being optimistic he's never one to gloat about a missed goal or a bad game. For those reasons I believe Mike will be the offensive weapon to inspire his teammates and his fans to believe that the quest for 25 will finally be achieved.
So there you have it, 3 Habs players who are set to explode in the coming years and deliver the greatest prize in sports the Stanley Cup.
 Please comment on what you think about the article and the future of the club, thanks
Peter Leventakis
Follow me on twitter at http://twitter.com/thehockeybros   also check out my other blogs on http://thehockeybros.wordpress.com/