*For all the latest prospect and draft news follow me on Twitter: Brian Huddle
Please "Click Here" for "Notes Up Front" and the "Legend" for various topics covered below in my "Live Updated" NHL 2011 Draft Preview article.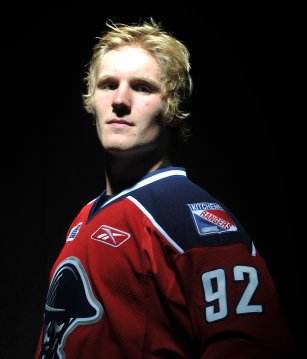 Gabriel Landeskog
Born: Stockholm, Sweden
DOB: November 23, 1992
Height: 6'1"
Weight: 207 lbs
Position: Right Wing
Shoots: Left
NHL Draft Eligibility: 2011
One-Timer:
Not your 'prototypical' European player, Gabriel Landeskog is making waves in the hockey community, having been compared to former Kitchener Captain, Mike Richards. An impact player by choice, Landeskog reeks of perseverance,  determination and pure desire to win. An absolute force when he wants to, this Swedish Captain plays the power forward role to a t.
When a teammate needs him, he's there. Whether to drop the gloves, block a shot, score a goal, or set one up, Landeskog will do it all. Considered the most complete player in this year's draft, some scouts are drooling over the Rangers Captain, and there has been a case made for him going 1st Overall come June.
When asked about his Captain, Kitchener Head Coach and General Manager is all to eager to slap the impact player label on Landeskog, comparing him to a former Rangers Captain and current Philadelphia Flyers Captain, Mike Richards. Both wear their heart on their sleeve each shift.
Top Prospects Game: Was unable to attend because of a high ankle sprain.
Statistics: 53 GP – 36 G – 30 A
Scout's Honor:
"Extremely fit and strong, wins nearly every corner battle and isn't afraid to dust it up when necessary. Great teammate who plays with a contagious enthusiasm for the game. Should put up much better numbers this year now that he'll be seeing first line and PP duty."- Red Line Report, September 2010

Bio/Interview(s)/Link(s):
International Tournaments
Played for Team Sweden at Under 16's- Was Named Captain
Played for Team Sweden at Under 17's- Was Named Captain
Played for Team Sweden at Under 18's- Was Named Captain
Played for Team Sweden at the Under 20 World Juniors- Was Named Alternate Captain, though his tournament was cut short by a high ankle sprain
ETA = 1 yrs
Risk-Reward Analysis:
Risk = 0.5/5   Reward = 3.5/5
NHL Potential:
Top 6 Winger who can play in all situations; Powerplay, Penalty Kill
Strengths:
*See "One Timer" section above.
Strong, powerful skater with excellent balance
Accurate Shot
Shows energy every shift, rarely takes a moment off
Adept passer
Big body- shows physical elements all game
Leader everywhere he goes
Intangibles
Strong work ethic
Flaws/Aspects He Needs To Work On:
Continue to get stronger
First step quickness needs continued improvement to make bigger impact at NHL Level
Add power to shot
Fantasy Hockey Potential: Offensive = 7.5/10   Defensive = 8/10
NHL Player(s) Comparison:
– At his best:
Mike Richards
Jarome Iginla
Brendan Shanahan
Video(s):
Off The Iron (Interesting Notes):
Will likely be first Swedish Born CHL'er to be taken in First Round
Father was a defenseman in SEL
THW's The Next Ones prospect profile template design architect: Chris Ralph
This document is the intellectual property of Brian Huddle and cannot be used or duplicated in any way without expressed written consent. Any use of this document without the expressed written consent of Brian Huddle will result in public exposure and legal prosecution.