2012 IIHF WORLD JUNIOR CHAMPIONSHIP
Tampa's Brett Connolly and Anaheim's Devante Smith-Pelly Added to Canadian Roster
Last week, the Tampa Bay Lightning and Anaheim Ducks decided to loan rookies Brett Connolly and Devante Smith-Pelly to Hockey Canada for the upcoming World Junior Championships. Smith-Pelly will provide Canada with a very diverse playing style and will be instrumental on the powerplay and penalty kill. Connolly strengthens the right side on Team Canada roster and adds another scoring threat. Both players have had great NHL rookie seasons and will enter the tournament with lots of confidence.
Ryan Spooner Out for WJC with Mono
Unfortunately for Ryan Spooner of the Kingston Frontenacs he won't be able to attend the Team Canada selection camp underway this week as he is sidelined with mononucleosis. The Boston Bruins draft pick was having a very good season on an underwhelming team as he had 32 points in 27 games and leads the OHL in shorthanded goals with 7 tallies. Team Canada will definitely miss his versatility.
Draft Eligibles Add Intrigue to World Juniors
Future Considerations' Dan Stewart breaks down some 2012 NHL Draft eligible players vying for roster spots on their nation's squads. The 2012 has plenty of game-breaking talent that will surely provide a boost to some of the rosters competing at the 2012 IIHF WJC including Nail Yakupov and Mikhail Grigorenko for Russia. Canada has Ryan Murray, Cody Ceci, Matt Dumba and Phil Di Guiseppe competing for spots. Other draft eligible expected to leave a mark during the WJC include Pontus Aberg (SWE), Filip Forsberg (SWE), Sebastian Collberg (SWE), Zemgus Girgensons (Latvia), Jacob Trouba (USA), Olli Maatta (FIN), Ville Pokka (FIN), Martin Frk (CZE), Tomas Hertl (CZE), and Radek Faska (CZE) among many others.
Dumba Ready for Any Role with Canada
Matt Dumba might just be the most exciting 2012 NHL draft eligible player with the exception of Nail Yakupov as he brings a hard hitting offensive element to the game. Dumba looks to make his impression with Hockey Canadaover the next few days at the selection camp and will accept any role Canada chooses to put him in (if they decide to include the youngster).
Notes from Selection Camp including Brett Connolly Injury + more
Day one of selection camp has wrapped up and there was plenty of impressions (good and bad) left with Hockey Canada. Unfortunately, several players were banged up during the events of day one including recently released Brett Connolly and Brad Ross (Portland Winterhawks). Check here for more information on day one including strong performances and other injuries.
Sportsnet's Sam Cosentino Shares His Views on Day One – Making Their Mark
Cosentino shares his thoughts on day one including those who impressed him, those who made a strong first impression and news on the cancellation of Monday's practices.
WJC2012: Missing the point on Canada's missing talent
Neate Sager of Yahoo discusses the problem with Canadians focusing on the players not competing for Canada in the upcoming WJC (like RNH, Johansen, Gudbranson, Seguin and Skinner).
Hockey Canada should Announce Roster Wednesday (December 14th)
Canadians will soon find out which players will represent Team Canada at the upcoming WJC as Hockey Canada will release the roster this Wednesday.
Team Sweden Roster Leaked?
WHL From Above shares the Team Sweden roster that was apparently leaked last week online. As usual, Sweden is a very competent hockey nation and this year is no different. Expect Mika Zibanejad (Ottawa Senators), William Karlsson (Anaheim Ducks), Oscar Klefbom (Edmonton Oilers) and Jonas Brodin (Minnesota Wild) to lead the way but they will be joined by some intriguing players including 2012 draft eligible Filip Forsberg, Pontus Aberg, and Sebastian Collberg. Personally, if I am not rooting for Team Canada then I am often left rooting for Sweden to do well as I respect their style of hockey and enjoy watching them play their systems.
Special: World Junior News Coverage…beloware several articles trending on the topic of WJC
ITO Selects Team Canada for the WJHC
Opportunity Knocks for World Junior blue-liners
Grinder Ross could fit Hay's World Junior Squad
Gallagher locked in for Canada
YAKKY's BACK BOOSTING A MUCH NEEDED STING ROSTER
After missing seven consecutive games with a back injury, Nail Yakupov returned to the lineup Sunday to face the visiting Peterborough Petes. Nail Yakupov impressed with a goal and 2 assists in Sarnia's 4-2 win over the Petes and could've had his forth point but hit the post on the empty net late in the game. The Sarnia Sting have been decimated (this word might be an understatement) with injuries/illness this season. Sarnia was forced to play with only 8 forwards over the weekend as Galchenyuk, Ritchie, Yakupov, Kujawinski, Murphy, Basso and several others missed games with injury. Ludvig Rensfeldt and Nick Latta were also absent from the lineup as they left to join Team Sweden and Germany for upcoming World Junior Tournaments.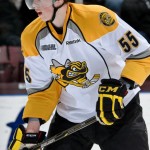 Sarnia received good news as Connor Murphy suited up for his first OHL game on Friday after rehabbing his injured knee. Murphy's presence was felt early as he notched his first career OHL point on just his second shift of the game on Friday night versus the Erie Otters. Unfortunately the shorthanded Sting loss to the Erie Otters who earned just their fourth win this season. Sarnia has been forced to rely on several Junior B players to fill the holes in their lineup due to injuries and international commitments. There is no other team in the OHL who could benefit from a little rest over the holidays.
Nail Yakupov is expected to join Team Russia for the upcoming World Junior Championship in Alberta beginning boxing day and Sting fans are hoping that his back injury will continue to heal (although it's clear that he's not quite 100% despite his recent 3 point game).
ITO: TODD CORDELL's HOT STOVE
My OHL friend, Todd Cordell, has debuted over at the OHL focused website, InTheO, and he asks some of the OHL's finest reporters whether the London Knights will finish in first place in the OHL. Check out the conversation here.
THE 2012 NHL DRAFT CORNER
Alex Galchenyuk Draft Blog – Galchenyuk settling into rehab routine
One of the 2012 NHL Draft's top prospects, Alex Galchenyuk, released his latest blog entry informing his fans of his progress in the rehabilitation of his injured knee.  Alex talks about his frustrations with the current injury but also sheds some light on how he is helping his teammates from the sidelines.  Plus, @AGally94 gives us a sneak peak one of his Christmas wishes from Santa.  Check out this great read from a great kid!
Draft Profiles
Scott Kosmachuk – F, Guelph Storm
Zack Leslie – D, Guelph Storm
Joseph Blandisi – F, Owen Sound Attack
Gemel Smith – F, Owen Sound Attack
VIDEO: Phil Di Giuseppe (U of M) is climbing up the draft rankings so how about we get to know him a little better.

OHL SIGHTS AND SOUNDS
VIDEO: Alyonka Larionov (Igor Larionov's daughter) shares her connection with Nail Yakupov and Alex Galchenyuk

VIDEO: BTN Draft Tracker with Gemel Smith (Owen Sound)

VIDEO: BTN Draft Tracker with Jarrod Maidons (Owen Sound)

VIDEO: BTN with Goaltender Petr Mrazek of the Ottawa 67's (Detroit Red Wings)

THE ONE STOP OHL/PROSPECT LIBRARY
67's defenceman Ceci on swift upward trajectory by Daniel Girard (The Star)
A New Spectator Facility for St. Catherines and the Ice Dogs by Sue Tromanhauser (InTheO)
MRI shows damage to Koekkoek's Shoulder by Mike Davies (The Examiner)
TOP OHL SCORERS
1. Tanner Pearson (Barrie Colts): 30 GP-26G-40A-66P
2. Tyler Toffoli (Ottawa 67's): 28GP-27G-23A-50P
3. Nail Yakupov (Sarnia Sting): 24GP-19G-30A-49P
Charles Sarault (Sarnia Sting): 32GP-13G-36A-49P
Colin Behenna (Barrie Colts): 30GP-12G-37A-49P

TOP OHL DEFENCEMEN SCORERS
1. Dougie Hamilton (Niagara Ice Dogs): 30GP-12G-33A-45P
2. Cody Ceci (Ottawa 67's): 30GP-7G-25A-32P
3. Adrian Robertson (Windsor Spitfires): 35GP-9G-20A-29P
TOP OHL ROOKIE SCORERS
1. Radek Faska (Kitchener Rangers): 30GP-15G-17A-32P
2. Max Domi (London Knights): 31GP-12G-19A-31P
3. Connor Brown (Erie Otters): 31GP-11G-10A-21P
OHL PLAYER OF THE WEEK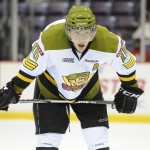 The Ontario Hockey League has announced that Brampton Battalion forward Philip Lane is the OHL Player of the Week soon after notching seven points (3G, 4A) in three games highlighted by a four assist effort on Friday night.  Lane also finished the week with a plus-6 rating for the Battalion.
Lane, a Rochester, NY native, is playing in his third OHL season and was a Phoenix Coyotes second round draft selection in the 2010 NHL Entry Draft (52nd overall).  After his strong week, Philip now has 26 points in 32 OHL games this season leading all Battalion players.
Congrats Phil!
Thanks for reading!