The Oilers Nation, a blog dedicated the to Edmonton Oilers, put out a post listing the defenceman who have played for the team since Taylor Hall was drafted. They astutely pointed out that the Oilers biggest problem is a lack of puck-moving blueliners. It's not say that all of the defencemen the Oilers have employed are terrible, but there has been a clear lack of talent from the back-end. With puck-possession and the transition game being of the utmost importance, the Oilers have some work to do. But top defencemen don't grow on trees, so where will the Oilers find them?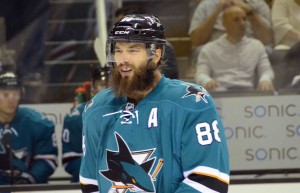 The Best of Current Playoff Teams
Dallas Stars:
John Klingberg (Drafted 131st overall in 2010)
Alex Goligoski (Traded for in 2011. Drafted 61st overall in 2004)
Johnny Oduya (Free agent signing in 2015. Drafted 221st overall in 2001)
Nashville Predators:
Shea Weber (Drafted 49th overall in 2003)
Roman Josi (Drafted 38th overall in 2008)
Ryan Ellis (Drafted 11th overall in 2009)
New York Islanders:
Nick Leddy (Traded for in 2014. Drafted 16th overall in 2009)
Thomas Hickey (Claimed off waivers in 2013. Drafted 4th overall in 2007)
Travis Hamonic (Drafted 53rd overall in 2008)
Pittsburgh Penguins:
Kris Letang (Drafted 62nd overall in 2005)
Trevor Daley (Traded for/stolen in 2015. Drafted 43rd overall in 2002)
Olli Maatta (Drafted 22nd overall in 2012)
San Jose Sharks:
Brent Burns (Traded for in 2011. Drafted 20th overall in 2003)
Marc-Edouard Vlasic (Drafted 35th overall in 2005)
Paul Martin (Free agent signing in 2015. Drafted 62nd overall in 2000)
St. Louis Blues:
Alex Pietrangelo (Drafted 4th overall in 2008)
Colton Parayko (Drafted 86th overall in 2012)
Kevin Shattenkirk (Traded for in 2011. Drafted 14th overall in 2007)
Tampa Bay Lightning:
Victor Hedman (Drafted 2nd overall in 2009)
Anton Stralman (Free agent signing in 2014. Drafted 216th overall in 2005)
Jason Garrison (Traded for in 2014. Undrafted)
Washington Capitals:
John Carlson (Drafted 27th overall in 2008)
Matt Niskanen (Free agent singing in 2014. Drafted 28th overall in 2005)
Dmitry Orlov (Drafted 55th overall in 2009)
Brent Burns was nominated for the Norris Trophy as the league's best defenceman. The other two candidates are Erik Karlsson (drafted 15th overall in 2008) and Drew Doughty (drafted 2nd overall in 2008). Flyers rookie blueliner Shayne Gostisbehere was given a Calder trophy nomination (drafted 78th overall in 2012). Of the 27 defencemen listed here, 12 of them were first round draft picks. 16 of them are making an impact for the teams that drafted them. What does that tell us?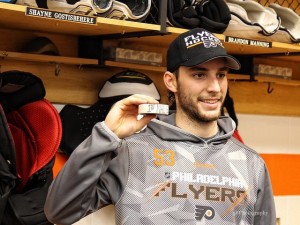 Good scouting is key
The Predators have made a science out of drafting defenceman. In fact, with the exception of Barret Jackman, who was a free agent signing last summer, their entire top-6 consists of homegrown talent. Now you could say that they got lucky in drafting, and that is certainly true in a lot of cases. The Flyers got lucky that so many teams passed on Gostisbehere, as did the Blues with Parayko. But choosing a player in the draft means that you scouted him. The luck is more that the rest of the league didn't choose him.
We all know that the Oilers drafting history when it comes to defenceman isn't much to write home about. Hindsight is always 20/20, however, the Oilers weren't the only team to pass on great players. But unfortunately, they haven't been able to find that late-round steal. Maybe they had certain guys on their radar, and they went off the board before the Oilers could choose them. That stuff happens all the time. But there's a reason the Oilers fired most of their scouting staff last summer.
All it takes is one great trade
Regardless of how far the Penguins go in these playoffs, no one can deny that the Trevor Daley/Rob Scuderi swap was probably Jim Rutherford's very best trade. Daley was a good piece in Dallas, but not necessarily the top guy. He didn't fit at all in Chicago, for whatever reason, and the Pens were able to buy low. You could say they got lucky, but isn't that part of making trades in the NHL? Sometimes they work out, and sometimes they don't. It was a low-risk move and it paid off huge. It makes up for when Rutherford shipped out young Simon Despres for Ben Lovejoy last season. (Although, Lovejoy is playing much better in Mike Sullivan's system).
The Sharks hit the jackpot when they traded for Brent Burns, but I don't believe they expected him to become the horse on the blueline that he is today. In fact, he often played on the wing in the early going. But again, trades can end up working out great, so you always have to gauge the market.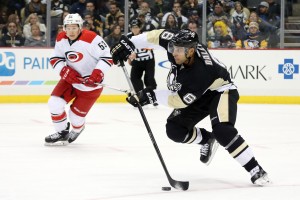 The 4th overall pick is very important
The Oilers currently hold the 4th overall pick in this year's draft, which according to GM Peter Chiarelli is very much in play. The team has plenty of options. They could package the pick to get an established defenceman, or they could trade down and draft one. The tricky thing for the Oilers is that they have plenty of left-handed shots on their blueline, and would be well served to draft a righty. The highest ranked right-handed defenceman is Charles McAvoy. Dante Fabbro is the only other right-handed shooter ranked in the first round among North American prospects.
If they are really sold on one of the other d-men however, perhaps one of their current guys could be on the move. There has been a lot of chatter about a P.K Subban trade, albeit mostly on Twitter by people who are dying to see a real blockbuster trade. Chiarelli stated that he hasn't discussed Subban, and the Canadiens say they don't want to trade him. But we all know that could change in an instant. Right now, Montreal holds the ninth overall pick. (Subban, for the record, shoots right).
Don't dismiss the free agent market
Granted, there is no Matt Niskanen, or Stralman or Paul Martin out there this summer, but what about Keith Yandle? The Rangers probably would like to keep him but they're up against the salary cap. Yes I know he shoots left. So does Brian Campbell, Alex Goligoski, Kris Russell and Dan Hamhuis, also UFA's this summer. (Right-handed shooters are hard to come by). Jason Demers is the most intriguing name to me. He's a righty, he's got the size and grit that Oilers are looking for, and he played for Todd McLellan in San Jose.
Obviously, it's not a strong market for defencemen this summer, but that doesn't mean there isn't a gem to be found. As we learned with Daley, some guys go to a new team and find their stride, despite it not working out in other places. Those kinds of stories should serve as a reminder that you can't always measure a player's worth by his past. Oiler fans could attest that Jeff Petry and Justin Schultz look a little better on their new teams, given smaller roles and more sheltered minutes.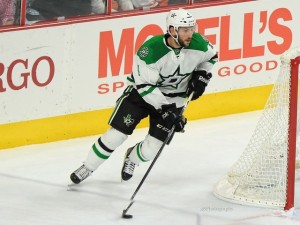 The verdict?
I know it might look a little bleak. The Oilers weaknesses on defence just seem magnified, and of course its a concern. Some teams have built their bluelines and harvested great results; others not so much. There isn't always a sure-fire method. The Oilers must be very careful with their asset management, because past mistakes have really cost them. I'm confident in the new regime. They can't make it any worse, right?
Marcy, a former hockey player, is a hockey correspondent on CTV News and TSN radio. She began her career as a Sports Journalist in 2009 and has been part of The Hockey Writers since 2010, where she is currently a senior writer and editor.