Canadian-based franchises boast some of the most exciting young talent in the NHL, with guys like Connor McDavid, Auston Matthews and Patrik Laine headlining their respective teams. They also have some of the better position players in the league, like Carey Price, Erik Karlsson and Dustin Byfuglien.
Unlike last season, where not one of the teams based in Canada made the playoffs, it looks like there could be a few in the postseason this time around. Both Alberta-based teams find themselves in a playoff spot, and both are being led by a strong compliment of veterans and young players. Bitter rivals till the end, which team appears to have the better core of players on their roster?
How the Oilers Were Built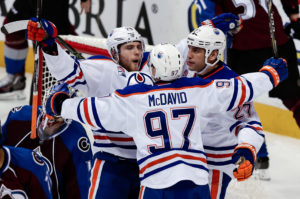 We all know about the year the Oilers won the lottery literally and figuratively. Despite not finishing dead last in the standings, the Oilers struck gold, and won the right to draft phenom Connor McDavid. So far, he's been as good as advertised. He leads the league in scoring and has factored into much of his team's offence this season. But he's not the only reason the Oilers are succeeding for the first time in 10 years.
Centers
Drake Caggiula (undrafted free agent signing in 2016)
Leon Draisaitl (drafted 3rd overall in 2014)
Connor McDavid (drafted 1st overall in 2015)
Ryan Nugent-Hopkins (drafted 1st overall in 2011)
Wingers
Jordan Eberle (drafted 22nd overall in 2008)
Milan Lucic (signed as a free agent in 2016)
Patrick Maroon (acquired via trade in 2016)
Jesse Puljujarvi (drafted 4th overall in 2016)
Defencemen
Matt Benning (signed as a free agent in 2016)
Oscar Klefbom (drafted 19th overall in 2011)
Adam Larsson (acquired via trade in 2016)
Darnell Nurse (drafted 7th overall in 2013)
Andrej Sekera (signed as a free agent in 2015)
Goalie
Cam Talbot (acquired via trade in 2015)
If the #NHLPlayoffs started today, the #Oilers would have home ice advantage in the first round. pic.twitter.com/AQ7ro0diVP

— Stephen Vani (@SjVani92) February 24, 2017
When you look at all the key acquisitions in the calendar year of 2016, it's no wonder we've seen a resurgence from the Oilers this season. Peter Chiarelli quietly re-built and re-tooled the roster in his short tenure, and so far, it's paying off. Despite the woes of secondary scoring, the Oilers still find themselves comfortably in a playoff position.
Oilers fans, and the organization itself, are more than ready to see the fruition of all the high draft picks this team has amassed. They have addressed certain deficiencies, and have been noticeably better in key areas like defence and goaltending.
How the Flames Were Built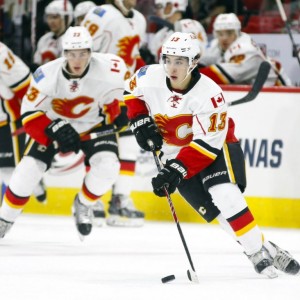 Unlike the Oilers, the Flames haven't had the benefit of a first overall pick during the construction of their roster. In fact, Calgary has never selected first overall. Sam Bennett (chosen 4th overall) is the highest pick they currently have in their system. The Flames re-build has been much slower than that of the Oilers. They've relied on later draft picks, and the patient development of their players.
Centers
Mikael Backlund (drafted 24th overall in 2007)
Sam Bennett (drafted 4th overall in 2014)
Lance Bouma (drafted 78th overall in 2008)
Sean Monahan (drafted 6th overall in 2013)
Wingers
Michael Ferland (drafted 133rd overall in 2010)
Michael Frolik (signed as a free agent in 2015)
Johnny Gaudreau (drafted 104th overall in 2011)
Matthew Tkachuk (drafted 6th overall in 2016)
Defencemen
T.J Brodie (drafted 114th overall in 2008)
Mark Giordano (signed as a free agent in 2004)
Dougie Hamilton (acquired via trade in 2015)
Jyrki Jokipakka (acquired via trade in 2016)
Goalie
Brian Elliott (acquired via trade in 2016)
#Flames are in a good spot right now, but without a doubt the potential 16 point swing with LA (4 head-to-heads left) will decide playoffs.

— Christian Roatis (@CRoatis) February 24, 2017
The Flames have made the playoffs in five out of the past 11 seasons. Their last appearance came in the 2014-15 campaign, so there is a measure of greater success in Calgary as oppose to Edmonton. But the expectation, with a new coach in tow, is that they are a playoff team again this season.
The biggest question mark for the Flames is goaltending. They hoped that the acquisition of Elliott would shore up the situation, but he's been inconsistent at best. There is surprisingly a good market for starting goalies at the moment, so the opportunity is there to make a move. Because when the Flames are firing on all cylinders, they're a good team.
(The question is, if you could only choose one core out of these two teams, which would you prefer to have?)