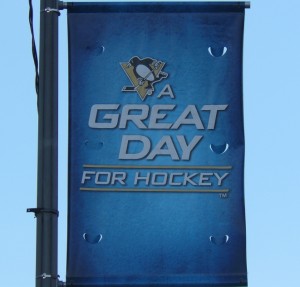 The Pittsburgh Penguins are your 2009 Stanley Cup Champions.
The team that lost Hossa, Malone, Roberts, Hall, Laraque and Ruutu over the summer.  The team that played half of the season without their marquee defenseman Sergei Gonchar.  The team that struggled in the winter and found themselves in tenth place in February. The team that fired the coach that got them to the Final last year and replaced him with a rookie.  The team that fell into 0-2 holes against both Washington and Detroit and were forced to win every series on the road.
The 2009 Pittsburgh Penguins.
It is only fitting that it was Maxime Talbot, not Sidney Crosby or Evgeni Malkin, who scored both goals in the victory.
He is the heart and soul of this Penguins team.
When the locker room needs a laugh, he is there.  When the team needs energy on the ice, he is there.  And when Marc-Andre Fleury needs a friend to get his mind right, he is there.
Talbot has accomplished a great deal during this playoff run.  He scored the game-winning goal that eliminated the Carolina Hurricanes in the Eastern Conference Final.  It was his fight against Daniel Carcillo in the opening round that inspired the Penguins to come back from a 3-0 deficit to win game six and eliminate the Flyers.  But it is Talbot's actions off of the ice that likely mean the most.
Marc-Andre Fleury is an emotional goaltender.  When he is feeling confident, he can compete with the best netminders in the NHL.  When he is feeling shaky, he plays out of position and gives up soft goals.  Max Talbot and Marc-Andre Fleury are good friends.  You will often see them in the hallway outside the Penguins' locker room talking and laughing before games.  Talbot keeps Fleury loose and relaxed.  A relaxed, confident Marc-Andre Fleury is able to put on performances like the one last night.
Marc-Andre Fleury, a goaltender that is often criticized for his inability to win the big game, played a great game last night.  At Joe Louis Arena, a building that had given him so much trouble in the past, Fleury stood tall and backstopped the Penguins to victory.
Sidney Crosby and Evgeni Malkin did not factor into the equation very much last night.  Crosby was injured in the second period and played very little afterward.  Malkin had a few chances and did not score, but he did get an assist on Talbot's first goal.
However, in these playoffs overall Crosby and Malkin exceeded expectations.  They finished first and second in scoring and Malkin became the first player since Mario Lemieux to win the Art Ross Trophy, the Conn Smythe Trophy and lead the playoffs in scoring in the same season.
Last year he was criticized for disappearing in the Stanley Cup Final.  This year he is the MVP of the playoffs.
It's a Great Day for Hockey.