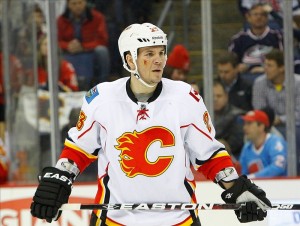 Whenever the NHL gets underway this season, the Predators defense will look radically different. For the first time in six years, Shea Weber will look over to his left and see someone other than Ryan Suter next to him on opening night. While Suter's departure will assuredly alter the makeup of the Predators' blue line, strong defensive play has always been a strength in Nashville and there's no reason to expect differently this season.
The truth is that losing Suter isn't the only change to the Predators defense. They also lost Jack Hillen and Francis Bouillon to free agency in the off season, so there will be plenty of new faces along the blue line in Nashville. Well, at least one new face and several younger faces will see plenty of ice time this season.
With the signing of veteran defenseman Scott Hannan last week, it seems that GM David Poile's plan is really starting to take shape. It's pretty evident that Plan A heading into the Summer was to re-sign both Ryan Suter and Shea Weber and keep Hal Gill around to mentor Ryan Ellis. As we all know, Plan A went into the shredder on Independence Day when Ryan Suter signed a deal with Minnesota Wild. While the team scrambled to come up with Plan B, the Philadelphia Flyers signed Shea Weber to an offer sheet and suddenly the Predators were on the verge of losing both parts of their top defensive pairing and having to turn to Plan C.
Thankfully, the Predators matched Philadelphia's offer sheet and it would seem that Plan B is back on track. With no suitable replacement for Suter in free agency, Plan B is basically the same plan that worked so well last season for the forwards, give the youngsters a shot. The main difference is that with Hannan's addition, the young defensemen have a safety net and another veteran presence to help with their development.
Suter's Departure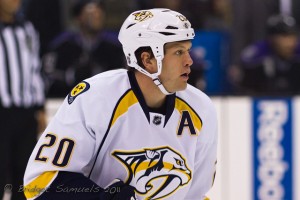 Ryan Suter was such a huge piece of the Predators' blueline that it would nearly impossible to replace him with one player. Let's be frank, players like Suter and Shea Weber are franchise defensemen who make everyone around them better. The last six years have been a luxury for the Predators, but now they find themselves in the same boat as most other NHL teams. Most teams are considered lucky if they can build around one franchise defenseman.
Suter scored seven goals among 46 points last season and has been a consistent 40 point defenseman for the last four years. Beyond his points though, Suter led the Predators in ice time during the regular season with an an average time on ice (TOI) of 26:30 each night. Naturally, he was relied on heavily in all facets of the game including the power play and penalty kill. Oh, and the majority of his work each night was against the best players on the other team.
There are also numerous intangibles that Suter took with him to Minnesota. He has a tremendous amount of international experience playing for the United States in the 2010 Olympics and various other tournaments over the years. Despite only being 27, he has already played in 542 regular season games in the NHL, so the loss of his leadership and experience will certainly hurt the Predators.
Hannan's Arrival
While some fans might think that Scott Hannan was signed to replace Ryan Suter, that couldn't be further from the truth. Ryan Suter is a puck-moving defenseman, while Scott Hannan is more of the stay-at-home type. Hannan won't pick up any power play minutes as he only has three power play goal in over 900 NHL regular season games.
What Scott Hannan does bring to the team though is a veteran leadership in the locker room and a steadying presence on the ice. He, along with Hal Gill, should provide plenty of guidance for Roman Josi in his new, accelerated role alongside Shea Weber. Up and down the lineup, young guys will be asked to step into new roles and more ice time than ever before and Hannan's influence should help stabilize the lineup.
Scott Hannan also brings consistency to the ice. He has played in at least 75 regular season games for 11 consecutive seasons and his versatility gives the coaching staff some flexibility in case some of the young guys stumble.
Plan B for The Predators Defense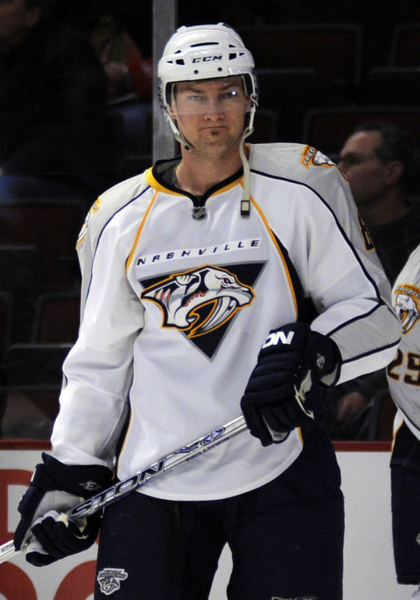 Going into training camp, it would appear that the top seven defensemen are not set with Shea Weber, Roman Josi, Kevin Klein, Scott Hannan, Hal Gill, Ryan Ellis and Jon Blum. If I had to hazard a guess right now, here are the even strength pairings that I think we will see:
Weber/Josi
Hannan/Klein
Gill/Ellis
On the power play, I think it will start out something like this:
Weber/Ellis
Josi/Klein (Forward?)
The penalty kill might resemble this:
Weber/Gill
Hannan/Klein
The biggest component of Plan B is Roman Josi. The 22-year-old will be relied on heavily during the early part of his second season. Like Suter, he has a good first pass and can contribute offensively. Also like Suter, Josi has extensive international playing experience and in five years or so, his play could reach Suter's level. Of course, he could have also have a sophomore slump like Jon Blum last season, but the Predators are hoping that he thrives in his new role. Personally, I think Josi will thrive next to Shea. Will he replace Suter completely? Of course not, but the drop-off shouldn't be too bad.
Having Hal Gill around for a full season will only help to nurture the young guys like Ryan Ellis, Roman Josi and Jon Blum. He is a stalwart force on the penalty kill and with Hannan's addition, the Predators penalty kill should continue to show the improvement that it saw when Gill came to the team last season.
I think the player that will benefit most from Plan B is Kevin Klein. By adding Hannan as his partner, Klein will be allowed to fully commit to the offensive side of his game. We got a sneak peek of this potential over the years, but it really came into its own during the Red Wings playoff series last season. With Hannan's stay-at-home mentality next to him, Klein shouldn't be as hesitant to jump into the play. While I think that Shea Weber is going to have a massive uptick in his offensive numbers this year, I think that Klein will actually be the one who will see his numbers increase the most.
The Wild Card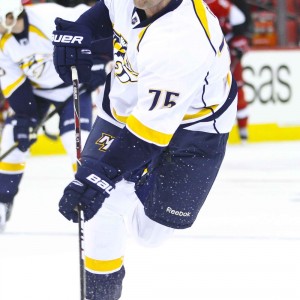 The Predators almost always like to carry seven defensemen on the active roster. Last season's designated "seventh man" turned out to be Jack Hillen on more nights than not, but this season I think this spot really holds some intrigue. At the time of this writing, Jon Blum remains unsigned as a restricted free agent. Much like Josi last year, Blum was the defenseman du jour of the Predators two seasons ago, but really regressed last season both in his time up with Nashville and down with Milwaukee.
Before the Hannan signing, Blum was penciled in for a top six spot on the blue line, but it would appear that he's slotted into that ambiguous seventh spot now. The one thing that coach Barry Trotz does not like to do is to sit a younger player in that seventh spot. His rationale is that he would rather a young player play a lot of meaningful minutes in Milwaukee than ride the pine with the Predators. While that logic makes sense normally, it might actually backfire with Blum.
If Blum earns a top seven spot out of training camp, his confidence might slide even further from an assignment in Milwaukee. Furthermore, who else in the organization would you see getting that slot and the accompanying spot duty that will come with it?
That's why I think Blum is a true wild card this season. Reportedly, he has been working out with the Predators staff in a renewed commitment to get back to the level that he reached two seasons ago. If he is able to regain his form, he could push Ryan Ellis or even Roman Josi for a top six spot. Granted, Josi would have to struggle mightily to find his way out of the lineup, but we've seen it before from other players. At 5′ 10″, Ryan Ellis is no lock either that he'll be able to handle the day-to-day rigors of the NHL.
In a best case scenario, we see the pairings above, but we all know that life rarely gives us best case scenarios. I think it's safe to assume that Blum will factor into the Predators' success this season at some point. As for that seventh spot? I think that Blum and Mattias Ekholm will shuttle back and forth between Nashville and Milwaukee trading off playing time down there for scratch time up here.
Outlook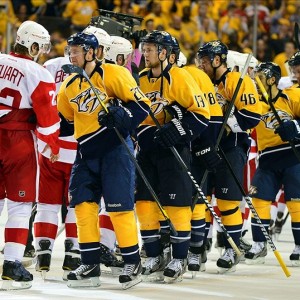 I'm always hesitant making predictions about the future, especially when it comes to the Nashville Predators. It seems that every year, this team has to endure some sort of adversity and yet, all they do is continue to win. Each year, around this time, the prognosticators take out their broken records and proclaim that the Predators will not make the playoffs. Each April, the Predators prove them all to be wrong.
Last season, the Predators went with their young guys up front, subtracting 39 goals from their forward lines with the departures of Joel Ward, Steve Sullivan, J.P. Dumont and Marcel Goc. Everyone predicted doom and gloom, but the young players picked up the slack and then some, vaulting Nashville to 8th in the league in scoring last season. It would be silly to expect a similar improvement after losing Ryan Suter, but this team likes to defy expectations.
Last year, the team had to lean heavily on Ryan Suter and Shea Weber because they were top-heavy in their defensive pairings. A year's worth of experience with the young players and the additions of both Scott Hannan and Hal Gill for the entire season and you could make the argument that the Predators blue line will be better one through six than they were at the start of last season.
With the increased balance among the defensive pairings, Shea Weber won't be asked to play 26+ minutes a night and his energy level will certainly benefit. Not having that work load could work wonders for him in terms of better offensive numbers or more physicality (if that's possible).
If the young players step up and answer the call, it's quite possible that the Predators could be even better defensively than they were with Suter. Of course, it could go the other way too. In that case, it would most likely be a very long season.
If I've learned one thing while following the Predators, it's this. Don't ever underestimate a Barry Trotz coached team. Just when you're ready to write them off, they will surprise you. I plan on being pleasantly surprised by this year's defensive core.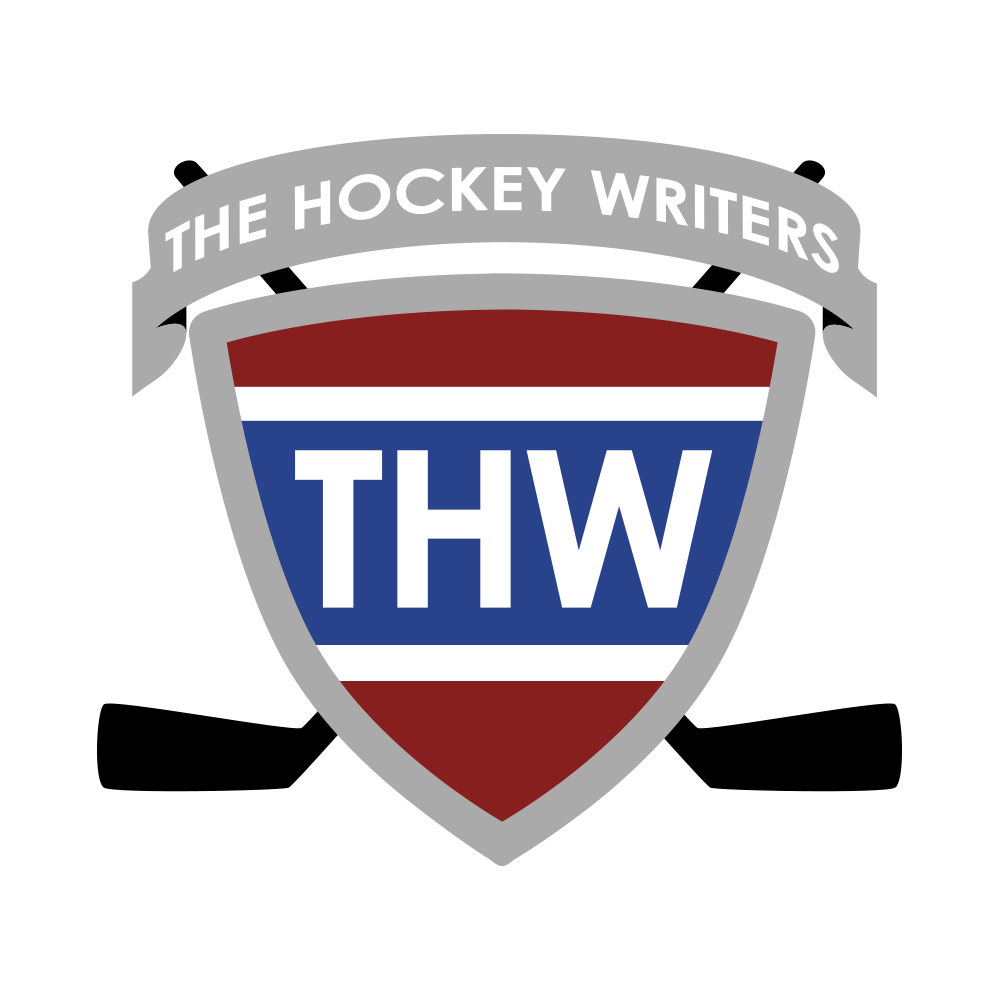 The Hockey Writers is:
1) A top-tier hockey media company delivering a top-notch, in-depth look at the NHL
2) A collective of some of the best hockey writers anywhere
3) A multimedia provider with daily podcasts and YouTube shows
4) Well-respected and widely-cited NHL prospect and draft resource