The Montreal Canadiens begin their quest for their 25th Stanley Cup tonight against the Tampa Bay Lightning. Hockey is full of those with superstitions and those who believe in omens and for many Tampa fans surely the fact that Tampa's only successful path to Lord Stanley's Cup came through Montreal is on their mind. Despite this, Tampa Bay comes into tonight's game missing one of its key players in Ben Bishop. What was earlier perceived to be a near even standing in goaltending now favors Montreal, even in Tampa there's at least one reporter who sees Montreal being victorious. However this shouldn't put anyone who bleeds bleu-blanc-rouge at ease.
That said, there is one man who has lead this Canadiens team to the real season and it is this man who Montreal will need to lead them if there's any hope of making it passed the Bolts, let alone into the Stanley Cup Finals. All year long, Carey Price has been the backbone of this team. His performances have stolen games for Montreal while time and time again he has been Montreal's most outstanding player even in defeat. The Canadiens 100 point regular season was punctuated by a 41 save shutout against the New York Rangers as Price kept the Habs in reach of victory down the stretch.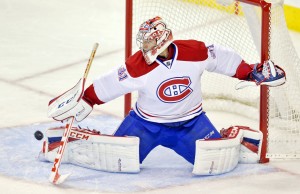 He's faced no fewer than 30 shots per game in Montreal's final five of the regular season while opposing teams have found only the most perfect of shots can beat the goaltender that helped bring Olympic gold to our nation, posting a tantalizing .978% save percentage and 0.58 goals against average for Team Canada. Price has posted his best save percentage of his NHL career at .927%, his best Goals Against at 2.32 but beyond the numbers Carey Price has shown himself to be a man with something to prove.
Revenge Is A Dish Best Served Cold
There was a time when the "Carey, Carey" chants were not done with cheers and elation from the Bell Centre crowd, but with mockery and indignation to the young Price as he sometimes stumbled early on his career. This season however has finally cemented the belief in Price that Bob Gainey once spoke of, referring to Carey as a thoroughbred. More important than the fans completely believing in Carey is Carey believing in himself. Price has always been known for his calm demeanor in the net, but this season there is a sense that Price has managed to remain calm while also becoming one of the hardest battlers in Montreal.
The way he tracks the puck is better than I've ever seen him, every game he battles through the screens and reads plays at such an elite level that when you're watching games with your friends you have no choice but to look at each other and applaud at how Price consistently robs shooters of nearly unstoppable goals. There used to be a term more cynical Habs fans used in reference to Price, "Scary Carey" because they were never sure when he'd let in a soft goal. Yet Price's fight for each puck, his rebound control, his agility and his vision makes Carey Scary for every opposing team he faces.
There is no doubt that Montreal's early exit from last year's playoffs has left a bad taste in the team's mouth, and above all Price will be looking to put to rest all the doubts there are about him when it comes to the Stanley Cup playoffs. All of the Canadiens will be looking to learn from that experience, and we can't help but wonder if Montreal's glorious comeback against the Ottawa Senators which began the Senators fall didn't feel good as an act of revenge against a team that quickly became one of the most hated among Habs fans.
One Last Thing To Prove
Carey Price has won gold with Team Canada at the World Junior Championships in 2007, the same year he won the Calder Cup with the Hamilton Bulldogs of the American Hockey League. This year after capturing another gold medal, this time at Sochi in the Olympics, it would seem Price has one final venue to prove himself in. The Stanley Cup playoffs, the ultimate battlefield on ice that so many Canadian children dream of playing in growing up across our vast and beautiful country. Throughout his best NHL season, Price has been the best player for the Montreal Canadiens and without him there may not have been a single Canadian team in the playoffs this year. Whether you'll be cheering for Montreal as a die hard Habs fan or a Canadian who desperately wants the Stanley Cup back in Canada or not at all, you cannot doubt that Carey Price is in elite form and has what it takes to lead the Habs to their long awaited 25th Stanley Cup.
RT @NHLhistorygirl: Hello, do you have a moment to discuss our lord and saviour, Hockey? #CareyPrice #Habs pic.twitter.com/JkfnMdScf5

— All Habs (Canadiens) (@AllHabs) April 16, 2014
Here in Montreal, there is no doubt that hockey is the religion most of us subscribe to. There is no shortage of goaltending greats in the pantheon of Montreal's storied history. No matter his accomplishments for Canada and personally thus far, Price has yet to prove he deserves to be in the company of Patrick Roy, Ken Dryden, Jacques Plante and Georges Vezina. However now, greater than before Habs fans know Carey Price has what it takes to one day stand amongst those greats in the history of the Canadiens. There is only one thing left for him and the Montreal Canadiens to do.
To you from failing hands we throw the torch. Be yours to hold it high.