"I watch (Anders) Lee for (the Islanders), he's at the net all the time, so that frees up other people. To me you need guys like that."
– Mike Babcock, Head Coach of the Detroit Red Wings
It's not every day that an Islanders forward – or any other skater for that matter – receives such praise from legendary head coach, Mike Babcock.
Playing a hard-nosed grind-it-out style of hockey, Anders Lee has not only endeared himself to Islanders fans through his hard work on the ice, he has earned the trust of New York's coaching and management staff despite only playing in 51 career NHL games since debuting during the '12-'13 lockout-shortened season. While Lee has certainly been building on his sample size, he has truly left little else to be desired from him as he has embodied the style of play that Jack Capuano and the Isles' front office want to see from all of their skaters.
Making his presence known behind and in front of the opposition's net, Lee has shown himself to be no stranger to working in the dirty areas in order to free up his teammates or get a chance at a timely redirection or rebound – and it has been exactly this type of work ethic that has made him a staple in New York's lineup this season. Sure, Lee – like many younger Islanders – is growing on the go with the rest of his former AHL companions, but it sure doesn't feel like it as the 24-year old has displayed an intellect and maturity that is far beyond his years.
A Seamless Transition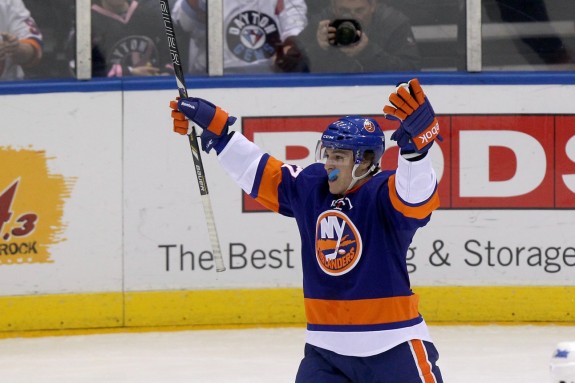 Looking at Anders Lee's resume, one can't help but notice the quick fashion in which the forward has ascended New York's organizational ranks.
Playing for the University of Notre Dame from 2010-2013, Lee was a model of consistency for his team as he tallied 44, 34, and 38 points in his three campaigns in the NCAA. Keeping his scoring totals relatively similar from season to season, Lee represented the epitome of a player that brought a balanced attack to the ice as he kept his goal and assist totals very close to each other, stayed tame in terms of penalties taken, and most importantly, he never lost sight of his even-keeled approach to the game of hockey.
Perhaps it was such a balanced approach to the game that allowed Lee to make the Islanders' roster after playing less than a full season's worth of games at the AHL level. Appearing in only 59 AHL games, Lee made it quite apparent that he was playing at a higher level than his competition as he scored 46 points (25G, 21A) in 59 games played.
Although Lee's sample size from the '13-'14 NHL season left Isles fans hopeful that the big forward would start the '14-'15 hockey season in Long Island, a glut of forwards on New York's roster prevented Lee from being on the Islanders' roster during the early going of the current hockey season. However, demonstrating a knack for finding the net, setting up his teammates, and a willingness to physically battle and work in high-traffic areas, it was only a matter of time before Lee would make an impact on the Islanders' '14-'15 regular season.
The Missing Link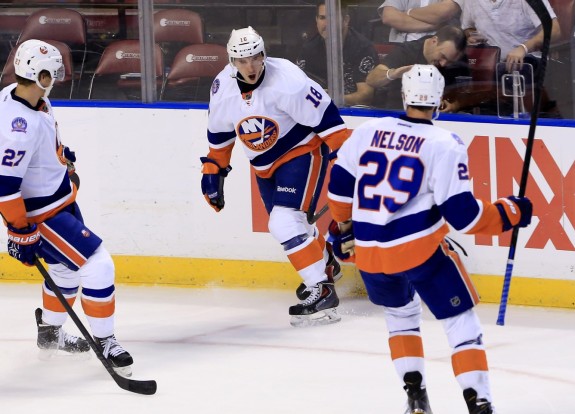 While Jack Capuano hasn't been shy when it has come to shuffling his lines this season, one of the Isles' most productive units has been the "kid line" – which consists of Lee, Brock Nelson, and Ryan Strome.
Despite the fact that all three of the aforementioned players took different routes when making the Islanders' roster, they all paid their dues – sometimes all at once – at the AHL level. Learning the ins and outs of life as professional hockey players, Lee, Nelson, and Strome have come to represent the fruits of Garth Snow's labor.
Infusing New York's bottom-six rotation with an invigorating energy and rhythm, the "kid line" has been a spark-plug for the Islanders over the last several weeks of the '14-'15 NHL season. Bringing consistent tenacity during their shifts, the trio of youngsters have provided the Isles with steady secondary scoring that the team has been lacking for the last several years – and it has certainly come at a most opportune time as John Tavares and Kyle Okposo are no longer expected to carry the bulk of the team's scoring duties.
With the "kid line" contributing on a regular basis – and staying intact for a good chunk of time – the rest of New York's forwards have had time to find comfortability while being shuffled around by Capuano, something that goes all the way back to Lee being called up in late October.
Assessing Value
Since his call-up, Anders Lee has tallied seven goals and three assists – which are pretty decent numbers for a third-line forward – but his contributions have gone way beyond what shows up on the scoresheet.
Of course, one could sit and dissect Lee's offensive contributions, but that just wouldn't be telling the whole story. From the outside looking in, one could – through a look at Lee's statistics – automatically see that the forward has tallied three game winning goals this season.
What makes Lee's peripheral totals all the more impressive, however, is the fact that the forward has registered such results while averaging a shade over 12 minutes of ice-time per night. Keeping his ice-time in mind, one must also factor in the multitude of situations that Lee has found himself in over the last two-plus months.
Whether he is battling for puck possession along the boards or behind the net, creating havoc near the opposition's net by battling for position, or laying the body on another skater, Lee has been no stranger to playing, and succeeding, in a variety of game scenarios.
To put his contributions into perspective, one could simply take a look at Lee's most recent goal in the Islanders' 4-3 OT victory against the Washington Capitals on Monday night – and it all goes back to the net-front presence that Butch Goring and Howie Rose have been talking about over the last couple of weeks.
Parking himself in front of the opposing goalie, Lee has not only used his big frame to screen goaltenders, he has used his soft hands to score some impressive goals, but don't take our word for it as gospel, just watch the video below to see what kind of presence the 6'3″ winger has given the Islanders:
While Lee's redirection of the initial shot was certainly eyebrow-raising, what was more impressive was the effort that the forward used in order to maintain his position in front of Holtby. Simply put, a forward with less strength could have been easily muscled out of Holtby's way, but Lee's size and determination up front allowed the play to develop into a bonafide scoring opportunity.
Going to all of the "dirty" areas, Lee has made life simpler for the rest of the New York Islanders. Brock Nelson's development – as well as Ryan Strome's – was on display before Lee's call-up, but the addition of the latter forward has seemingly sped up the growth of some of the Islanders' youngsters.
Knowing when to shoot or pass the puck, when to go to the net, or when he has to use brute strength against an opponent, Lee has shown that he knows when he has to play a specific role in order to increase his team's chances of scoring or winning – an instinct that just cannot be taught, no matter how bright or talented an individual hockey player might be.
An Irreplaceable Asset?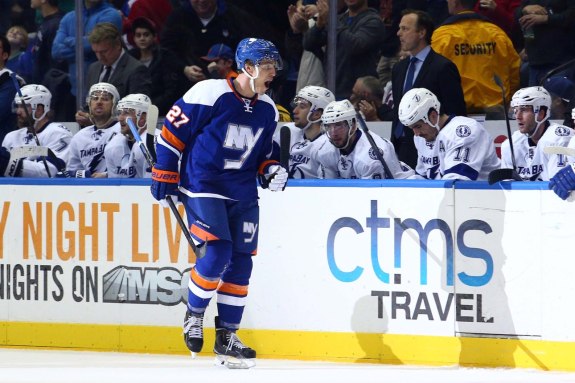 Over the last several weeks, Anders Lee has demonstrated his worth to the New York Islanders, and while certain players on an NHL roster can be expendable, Lee has shown himself to be a player that is anything but replaceable.
By doing exactly what has been asked of him – and then some – Lee has reinforced the faith instilled in him by head coach Jack Capuano. Playing alongside Nelson and Strome, Lee can not only be viewed as the final piece on the Islanders' "kid line," but he can also be seen as the adhesive that has bonded New York's third line.
Sure, Nelson and Strome were having their fair share of opportunities before Lee was called up to Long Island, but the forward – true to his nature as a hockey player – has balanced out New York's bottom-six rotation. Combined with Nelson's play-making abilities and Strome's hockey IQ, Lee's work ethic and determination have made the "kid line" a dynamic force that could perform in almost any game situation.
What the future holds for Anders Lee and the "kid line" is anyone's best guess at this point in time, but what Lee has made abundantly clear to the Islanders' organization and their fans is the fact that he is ready to hold down a regular job in the NHL, and do whatever is asked of him in order to help his team succeed.