Shawn Thornton has always been a passionate player and an intense one. He's that kind of player that will defend his teammates at any cost. After last night's game against the Pittsburgh Penguins, Thornton may have just taken that to a whole new level.
In the first period of the Bruins-Penguins game, there was an awful bit of action that led to the boiling point. First, Brooks Orpik threw his shoulder into Loui Eriksson's head knocking him out of the game. Then there was James Neal who skated by Brad Marchand and threw his knee into Marchand's head, leaving him on the ice for some time.
[See Also: Was James Neal Kneeing Marchand Intentional?]
Shortly after Neal's hit on Marchand came the boiling point of the match. Thornton threw Brooks Orpik down to the ice and punched him while down, knocking him out.
I understand Thornton was trying to retaliate for Orpik's hit on Eriksson, but there's retaliation and then there's, well, that. Sure Orpik's hit was a bit high on Eriksson and James Neal should be suspended for his malicious actions on Marchand, but there is no need and no defense for what Thornton did.
Thornton's hit on Orpik is very reminiscent to Todd Bertuzzi's infamous hit on the former Avalanche player Steve Moore.
While Bertuzzi's hit on Steve Moore was indeed worse due to Moore's injuries that ended his NHL career, you can definitely see the similarities in the two. Both Bertuzzi and Thornton continued to pummel their opponents while they were seemingly unconscious on the ice. While Moore never did play again after Bertuzzi's hit, Orpik has since been released from Mass General and will travel with the team. Orpik was very lucky that he wasn't injured worse than he was.
Bertuzzi was suspended for twenty games, mainly due to the severity of Moore's injuries, Thornton is looking at a lengthy suspension himself. While he will get nowhere near twenty games, Thornton will be looking at a multi-game suspension. Thornton has never been suspended during his entire NHL career, but that shouldn't matter in a case like this. If an incident is abhorrent enough, it shouldn't matter about prior record or what kind of player you are.
If Brendan Shanahan wants to make an example of these players, then he must throw the book at Shawn Thornton. James Neal isn't innocent either. The league has to do something about Neal's actions too. A player cannot just simply knee another person in the head. It is unacceptable and Neal must be punished for his boneheaded move on Marchand.
Just a few days ago on December 4th, Shawn Thornton spoke with ESPN's Katie Strang on fighting in the league. Needless to say, Thornton is for fighting in the league. He says that whenever a player injures their head during a fight people get up in arms and want to abolish it. Well, Mr. Thornton, you are adding to your own problem with this debate.
Shawn Thornton is a great person off the ice contributing to charities in the Boston area and he's been a great teammate for his Boston Bruins, but this is indefensible. No matter what kind of charity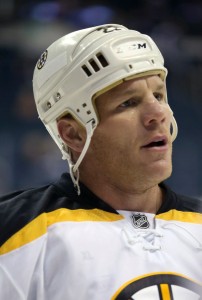 or whatever accomplishments he receives on the ice, his incident against Brooks Orpik is what people will remember most about him.
One quote Thornton made in the Strang article was about how proud he was in being more than just a fighter, saying,
I also take a lot of pride in the fact that I can play 8-12 minutes a night. I've had to work extremely hard on that part of my game to bring more to the table than just fighting. That's part of my game, but I can do a lot more.
Unfortunately, that ugly night in Boston is what most people outside of Boston will remember you for the most. As being less than a fighter, but rather a thug.
What do you think the league should do with Shawn Thornton? Comment below or send me a Tweet, @MarkWGraham