note: Whether you agree or disagree with what Thomas said is your own opinion. This isn't the forum to address whether his comments are right or wrong.
Tim Thomas knows how to create a media stir. In a twelve-month span, Thomas went from being a Stanley Cup and Conn Smythe Trophy-winner to a goaltender known more for his off-ice quotes than his on-ice play.
The two-time Vezina-winner's latest political stance came earlier this week. On his facebook page, Thomas gave his opinion on the CEO of Chick-fil-A's view against gay marriage by writing, "I stand with Chick-fil-A."
Like the other political opinions that Thomas has made, the overwhelming response to his latest stance has been negative. The consensus is the perception of Thomas was better when he was just known for stopping pucks with the Boston Bruins.
However, the reaction about what Thomas said highlights the impact of social media on the NHL, and the slippery slope in which the league could be heading.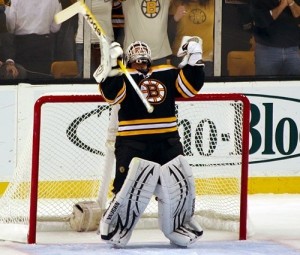 In today's NHL, it appears that playing the game isn't enough to satisfy fans. Where a player goes to eat, the relationship he has with his teammates, and how he interacts with his fans are becoming just as important as his performance on the ice.
Social media has given fans an opportunity to find out what their favorite players do when they aren't on the ice. After all, you don't need to "like" a player's facebook page to see their highlights or "follow" them on twitter to find out how many goals they scored last season.
To their credit, all 30 NHL teams have embraced this concept in order to satisfy the current fan base and attract new fans as well. For example, the New York Islanders have had either a prospect or a current player take over the Islanders' official twitter account for an hour and answer tweets from the fans.
However, instead of asking questions about the game itself, such as 'What has been your most memorable game in the NHL?' or even something as small as how a player likes to tape his stick, some of the questions that were answered had nothing at all to do with the game.
When Islanders' defenseman Travis Hamonic was answering fans' questions, there were a few questions that he answered that involved the game itself. But, there were many other questions that had nothing to do with any on-the-ice aspect of playing the game. Two such questions that Hamonic answered were, "(Do you like) Cauliflower Pizza or Plain Pie?" and "How much of a tool is @MMoulson (Islanders' forward Matt Moulson) like in real life?"
If players all around the National Hockey League can talk about a variety of topics and not have to worry about "just being a hockey player", then why should Tim Thomas be criticized for expressing his opinions?
Yes, the topics that Thomas has been outspoken about certainly are much more serious than what other players choose to discuss when it comes to their personal lives. However, just because the issues that Thomas chooses to discuss on his social media page impact more than just people who are hockey fans, does that mean that he is less focused on hockey than his teammates or opponents?
In February, Thomas was in hot water for comments he made on his facebook page about supporting the Catholic Church in its dispute over access to contraception. When Thomas was asked about his comments, the Bruins goalie said, "I don't think that when you become an athlete that you sign away your right to be an individual."
Although social media wouldn't change Thomas' views, maybe the social media platforms that we give athletes are partly responsible for the backlash that Thomas has received. As of July 28th, Thomas' facebook page is "liked" by 28,476 people. As far as his hockey career goes, there is nothing on his facebook page about what Thomas does on the ice that can't be found on some other site.
In fact, if the topics weren't what they were, then Thomas would embody what fans seem to want on social media: honest statements that let the fans know what the player is doing or thinking about.
Whether you agree or disagree with his political views, Thomas is right about one thing. Just like you and me, Thomas is an individual who is allowed to have his own views in his personal life. However, for the fan who likes a player because of what he does on the ice, then the social media platform that the player has away from the rink shouldn't matter. The focus on athletes needs to shift back to their on-ice performance instead of their off-ice opinions.
Michael Rappaport is a junior at New York University majoring in Sports Management. He is one of the Featured Writers for the New York Rangers for The Hockey Writers, and joined THW in January of 2012. In addition to his work for THW, Michael has been featured in numerous publications such as New York Hockey Journal, Yahoo's Puck Daddy Blog, The Huffington Post, Spector's Hockey, and Kukla's Korner to name a few. You can talk hockey with Michael by sending an e-mail to michael.rappaport@nyu.edu, or if you want to shoot a quick message, following @Mike_Rappaport on twitter.