After the Arizona Coyotes finished with the second-worst record in the NHL,  speculation abound as to the future of key personnel.
Topping that list was head coach Dave Tippett, who went through a losing season of unknown proportion to him. Holder of the most wins as a coach in franchise history, Tippett witnessed first hand the quick demise of a team, which near the end of the season, compromised any semblance of credibility.
By mid-season, Don Maloney, the team's general manager, began to move veteran players for hope of the future.
In mid-January, he dealt goalie Devon Dubynk to Minnesota, and all Dubynk did was help the Wild gain a spot in the Stanley Cup playoffs. Then, veteran center Antoine Vermette was moved to Chicago, and defenseman Keith Yandle traded to the New York Rangers. All three are now playing for teams competing for Lord Stanley's holy grail, and the Coyotes are left wondering about the future.
Of the most interesting topic is the future of Tippett, who said after the Coyotes dropped their season finale 2-1 to Anaheim at home last Saturday night that it would be difficult for him to go repeat his most recent experience.
After the Leafs canned GM Dave Noris, interim coach Peter Horachek, assistant coaches Steve Spott, Chris Dennis and Rick St. Croix along with Steve Kasper, the team's director of pro scouting and Jim Hughes, vice president of player development earlier this week, the first thought is that Tippett would be an ideal choice to assume head coaching duties behind the bench in the Air Canada Centre.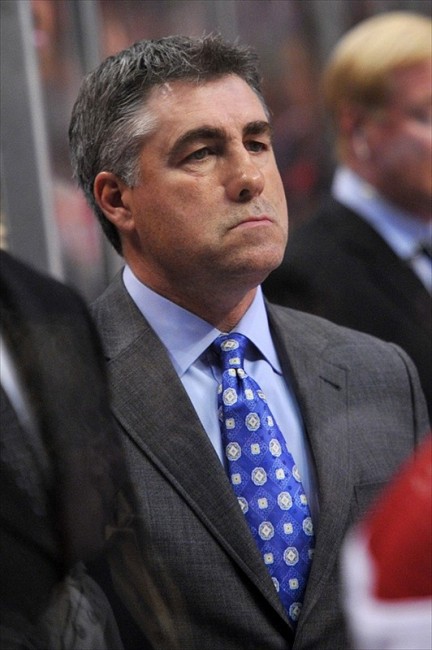 After exit interviews with his players Monday and another scrum with the media, Tippett may not be going anywhere.
"We're a few days from the end of the end of the season, but the frustration is there," Tippett sad Monday. "There are things that have to be cleaned up. Anybody doesn't want to go through this again. We're in the business to win."
a complete team evaluation
After the season ended, Tippett said all the right things, like total evaluation of the organization, from management to coaches, and stressed basic needs.
"We need some more scoring, and a greater veteran presence on the blue line," he said. "We'll take a complete look at everything, and see where improvements are needed."
To the players, the hope is Tippett remains behind the bench, and continues as a driving and integral force in shaping the team. After all, the Coyote were at the bottom of  important statistical category, including 29th in goals per game (2.0), 28th in goals allowed (3.3), and 29th in killing penalties (76.7 percent).
"We hope (Tippett) is back," said center Sam Gagne Monday after he cleaned out his locker. "I think he's a great coach, and clearly helped me in all facets of my game."
For his part, Tippett is far too proud a man to walk away from the demise of one season.
Save a veteran or two at the blue line, scoring, and lack thereof, needs to be addressed in the off-season. While coaches rarely name names, Tippett, on Monday, cited forward Lauri Korpikoski, as one who clearly needs to elevate his game. Tippett called Korpikoski's season "poor," and for good reason.
The veteran from Turku, Finland scored just six goals in 69 games, assisted on 15 others and had a minus 27.
When the Coyotes enter Saturday's lottery, their chances of gaining the first pick overall is 20 percent. The chance of staying where they are at number two is 13.5 percent and their chance of moving down is 66.5 percent.
Clearly, they would envision Connor McDavid or Jack Eichel in Sedona Red, but offensive threats coming through the pipeline appear good. When training camp opens in September, forwards Max Domi, Anthony Duclair, Brendan Perlini, Christian Dvorak and Tyler Gaudet could turn some heads.
Consensus around the Arizona organization hope Tippett is there to be impressed.
Follow Mark Brown on Twitter, @journalist193
Mark Brown is a former sports editor for daily newspapers in the Philadelphia and Cincinnati markets. He was named Best Sports Columnist, honorable mention 2004 by the Associated Press Society of Ohio. He is a contributor to major daily newspapers, including the Chicago Sun Times, Philadelphia Inquirer, Honolulu Star-Bulletin, Milwaukee Journal, Arizona Republic, Nashville Tennessean and the Associated Press. He was a Featured Columnist for bleacherreport.com and covered the Arizona Coyotes.