Flashback to October 2013: San Jose Sharks rookie phenom Tomas Hertl put on a show against the New York Rangers by capping off his four-goal game with his viral between-the-legs goal.
Two months later Los Angeles Kings forward Dustin Brown landed a knee-on-knee hit on Hertl. This hit will always go down as one that altered a rising star's career. Hertl was on track to hit 30 goals as a rookie and start his career high on confidence. Instead, he was sidelined for months as he recovered from knee surgery. He's had several injury layoffs due to issues with that same knee ever since then. However, this season was the first he was able to play all the way through without looking like he was still nursing an ailment in that knee. He played full seasons in 2014-15 and 2015-16, but it always looked like he was holding back. It's understandable when you go through a severe knee injury as he went through.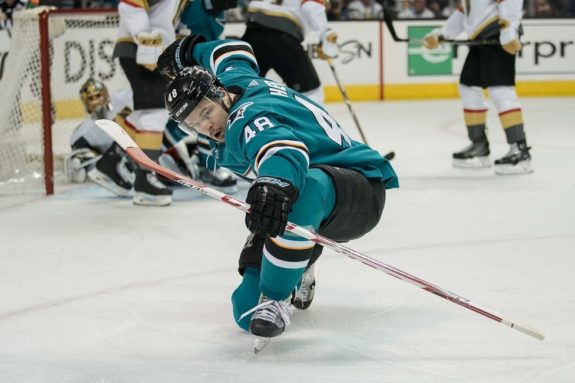 Fast forward to May 2018: Hertl has been the most dominant player on the ice for the Sharks since the start of the playoffs. He has 9 points in 9 games with two game-winning goals. He's fifth in the NHL for faceoff wins and winning 58.8% of his draws. He's using his size, making plays, and frustrating defensemen. All of this combined is showing that Hertl is a unique player who is capable of highlight reel plays but doesn't need to take those risks constantly. He has been relying on lower risk, but effective plays with the puck which is more frustrating to the opposition than getting dangled a couple of times.
What Makes Hertl So Unique?
For starters, Hertl is a big boy. He's 6'2" and 220 pounds which is up 22 pounds since the day he was selected 17th overall in June 2012. It took him some time to figure out just how big he is and now he is finally using that size. Size is only useful if you have the talent and hockey IQ to go along with it. He's always had those, and now he has combined them all.
Every game you watch the Sharks you will see Hertl take the puck down the boards and execute his stutter-step hip pivot move. It's not a move that other players can perform like he can, and no matter how many times he does it, defenders seem to get turned sideways every time. Even if they know it is coming, they can't play the body because he's bigger than most of the defenseman. Hertl gets the defender's hips turned in the opposite direction, so they are instantly a step or two behind when they attempt to recover. Hertl creates constant scoring chances off of variations of this move. He can create space for a lane to the net or draw a second defender which creates an easy pass to his open teammate. This single move is Hertl's bread and butter.
Hertl grew up idolizing fellow Czech, Jaromir Jagr who was an expert at puck protection plays like this. Jagr has even gone on record saying he sees similarities between his game and Hertl's. Hertl has also had the privilege of playing with Joe Thornton for the past five years. He has surely learned a thing or two about how to protect the puck while watching Thornton. Unlike Thornton who is in the later parts of his career, Hertl has more juice in his legs and combines puck protection excellence with quick feet.
Hertl also has the ability to dangle a defenseman off the rush and finish at high speed. A lot of players only have one dimension to their offensive side of the game. They are either great off the rush or great off the cycle. Hertl can do both, and this makes him extremely dangerous for teams to gameplan for him. His teammate and two-time Olympic Gold Medalist, Marc-Edouard Vlasic, said "it's really hard. I do it in practice every day and it's hard to knock [Hertl] off the puck. When he's feeling it, I don't think many guys can stop him."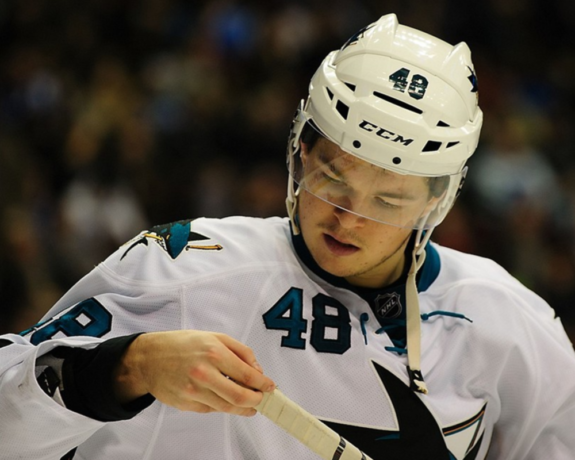 It's not every day that a player gets high praise like that from Vlasic, who is arguably the best defensive defenseman in the NHL. Vlasic is used to defending the best player on every team each night so he knows what it's like to have his hands full.
Sky is the Limit for Tomas Hertl
Hertl has shown he can easily pot 20 goals in a season but the potential for more offense is there. Now that the injuries and confidence issues are behind him, he can build off of this season to take a step towards being one of the best power forwards in the NHL. He makes players around him better and on any given night he could be the guy scoring the goals or setting up his teammates.
It is not out of reach for Tomas Hertl to become a 70-80 point player if he can stay healthy. For now, Hertl is focused on doing whatever it takes to win the first Stanley Cup in San Jose history.
Mac has been playing hockey since he was four years old and as he grew older he discovered a passion for sharing this great sport through writing. Growing up in California, hockey always took a backseat to other sports, but that never stopped him from learning more about hockey. His primary focus will be covering the San Jose Sharks.