The Colorado Avalanche are a young team loaded with up and coming star players.
Budding stars such as Nathan MacKinnon, Gabriel Landeskog, Ryan O'Reilly, Matt Duchene and Tyson Barrie were all drafted and developed by the Avalanche over the past few years, and the pipeline of skilled young players continues to flow strong. Although their names aren't necessarily as recognizable as the star players previously listed, these players all have the skill and potential to one day make significant contributions at the NHL level.
The Top 5:
5. Troy Bourke – W
Drafted in the 3rd round, 72nd overall in the 2012 NHL Entry Draft, Bourke played last season with the WHL's Prince George Cougars and Lake Erie Monsters of the AHL. A left winger, Bourke finished second on Prince George in scoring with 29 goals and 85 points, while he registered 7 points in a short 15 game AHL stint.
A veteran of four WHL seasons, Bourke is a smallish player at 5-11, 176 pounds, but makes up for his lack of size with his skills on the ice. He has a high hockey IQ and vision, creating plays while making strong passes to his teammates to set up scoring opportunities. Bourke is also know for his high compete level, battling hard for pucks down low and can play a gritty style to go along with his skills with the puck.
NHL Projection: 2016-17
4. Joey Hishon – C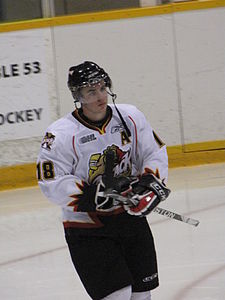 Acquired in the first round, 17th overall in the 2010 NHL Entry Draft, Joey Hishon's development has been slowed by concussion woes, issues which saw him miss the entire 2011-12 season while playing just nine games in 2012-13. Last season Hishon played his first significant season in the AHL, playing 50 games, registering 24 points, while also playing in 3 Stanley Cup Playoff games, registering one assist.
A veteran of four OHL seasons, Hishon is also a small forward at 5-10, 170 pounds. Similar to Bourke, Hishon makes up for his lack of size through his high compete level and skills with the puck. Hishon is a high energy player with great speed who can put pressure on opposing defenders and force the occasional turnover. Joey is also strong defensively, playing a 200 foot game with a focus on positioning. Hishon is also a great penalty killer, and can essentially be played in any situation of the game.
Further, Hishon plays a physical game, finishing his checks while playing strong in front of the net and in traffic.
"Joey is a player who wants the puck in key situations of the game. If the game is on the line he wants the puck on his stick."   – Mark Reeds
NHL Projection: 2015-16
3. Duncan Seimens – D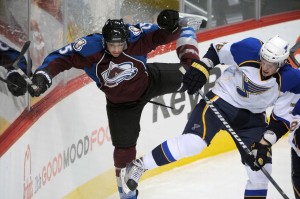 Selected in the first round, 11th overall in the 2011 NHL Entry Draft, Duncan Siemens played his first professional season in the AHL this past year. Appearing in 46 games, Siemens registered one goal and four points before a knee injury sidelined him for the remainder of the season.
At 6-3, 205 pounds, Siemens is physically mature for his age which compliments his style of play. By no means is Siemens an offensive threat, however he is successful because he plays a strong game in his own end. He is a shutdown defender. Siemens uses his strength and size to win puck battles in his own end and uses his smooth skating to clear the puck or make a crisp first pass out of his zone. Duncan also plays a physical game, not afraid the throw the big or hit drop the gloves to stick up for his teammates.
"He's tough to play against. He can work both ends; he plays both the power play and penalty kill. He's just a solid, all-round defenseman."  –  Peter Sullivan – NHL Central Scouting
NHL Projection: 2015-16; 2014-15 injury call-up
2. Chris Bigras – D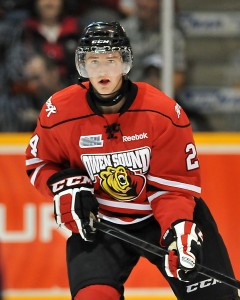 A second round, 32nd overall addition by the Avalanche in the 2013 NHL Entry Draft, Bigras recently concluded his third season with the Owen Sound Attack of the OHL in which he managed 26 points in 55 games. Bigras also represented Canada at the 2014 World Junior Championship, while he was voted the OHL's best defensive-defenseman this past season.
At 6-1, 186 pounds, Bigras is likely the strongest defensive player in Colorado's system. Bigras plays a strong two-way game in that he is responsible defensively, but has the ability to contribute offensively. Chris' game begins in his own end with good positioning and the ability to make a strong first past out of his own zone. Then, Bigras uses his great skating ability and speed to set up his teammates and get into scoring position.
"He's a good-skating, intelligent, two-way puck moving defenseman." – Rick Pracey – Colorado Avalanche Director of Amateur Scouting
In all likelihood, Bigras will spend another season in the OHL developing before making the jump to professional hockey.
NHL Projection: 2016-17
1. Conner Bleackley – C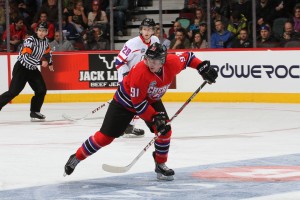 Drafted in the first round, 23rd overall in the past 2014 NHL Entry Draft, Conner Bleackley is the top prospect of the Colorado Avalanche. Bleackley recently concluded his second season with the Red Deer Rebels of the WHL, in which he was named captain at the age of 17. Conner had a breakout season, scoring 29 goals and 68 points in his sophomore year, leading his team in points and tying for goals scored. Bleackley also spent time last season representing Canada at the 2014 Under-18 World Championship, where he posted a goal and an assist.
Weighing in at 6-feet, 200 pounds, Bleackley plays a power forward type game. Conner is strong on the puck and loves to battle in the corners. He plays a strong two-way game and has become a consistent offensive threat. Defensively Bleackley is also consistent, using strong positioning and instincts to defuse opposing scoring chances. Conner also displays strong leadership qualities such as competitiveness and versatility, which led to him becoming team captain at such a young age.
"He's solid with smart positioning, and he pays attention to detail at both ends of the rink." – B.J MacDonald – NHL Central Scouting
NHL Projection: 2015-16
Who do you think is Colorado's top prospect? When will they arrive at the NHL level?
Leave a comment!