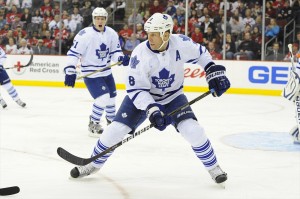 This is part two of the three-part series titled "Toronto Maple Leafs' 2011-2012 Season in Review" and in this edition we're looking back at how the veterans and rookies contrasted and how both groups contributed to the team.
You can catch all three parts at the series home page by clicking here.
The rookies
Despite having such a young roster this season, the Maple Leafs didn't have very many rookies. The ones who did suit up for the Leafs didn't play much, most namely Joe Colborne, Ben Scrivens and Jussi Rynnas. That's not to place any blame on the shoulders of the youngsters, though; it was the unique circumstances that kept them in the American Hockey League.
It goes without saying that Jake Gardiner was the Leafs' most impressive first-year player this season. He dressed in 75 of the 82 games, recorded seven goals and assisted on another 23 for a total of 30 points. What's also impressive is the fact that he managed to keep his penalty minutes rather limited, finishing with just 18 on the season. Some might say that it's not fair to compare the two players, but it's interesting to note that Luke Schenn finished with 71 penalty minutes in his rookie season.
To go along with tremendous statistics, Gardiner also did many of the little things right. He managed to remain calm under some of the most pressure-packed situations, showed that he can have a major effect on the Leafs' power play and was consistently able to escape potentially dangerous scenarios on the ice without any troubles. No matter how you look at it, there's no denying that Gardiner handled the pressures of playing in Toronto as a rookie quite well. Perhaps that had to do with his entry into the league, though.
Gardiner experienced no pressure whatsoever when it came to making the team. After playing in 41 games of collegiate hockey and just 10 games for the AHL's Toronto Marlies in 2010-2011, no one thought Gardiner would even play five games in the NHL this season let alone make the roster out of camp and hold down a spot in the lineup for much of the season.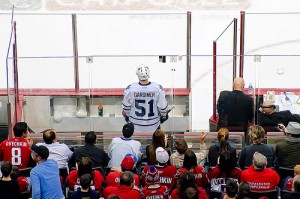 Maybe you could say the same thing for rookie forward Matt Frattin, who had 60 points in 44 games with the University of North Dakota in the season prior to this one. He, like Gardiner, found immediate success and managed to nail down a spot in the NHL.
Frattin was able to maintain a nice energy role for the Leafs and proved to be a solid checker for portions of the season. When not needed in the NHL or while experiencing difficulties with the Leafs, he had no problem going down play for the Marlies where he had 16 points in 21 games.
Both players will now help the Marlies in their quest for the AHL's Calder Cup, just as Ben Scrivens and Joe Colborne will do.
Scrivens, a native of Spruce Grove, Alberta, posted a .902 save percentage in 12 games with the Leafs this season. That's nothing special, but for a rookie trying to replace James Reimer early in the season as the team is clicking, Scrivens succeeded.
Just like Scrivens, Colborne didn't do anything outstanding. However, he was solid in the 10 games he played, recording a goal and four assists while going plus-two.
The Leafs' rookies actually played a rather large role in 2011-2012. From offence to defence to goaltending and everything in between, first-year players had a major impact on the Leafs' success. The good news for the Maple Leafs is that these players will now gain some experience while playing playoff hockey for the Marlies before an off-season full of hard work and a brand new season in October.
The veterans
Everything that was just said about the Leafs' rookies can and can't be said for the team's veterans now that the season is over. That's certainly expected, though, given the rookies to veterans ratio on the team; there were plenty more veteran players, whether they be in their third year or their ninth.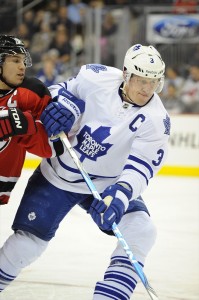 One of those ninth-year guys was Mike Komisarek. Not much needs to be said about the 30-year-old given his history in Toronto and the fact that much has already been made of it. He has struggled and is certainly overpaid, but it's now time to move past that and look at what he brings to the team.
This season, Komisarek was on and off. He was very solid at times, while there were also times where you might have mistaken him for a pylon lying on the ice. Let it be known, though: this is a player who knows how to finishes his checks and install confidence in young players, even though he may not be all that confident himself all of the time. The man took some heat from fans and media alike, just as captain and fellow Leaf defenceman Dion Phaneuf did.
Unlike Komisarek, the criticism that fell upon Phaneuf was due to what appeared to be a lack of leadership. Even after former head coach Ron Wilson was relieved of his duties in early March, the Leafs couldn't find their legs and continued their free-fall to the Eastern Conference's basement.
Phaneuf's laid back demeanour when speaking with the media and what some called a careless attitude is what caused the criticism. No matter what people said, though, Phaneuf managed to maintain a high level of play on the ice.
Tim Connolly and Colby Armstrong also fall into this boat. They both heard it from the media and fans, but, as many people don't realize, Armstrong maintained a strong checking role when healthy although his health was limited this season, and Connolly managed to switch roles from being a play maker and a scorer to a bottom-six forward who could defend well and play both ends of the rink with confidence.
A few other names you would throw into the veteran category include Tyler Bozak, John-Michael Liles, Luke Schenn, Mikhail Grabovski, Nikolai Kulemin, Phil Kessel, Clarke MacArthur and Joffrey Lupul. They, along with many more, experienced low points in their season but kept on pressing to succeed.
The message from the Leafs' veteran players this season was plain and simple: no matter what the media or fans say, keep playing hard and success will come. This must have done nothing but good things for the rookies, even though there are still people out there who say this team is in need of more leadership.
Twitter: @LukasHardonk | Email: lukas.hardonk@gmail.com | Lukas' archive
For every Leafs article on THW, follow @THW_MapleLeafs on Twitter.
Lukas, a student at the University of Ottawa, covers the Toronto Maple Leafs on a part-time basis for The Hockey Writers. Contact Lukas at lukas.hardonk@gmail.com or follow him on Twitter, @LukasHardonk.