It wasn't that long ago that being a Toronto Maple Leafs fan was a tough gig. The general feeling was that there was no light at the end of the tunnel, and no matter what efforts were made, improvement seemed futile. Coaches and general managers changed frequently, personnel decisions were—to put it conservatively—debatable, and the overall quality of play was extremely lacking.
Currently, things are a little different for Toronto hockey fans. The Leafs have turned things around under the watchful eye of Brendan Shanahan and his staff. In the summer of 2015, the acquisitions of head coach Mike Babcock, general manager Lou Lamierello, and an undersized kid from the London Knights named Mitch Marner, would serve as the catalysts to restore the club's former glory.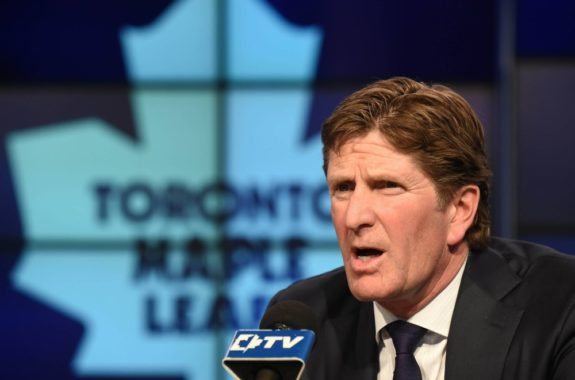 If you're not from Toronto, you may have never experienced how this city's personality shines when the Leafs are playing well. Total strangers treat each other like long-lost family members if they're wearing Leafs gear, people gather in armies to watch the game wherever it's on TV, and storefronts don blue and white paraphernalia in support of the team. To say the Toronto Maple Leafs mean everything to their city is truly an understatement.
Within this passion, three key players are the primary source of the energy running through the city today: Toronto's own Mitch Marner and John Tavares, and the prodigious American Auston Matthews.
Mitch Marner
I remember having extensive conversations with Maple Leafs hockey operations staff about why they should be selecting Marner in the draft. Though the decision was met with much speculation by fans and the media, the first day of prospects camp put any doubts about Marner to rest. Not only could he out-skate everyone on the ice, but the puck seemed to be nailed to his stick throughout every drill.
From the OHL London Knights to his rookie campaign with the Leafs in the 2016-17 season, Marner would register 61 total points in 77 games, averaging 0.79 points per game (PPG). He quickly adapted to the speed and skill required to play at the game's highest level.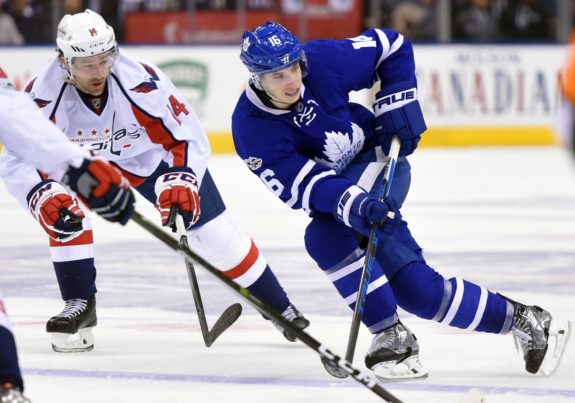 Fast-forward to the present day, and Marner is an elite forward in the NHL. He is the epitome of a playmaker, as he finds his teammates well with the puck, reads the play and sees the ice better than most, and dictates the pace of the game on the power play. In a recent article from TSN's Mark Masters, both his teammates and opponents credit him as the quarterback of the Leafs' power play.
"Marner's a great player," said Detroit head coach Jeff Blashill. "And, obviously, Matthews and Tavares are too, but so is Marner. I mean, Marner doesn't need to take a backseat to anybody. He's an excellent player, one of the best in the league – certainly one of the very, very top power-play guys in the league in getting it in the zone and once he's in making tons of plays."
It comes as no surprise that Marner's style of play would perfectly complement that of John Tavares. Tavares communicated how excited he was to play with Marner because of his infectious energy and the quickness he has in his game. Combine Marner's skill set with Tavares' goal-scoring prowess and you have a recipe for offensive success at both even strength and on the power play. Marner moves the puck with the precision of a surgeon and always creates the best options for his linemates. Already, he has the lead assist on four of Tavares' six goals this season. It will be exciting to see how their collective style evolves as the season progresses.
Auston Matthews
Any Maple Leafs fan can probably tell you exactly where they were and what they were doing when Bill Daly announced Toronto would have first pick overall in the 2016 NHL Draft. Matthews is an offensive juggernaut who also understands his defensive responsibilities. Even when he is in the defensive zone, he possesses the necessary skills to turn any situation into the foundation of an offensive opportunity. This comes as no surprise, as over his career, he has averaged 0.97 PPG. If Matthews' season continues the way it's going, he will have a great chance of increasing this stat as well as his teammates' numbers.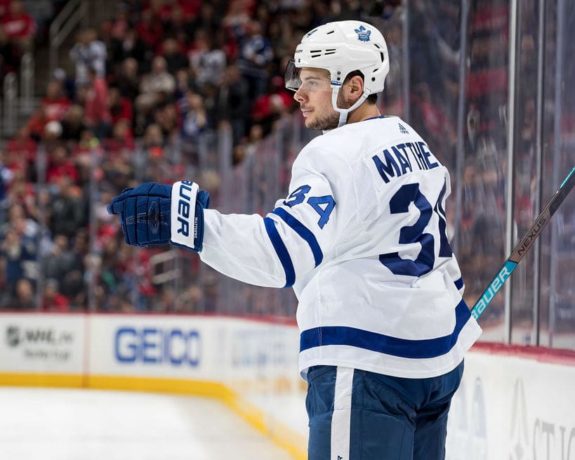 There are a few different aspects that make Matthews such an offensive threat. The most noticeable—especially as of late—is his shot. Pinpoint accuracy, ample firepower, and a snappy release are the key components of what makes his shot such a weapon. However, Matthews possesses and utilizes a rather unorthodox shooting technique when it comes to his shot setup; he always pulls the puck in tight to his body before releasing it. By varying the puck's position before the shot, the Leafs' leading scorer is able to alter shooting lanes, create more net space, and instantly put goalies out of position. This tactic keeps goalies and defenders consistently guessing how Matthews will register a shot on net, which normally results in a goal tally for the Leafs.
Additionally, Matthews exercises great puck protection skills. Evasive skating, superior puck control, and utilization of his size and strength allow him to maintain possession of the puck along the boards and through open ice. Matthews remains unfazed by pressuring attackers as he normally makes smart decisions moving the puck whether he is skating it up himself or supporting his teammates on the breakout.
These two facets of Matthews' game grant both him and his team a competitive edge over the competition. The promising young centreman has a long season ahead of him where he will be able to continue improving upon his dominance in the NHL.
John Tavares
Perhaps the biggest free-agency signing in the history of the NHL, John Tavares eventually gave in to his childhood dreams of playing for his hometown Toronto Maple Leafs. He brings a multitude of assets to this young team and will surely help develop the Leafs' young stars. In an NHL Insider article, former Leafs captain and Hockey Hall of Famer Doug Gilmour spoke about how Tavares will be an asset to his new club on and off the ice. On the ice, Gilmour feels that Tavares will alleviate some of the pressure from Matthews.
"He's old enough (27)," says Gilmour. "He's smart enough. He's good enough. He was the captain of the New York Islanders. He's a leader and can help shield some of the [attention] from Auston, who's still only just 20."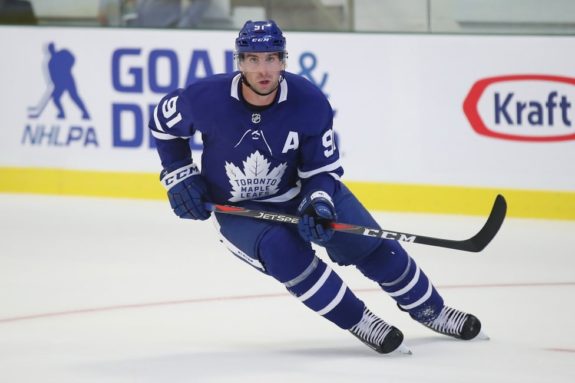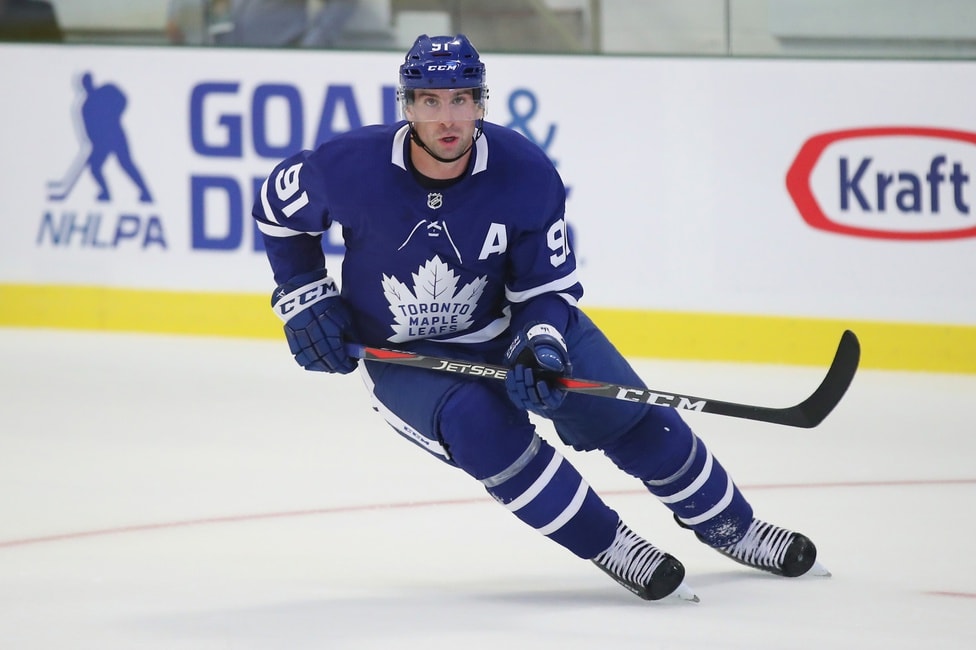 Point production has always been Tavares' forté. If others on his team are unable to contribute to the Leafs' tally on a given night, one can rest assured that Tavares' experience and style of play will bolster the team's probability of success. He is a natural goal scorer, he can set up his linemates even under pressure, and his compete level is comparable to the best in the NHL. Being surrounded by young-hungry teammates who are already capable of phenomenal play will only continue to fortify these aspects of his game.
Off the ice, Gilmour feels Tavares is mature enough and ready for the attention one receives playing for the Toronto Maple Leafs. Additionally, his expectation is that Tavares will set an example for the younger players who are still getting acclimatized to everything that comes with being a Leaf.
"…That's hockey life in Toronto. But John can handle it. He can absorb a lot of the pre- and postgame demands and let a lot of the younger guys do their thing," says Gilmour. "John is from the Toronto area and was in the spotlight at a young age dating back to junior. He knows what he's getting into. He came here for a reason."
The Maple Leafs' offensive trident continues to spear through the competition as they move through the initial stages of the season. Marner, Matthews, and Tavares are doing exactly what coach Babcock set out to do from day #1, make it fun to be a Toronto Maple Leaf and a Toronto Maple Leafs fan again. Highlight-reel plays, game-winning goals, and the league's best power play have both the Toronto Maple Leafs and their fans amped up more than ever before.
Ryan regularly covers the Toronto Maple Leafs here at The Hockey Writers. His experience in hockey operations at the NHL level provide a unique aspect to his content. Ryan currently serves as the Head GTHL Scout for TheScout.ca in Toronto in addition to contributing to THW.