The Toronto Maple Leafs have done some excellent work over the past few of weeks. They made a couple of key trades, had a very successful draft and have started talks potential free agents. Maple Leafs News has been off for much of June, and the reason is because I moved to a different province for broadcasting work.
Now that I have some time to play with, I'll be recapping the biggest moves made by the boys in Blue and White over the last little while. This edition of Maple Leafs News will talk about the the Frederick Andersen and Kerby Rychel trades, the 2016 NHL Entry Draft and impending free agency.
The Maple Leafs Land a Goalie and Young Forward
The Buds recently pulled off a couple of trades that are looking like wins for the franchise so far. The first was to acquire Frederik Andersen from the Anaheim Ducks. The Leafs swung the trade by sending the 30th pick in the 2016 NHL Draft and a second-round pick in 2017 to Anaheim.
He was set to become a restricted free agent on July 1st, but the Maple Leafs swiftly dealt with that by signing him to a five-year contract worth $25 million. Andersen was 22-9-7 with a 2.30 goals against average and a .919 save percentage. He split time in the Ducks crease with another rising star in John Gibson.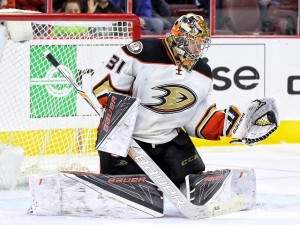 With the move, the Maple Leafs have landed a true number one goalie. There will be no debate about whether he or Jonathan Bernier is the starter next season. It's Andersen's job now. Lou Lamoriello and company believe the Dane will help the Maple Leafs win. He fits the mold for the rebuilding Leafs, and is a upgrade over anything they had in net before.
The Maple Leafs also made another move, this one coming with the Columbus Blue Jackets. They acquired Kerby Rychel, a forward who went 19th overall in 2013, in exchange for Scott Harrington and a conditional fifth round pick. Rychel has only appeared in 37 NHL games and has been developing slowly in the Jackets organization.
A change of scenery could be all the forward needs, and with the glut of young talent on the Leafs, he should fit right in and have the ability to compete for a spot. It was a good move for Toronto, and they didn't give up much if Rychel doesn't end up working out.
2016 NHL Entry Draft Recap
Auston Matthews is now officially a Maple Leaf. After a month of speculation, most of which was unfounded, the Leafs put all thoughts to rest by selecting the big American pivot first overall. It was a fantatsic pick for the Buds, as Matthews is projected to be a superstar in this league for years to come.
The rest of the Maple Leafs drafting strategy was interesting. They went for over-agers, players that had an extra year or two to develop their skills. Size was also a factor, but that came as no surprise to anyone.
Adam Brooks and Jack Walker are both fantastic picks in my opinion. I'm especially high on Brooks, the skilled forward out of Regina. He had 38 goals and 120 points this past year and added 23 in 12 playoff games as well. This pick proves that the Maple Leafs are still drafting skill, which is harder to find then pure size.
Auston Matthews on his new teammates "There's a lot of players on that team that are incredibly skilled that would be a blast to play with"

— Sportsnet 590 The FAN (@FAN590) June 25, 2016
The rebuild continues to roll along. I'm confident Brendan Shanahan knows what he's doing when he makes all of these moves with the front office and coaching staff. The biggest gem of the draft is of course Matthews. He'll be in the NHL next year and joins a stable of young talent and a core that includes Morgan Rielly, William Nylander and Mitch Marner.
Free Agency Talks Heating Up
When fans think of NHL free agency in 2916, one name pops into their heads above all others. I'm talking about the captain of the Tampa Bay Lightning, Steven Stamkos.
He's long been the subject of scrutiny and rumours that has him going everywhere from Buffalo to Detroit to Toronto. With the official free agency period opening in a few short days, it may be complete an utter pandemonium as teams race to make a bid and soon the superstar to their franchise.
Per a source close to #Stamkos: "Lightning still very much in it. Other candidates: Sabres, Red Wings, Leafs, Habs.

— MurphysLaw74 (@MurphysLaw74) June 27, 2016
He's a fantatsic player and it's no surprise he's gaining so much interest. Money will be flying around July 1st, so don't be sleeping on any team. You never know who might make a push when a talent like Stamkos is available.