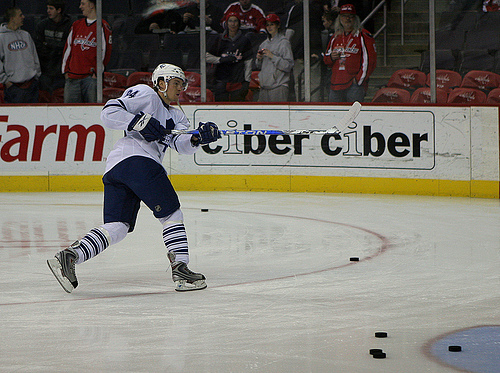 Last week, reports were surfacing from TSN insider Darren Dreger that the Toronto Maple Leafs were looking to package a couple of  players for help up front. Over the weekend, Steve Simmons of the Toronto Sun reported the same news. All of this while the Leafs are just a week away from the start of the regular season.
This can only mean one thing; The Leafs are thin up front.
New faces  acquired over the off-season bolster the Maple Leafs offensive depth, but it is obvious the team is still short on ready made offensive talent. Upgrades were made, but not enough to label the Leafs as a contender for a playoff spot just from looking at their forwards.
Tim Connolly was acquired to centre a top line with Phil Kessel and Joffrey Lupul. The Syracuse, New York native is a talented playmaker and can read the plays better than most forwards. His ability to make plays and set up goals establishes him as a playmaker, and he will be relied upon to do just that in Toronto with a very skilled Kessel.  Connolly has also been labeled "injury prone" due to the damage he incurred while playing for Buffalo.  He remains a stop gap in the Maple Leafs search for a true first line centre.
The chemistry that Clarke MacArthur, Mikhail Grabovski, and Nikoali Kulemin established last year is nothing short of encouraging. It was one of the brighter points of the season as the Leafs could say they had a decent second line for years to come. MacArthur's success last year earned him a fresh new contract averaging $3.25 million the next two years. It would be safe to expect Grabovski and Kulemin to kick things up to the next gear now that they are on contract years.
In the bottom six, the Leafs have a mix of physical talent in Colby Arsmtrong, Mike Brown, and Colton Orr and some skilled offensive forwards in Matt Frattin and Nazem Kadri. However, Kadri and Frattin are much too young to expect a consistent showing from them.
Here are the projected line combos of forwards for the Maple Leafs:
NOTE: The numbers in the brackets show the cap hit to the team for employing the player.
Forwards
Clarke MacArthur (3.25M) – Mikhail Grabovski (2.9M) – Nikolai Kulemin (2.35M)
Joffrey Lupul (4.25M) – Tim Connolly (4.75M) – Phil Kessel (5.4M)
Matt Frattin (1.3M) – Tyler Bozak (1.5M) – Colby Armstrong "A" (3.0M)
Mike Brown (736K) – Phillipe Dupuis (650K) – Colton Orr (1.0M)
This is not a very strong combination for any team looking to make the playoffs. However, if things go as expected they could put up a fight as long as their biggest component, goaltending, remains consistent.
Goaltending will be discussed in the next addition of this series.
Follow me on Twitter and Like my Facebook page
If you have any questions or concerns, please do not hesitate to email me at: Raihanhussain@msn.com. All inquiries are welcome!