The Columbus Blue Jackets are 0-2. The Chicago Blackhawks are in town tonight. Starting tomorrow, the next four games are on the road against playoff teams from last season. Things don't seem to favor the Blue Jackets after tonight.
Just don't ask John Tortorella about the future. All he cares about is tonight. He even went as far as saying "I don't mean to be rude." His quote from his morning press conference puts this into perspective for us.
Can't Look Ahead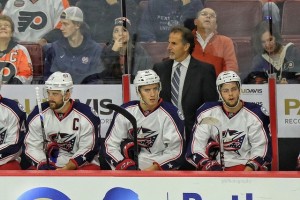 "I am not a good enough coach and we are not a good enough team to look ahead," Tortorella said.
Couple that with his recent "I don't think we're even close" comment, and you can see why today is the only day that matters for the Blue Jackets.
Make no mistake. Tonight's game at Nationwide Arena is huge for the Columbus Blue Jackets. Yes it's only the third game of the season, but considering how the first two games went, who tonight's opponent is, and the upcoming five games in eight days schedule, you can see why tonight is big.
Advantages to Long Layoffs?
We asked Seth Jones about the long layoff prior to tonight's game. Are there any advantages to having that layoff after losing their first two games?
"We can take some advantages from it," Jones said. "It's not often you get five days off early in the season, but we got it. We didn't start the season the way we wanted to. I think we had some good teaching this week. We watched a lot of video to see what things we need to get better at. We are definitely prepared for tonight's game."
Forward Alex Wennberg shared similar thoughts.
"It is what it is."Wennberg said. "The schedule says we have a week off or something, and you gotta prepare yourself the best way. The first two games obviously some things we need to work on and I think the break could help us out. We can focus on the things we need to do better."
Players seemed to express confidence about the week of preparation and for tonight's game. They're just ready to play. They better come prepared. The Blackhawks line of Artemi Panarin, Artem Anisimov and Patrick Kane came to life last game against the Philadelphia Flyers. The trio combined for 11 points and seem ready to roll this season.
https://www.youtube.com/watch?v=DNHtsu-MoRI
Tortorella coached Anisimov in New York and was asked about what made him a good player.
"He's one of the smartest players I've coached. There's no maintenance to him. I love him. He just gets it."
Anisimov gave everyone a light moment in his media session when he was asked about Tortorella's comment about being one of the smartest player's he's coached. Anisimov laughed, and said "Thank you."
---
Complete Blue Jackets Coverage From THW
---
A Different Hawks Team?
Outside of that deadly line, the Blackhawks look somewhat different than what you might remember. Check out their line rushes from this morning.
Tyler Motte-Jonathan Toews-Richard Panik
Panarin-Anisimov-Kane
Vinnie Hinostroza-Nick Schmaltz-Ryan Hartman
Dennis Rasmussen-Marcus Kruger-Jordin Tootoo
The Blackhawks are without Marian Hossa tonight after blocking a shot last game against Philadelphia. There's opportunity for Columbus in this game. But they have to find consistency in their game if they want to take advantage.
The Blackhawks are a little bit of an unknown here, given the youth on this roster. Motte had a great season at Michigan and carried it over to the preseason. He now plays on Toews' left, the spot Brandon Saad originally held in Chicago.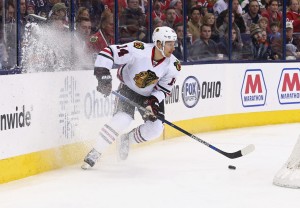 Panik has opened the season with four goals in five games to Toews' right. Not sure he can keep this pace up over a long season. The Blue Jackets could have a slight advantage in the bottom-six. We just don't know.
The Blue Jackets enter tonight's game as the only winless team in the NHL. Sergei Bobrovsky gets the call for the Blue Jackets in net. He's opposed by Corey Crawford of the Blackhawks.
Tonight is what it's all about. Not tomorrow. Not the next day. Not next month. It's all about tonight and this game against Chicago. The Blue Jackets have had five days to prepare for tonight. They cannot afford to come out cold. That's why tonight's game is fascinating to see how it plays out.
Which Blue Jackets team will we get? I'm not sure any of us know the answer. But we'll all find out together tonight.