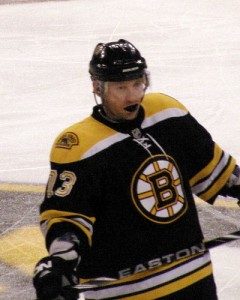 With just a few days remaining until the NHL trade deadline, the Boston Bruins continue to contemplate just what they should do. Rumors are rampant, and with the news on Nathan Horton not being so good, the pressure to acquire a big-name player rather than a smaller puzzle piece continues to swell as the hours tick down to the deadline.
Boston has been rumored to be interested in a couple deals, one that would bring back Michael Ryder, who was a key contributor during the 2011 Stanley Cup playoff run, from Dallas along with defenseman Sheldon Souray. The other deal has a bigger name, as Boston is one of several teams that may be interested in Los Angeles captain Dustin Brown, whose name started popping up once the Kings acquired Jeff Carter from Columbus.
The Ryder-Souray trade would make the most sense– at least for Boston. Ryder is a guy fits well into the Boston system, performed well at both ends of the ice during the pressure-packed playoffs, and has the trust of coach Claude Julien. Most importantly, he is playing as well as he did in the playoffs, posting 24 goals and 20 assists with a plus-13 rating. Souray, a three-time NHL All Star who spent last year in the AHL, has played quite well for the Stars. He has just 5 goals and 13 assists, but is a plus-12, has been better one-on-one, is a physical presence, has a great shot from the point, and has cut down on turnovers – which has been an issue in the past.
This deal likely would involve a couple players on the roster (Jordan Caron, Benoit Pouliot) and a draft pick or prospect. Maybe the Stars would feel bad for the Bruins and take Joe Corvo too, but don't count on that.
Deal Likelihood (out of 10): 7 (for Souray); 5 (for Ryder)
The Dustin Brown talk is intriguing, as he is one of the game's best young power forwards who has scored at least 20 goals in four straight seasons. He is also among the league leaders in hits and is a great locker room guy who has served as LA's captain the past few years. He is similar to Nathan Horton in many ways, including the ability to go into prolonged offensive slumps. However, he is the type of player that fans in Boston would love: hard-nosed, tough, and skilled.
Now, the Kings came out on Friday and said Brown was not available. This does not mean he can't be acquired via trade, but it does mean a high price. He would likely take a current defenseman (Johnny Boychuk, Adam McQuaid, Steve Kampfer), a prospect (Ryan Spooner, Jared Knight, Alexander Khokhlachev, Dougie Hamilton) and a draft pick.
Deal Likelihood (out of 10): 3
One name that has not been brought up much, but would be similar to the deals that brought Chris Kelly and Rich Peverley to Boston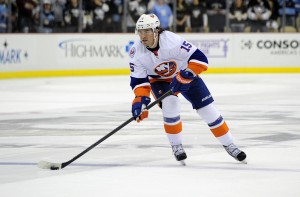 last February, would be that of P.A. Parenteau of the New York Islanders. Parenteau is a feisty forward with solid offensive skills. He would be a nice addition to the team, especially with Peverley out for another few weeks.  He has been a solid scorer in the AHL for a few years, then netted 20 goals and 33 assists last year with the Isles.  He is on a pace for just 16 goals this season, but already has 42 assists and 54 points in just 60 games. He would help with Boston's power play, and would provide more depth – especially if Pevrerly and/or Horton cannot come back.
This move would likely only require a guy like Caron or a second-round pick.
Deal Likelihood (out of 10): 7 – Not saying Parenteau is the guy they go for, but if the Bruins do make a move, it will be for a guy like Parenteau or Ryder. Other possible names on the radar are Derek Roy of Buffalo, Mike Knuble and Jeff Halpern of Washington, Brian Rolston of the Islanders, Teddy Purcell of Tampa Bay, and Jarret Stoll of Los Angeles.
Steve Kendall has covered hockey at all levels for 20 years. You can follow him on Twitter @skendallhockey