Who knew the re-signing of a forward who's averaged 0.07 goals per game could cause any ecstasy outside the Lewis home?
Yet, here I was on Twitter three days ago, arguing with a fan who claimed Trevor Lewis was Anze Kopitar 2.0. Of course, that wasn't the average reaction.
Some applauded Lewis's shorthanded and penalty-drawing proficiency (he leads the team this year in penalty differential with a +18). Some focused on his weak puck possession and absymal shooting percentage (his 4.1, only ahead of Adam Hall and Scott Gomez, ranks 253rd out of 255 forwards with over 200 games played between 2010-14). In all, there's a lot of agreement about what the former first round pick's good and bad at. Any debate centered around his extension's $1.525 million cap hit.
Well, I'm not here to provide a stirring defense for Lewis's new deal. Perry Mason wouldn't take this case. But as his self-appointed public defender, let's dig deeper into what he's good at:
How good is Trevor Lewis on the PK?
First, let's compare Lewie with his teammates from 2013-14 back to his rookie season: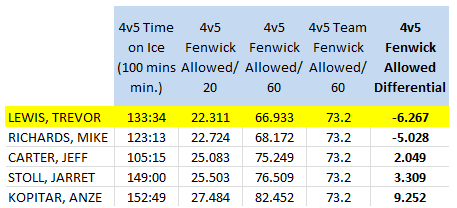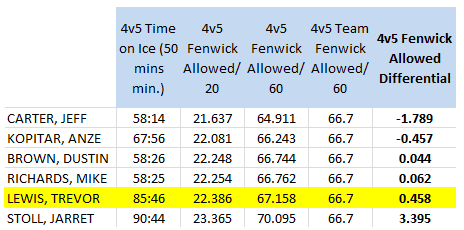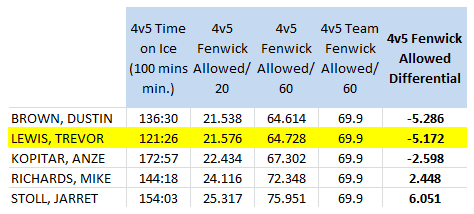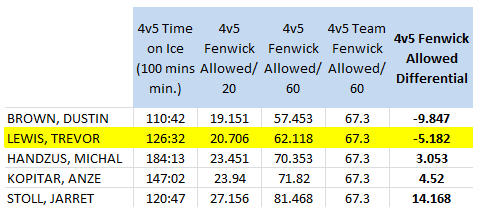 (Fenwick Against/60 mins measures unblocked shots against when a player is on the ice per 60 minutes of ice time.)
Every season except for last, Lewis has been the team's best or second-best forward in 4v5 Fenwick Allowed differential (Brown has posted a ridiculous 91.902 4v5 FA60 in just 37:52 4v5 TOI this year). Let's not forget that 2012-13 was a much smaller sample size because of the lockout.
So Lewis compares well with his teammates in 4v5 Fenwick Allowed differential; how does the only other Utah-born NHL forward besides Steve Konowalchuk stack up against the rest of the league?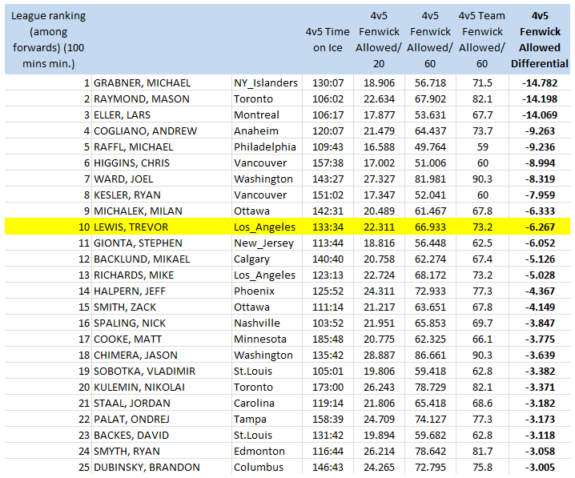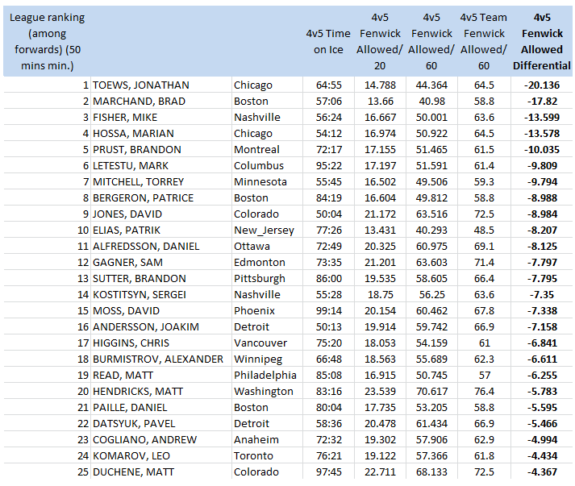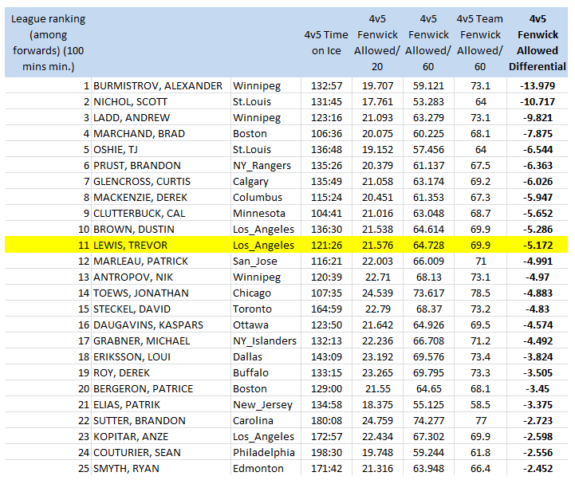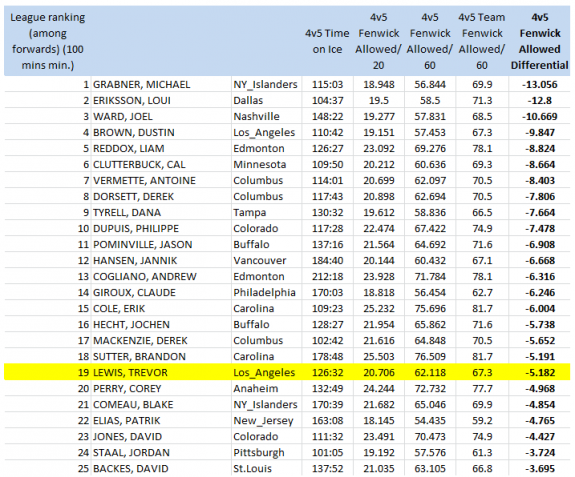 From 2010-14 (counting 2013-14 as complete), Lewis is among four forwards (Grabner, Cogliano, Sutter) who have three top-25 finishes in 4v5 Fenwick Allowed differential and among six forwards (Grabner, Cogliano, Ward, Prust, Clutterbuck) with two top-15 finishes. While not an elite penalty killer like Grabner, he's very good.
Of course, 4v5 Fenwick Allowed differential is not a be-all, end-all stat to define penalty killing, but we can conclude that Lewis is consistently excellent at preventing shots from getting through on the PK. Is that worth his cap hit? I can't say. But it's worth acknowledging that Trevor Lewis isn't just any other player either.