As the 2013 NHL season winds down and awards talk ramps up, Bruins fans may be wondering if anyone on the team may be in line for some hardware. While Zdeno Chara is a perennial Norris candidate, perhaps the top option in terms of having his named called this year is the man behind him, the soon-to-be-restricted-free-agent Tuukka Rask.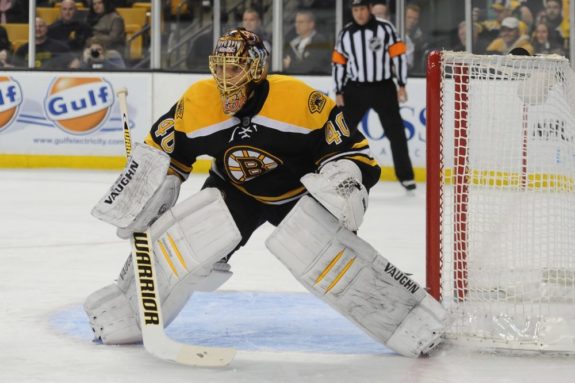 Ever since he burst onto the scene in 2009-10, there's been Vezina buzz around Rask. In 45 GP that season (39 GS), and while filling in for an injured Tim Thomas, Rask put up a record of 22-12-5, with 5 SO, a GAA of 1.97 and a Sv% of .931. Rask's performance did however lag a bit in 13 playoff games (which featured a historic meltdown by the Bruins vs the Flyers), as his GAA jumped up to 2.61 and his Sv% fell to .912.
From that point on, Rask's upward trajectory was stalled due to the legendary return of Tim Thomas during the 2010-11 season, but even with Thomas still serving as the #1 last year, Rask put up the better numbers, albeit in 36 fewer GP.
With Thomas on a self-imposed exile (and now a member of the New York Islanders), the reins were firmly handed over to Rask to begin the 2013 season, and he has done nothing to suggest that he is not up to the task.
Can Tuukka Rask Win The Vezina?
Which brings us to the question at hand, whether Rask is indeed a viable Vezina candidate in 2013.
First, it should be noted that sans Tim Thomas, the Bruins have not missed a beat. Yes, there is a level of frustration surrounding this team due to a perceived collective inability to take control over games, and an uncharacteristic trend of semi-regularly coughing up late leads.
BUT the reality is that the Bruins are on the verge of winning the Northeast, finishing second in the Conference, posting a top 5 overall record, with a top 3 goal differential. Regardless of how they've done it, they have indeed accomplished these feats, and in no small part due to the play of Tuukka Rask (and backup Anton Khudobin.)
Tuukka Rask: By The Numbers
With that said, let's take a quick look at what Rask has done so far this season.
| | | |
| --- | --- | --- |
| Stat* | # | Rank* |
| SA | 922 | 15 |
| Sv | 857 | 15 |
| GA | 65 | 2 |
| Sv % | .930 | 2 |
| GAA | 1.97 | 1 |
| W | 18 | 6 |
| SO | 4 | 1 |
| * 2 GR | |  30+ GP |
The first thing that stands out is that Rask is nowhere near the league leaders in terms of shots faced, which also impacts the number of saves that he is called to make. Credit for that is due to the mostly stellar defense corps logging heavy minutes in front of him, which features the aforementioned Chara (who has the potential to aid any goalie's Vezina push.)
By the same token, ranking a goalie by GA is a bit of a rabbit trail, as the leaders in that category are almost always backups or have missed significant time. Qualify that by only looking at goalies with 30+ starts, and Rask is second only to Corey Schneider in that respect. And while Rask comes in with 5 less wins that league leader Antti Niemi (with 2 GR), a big part of that has been the success of Khudobin, who has stepped in admirably when Rask has been able to grab a rest.
The most telling stat markers in any Vezina conversation should be GAA & Sv%, as they are the best judges of what a goalie has done with the opportunities before him, on a consistent and regular basis. They answer the basic questions: a) how many goals does he give up per 60 minutes?, and b) how many of the shots that he faces does he stop? Pretty simple, right?
Before Thursday night's game vs Tampa Bay (a shutout win for Rask and the Bruins), Kevin Paul Dupont framed his performance to date with this tweet:
Of the 19 NHL 'tenders with 30 or more starts, Boston's Rask is No. 1 in GAA (2.03). And save pct (.927) second only to Bobrovsky (.930).

— Kevin Paul Dupont (@GlobeKPD) April 25, 2013
Rask is at or near the very top in both of those key areas, and now leads the league in shutouts. As such, he clearly belongs in the Vezina conversation.
Will he win?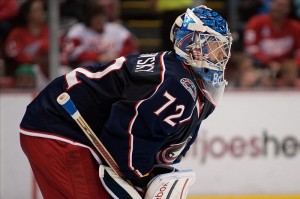 There's a couple of factors at work here. For one, Craig Anderson has put up ridiculous numbers when he has been on the ice this year (1.71, .941), good for 1st in both categories. Had he been healthy all year, he's the clear-cut favourite. He may yet get a nomination, but it seems as though the race might come down to Rask and Sergei Bobrovsky.
Yes, BOBROVSKY!
The Columbus goaltender has come out of nowhere this year to not only lead the Blue Jackets in their surprising push for a playoff spot, but also to stake his claim as one of the best goalies in the league. Having faced over 1000 shots, BOBROVSKY! ranks 2nd among 30+ GP goalies with a 2.03 GAA, and is up on Rask in Sv% by the slightest of margins (.931 to .930.)
With 20 wins and 4 SO to boot, what BOBROVSKY! has done in Columbus this year should be enough to secure the Vezina, and possibly even the Hart should the Jackets qualify for the playoffs.
What Rask has accomplished this season has been great and worthy of at least a Vezina nomination. But what BOBROVSKY! has done in Columbus is nothing short of special, especially within the context of the team he plays for. The Blue Jackets struggle to score on the best of nights, and don't have anyone close to Norris caliber on their roster. It's an incredibly close race, but BOBROVSKY! deserves the Vezina.
(Honorable mention must also be given to Antti Niemi of the San Jose Sharks, who leads the league in wins with 24, and who is among the leaders in Sv% & GAA while making 42 starts this season.)
At the very least, Rask should earn himself a nice raise, and hopefully the Bruins are able to lock him up for many years to come. There's no reason to believe that he won't be vying for the Vezina year in and year out, which should inspire the occasional "Thank You, Raycroft" chant at the Garden.
Follow Ian on Twitter for more hockey updates and commentary.