Three days before their Winter Classic match up, the Boston Bruins played one of their most entertaining games in 2015. More importantly, the Bruins got the win they needed to halt a three-game losing streak, defeating the Ottawa Senators, 7-3.
To put it briefly: a lot happened.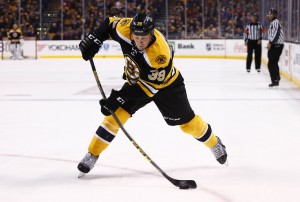 The Bruins and Senators combined for ten goals, 110 penalty minutes, and six game misconducts. Jimmy Hayes recorded his first career hat trick, while Patrice Bergeron and Matt Beleskey each scored two goals. And to top it off, Brad Marchand's questionable bridge hit on Mark Borowiecki could be reviewed by the NHL Department of Player Safety.
It's safe to say that the last Bruins game before the Winter Classic was anything but quiet.
"…You want to see your team stick together and make sure you stick up for your teammates and that what we did tonight," said Bruins coach Claude Julien.  "Whether some people think it's team building, it's great for your group, to a certain extent it is, but you don't want to see that every game. It happened tonight and usually those things can happen on those home & away games with the same team."
The Bruins came alive in the third period, scoring four goals, three coming in the last five minutes. The majority of the penalties came with just under a minute left, too, beginning with Chris Neil instigating a fight with Adam McQuaid. It was an emotional win from a team about to play their biggest opponent in the biggest regular season scenario.
"That's going to be a ton of fun, just to be able to play outdoors and then to be able to play Montreal," said Hayes. "It's going to be a great match for us and both teams are neck-and-neck in the standings, so were going to have to find a way.
The Bruins have three days off to prepare for the Winter Classic. While the layover might make the Bruins complacent, the team will have to rely on the momentum for Tuesday to carry over.
But after a defining game like this, that shouldn't be a problem.
"I know our team is going to come out and compete hard and play hard every game, like we always do," Hayes said. "We're going to have to find a way to get three points and come together as a team again and continue to be tough to play against."