The Los Angeles Kings and forward Tyler Toffoli have come to terms on a three-year contract extension that will come with an annual cap hit of $4.6 million, the Kings announced Wednesday. This is Toffoli's third contract with the Kings following his entry-level deal and a subsequent two-year, $6.5 million contract that was set to expire on July 1.
Kings have agreed to terms w/ Tyler Toffoli on 3-year contract extension; contract will have AAV of $4.6 million. https://t.co/uvCht27GqU

— LAKingsPR (@LAKingsPR) June 7, 2017
Toffoli was originally drafted by the Kings in 2010 with the 47th overall draft pick and is set to play in his sixth NHL season next year. After recording career-highs in games (82), goals (31), assists (27), points (58) and plus-minus rating (plus-35) in 2015-16, Toffoli hit a rough stretch in 2016-17. Appearing in only 63 games, the 25-year-old scored 16 goals and 34 points. In 293 career regular-season games, Toffoli has scored 84 goals and 175 points with a plus-90 rating and is already a Stanley Cup Champion.
Despite being a rookie during the Kings' 2014 Stanley Cup run, Toffoli was a big contributor for the team when they needed him most. Toffoli paced all rookies that postseason with seven goals, 14 points and two game-winning goals. Already holding a championship pedigree, the Kings' new management team is hoping that Toffoli can help the team return to championship form sooner than later. Seen as an integral piece of the Kings present and future, the 6-foot, 201-pound Toffoli will likely see significant time on the team's top-line again next season alongside Anze Kopitar.
Busy Offseason for Kings Continues
For the Kings, this is one of the first major moves by the new management team. In April, the Kings made a big splash when they relieved both president and general manager Dean Lombardi and head coach Daryll Sutter of their duties. Subsequently, the team hired Luc Robitaille to be the team's new President, Rob Blake to be the new vice president and General Manager, and John Stevens to take over the reigns as the team's head coach. Over one month later, the Kings hired Dave Lowry to be an assistant coach with the team, continuing to create change within the organization.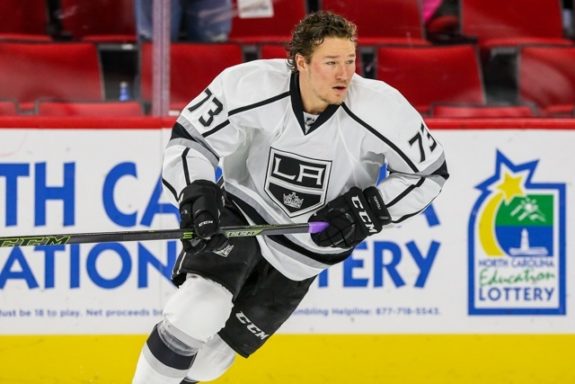 Toffoli's contract was one of the team's biggest tasks heading into the 2017 offseason. By locking him up early, the Kings can now focus on other moves that need to be taken care of. For a team looking to find its way back into the postseason, the next logical step for the Kings will be to prepare for the upcoming NHL Expansion Draft. Toffoli was always going to be protected regardless, but now the Kings know that he will at least be under contract next season without having to worry about a long offseason of negotiations.
With the Expansion Draft comes opportunity, however. While some teams will have to make tough decisions on which players they should leave exposed to the Vegas Golden Knights, the Kings have a chance to make a deal to potentially clear up cap space. With a few bad contracts on the team, the Kings could look to move an asset or two to convince the NHL's newest franchise to take on a bad contract in return. Very little is certain as the Expansion Draft looms. One thing that is known, however, is that Toffoli will be a member of the Kings for the foreseeable future.