---
Now past the midpoint of the draft-plus-one season for the 2019 class — prospects born between Sept. 16, 2000 and Sept. 15, 2001 as first-time eligibles — it is a good time to check up on those who didn't hear their names called last June in Vancouver.
The World Juniors just wrapped up — with a handful of these undrafted prospects starring on that stage — and the CHL Top Prospects Game is taking place this week to showcase the 2020 class. Most those kids will go on to be selected but a half-dozen were passed over after participating in the 2019 event.
There are typically between 30 and 50 overagers drafted every year — among 217 total selections — so that dream remains alive for many on this list. To be taken the second or third time around — or even the fourth time for 1999-born European prospects, who get an extra year of eligibility over their North American counterparts.
I debuted my Undrafted Tracker in November, with the focus on 173 prospects that appeared in my final rankings and two mock drafts for 2019. That sounds like a lot, but 64 of my top 217 went undrafted, plus 104 of the 133 honourable mentions from my top 350, along with five additional prospects that were swapped into the consensus mock from the 1,142 on my radar. Several of those 1,142 are enjoying strong seasons and could be drafted in 2020 despite not making the cut for this tracker.
These prospects are listed in the order of my final rankings, with the tracker displaying their current teams and stats as well as whether they are still eligible for 2020 and where I had them mocked for 2019. To view the latter three columns, move the slider at the bottom to the right.
For the midseason edition of Undrafted Tracker, all the stats are from EliteProspects.com through Jan. 13. However, not all stats are equal since these prospects are developing in various leagues at different levels ranging from junior to pro.
I will highlight prospects from each round within my top 217 and some of the honourable mentions, but the NHLe (equivalency) tool is always helpful for calculating how these stats could translate to the NHL in the future and how they compare to their peers in the present.
Ranked Prospects
[table id=331 /]
Second Round
Daniil Gutik didn't report to the Memorial Cup host Kelowna Rockets — they took him in the second round of the CHL import draft — but has continued to produce at a near point-per-game pace in Russia's top junior league. That decision to stay home was disappointing — from a selfish standpoint, since I'm based in Kelowna — but I truly believe Gutik missed an opportunity to boost his draft stock as an overager for 2020 by playing in that prestigious (and heavily scouted) tournament. He is still on the radar but passed up a chance to raise his profile in North America and in the eyes of NHL teams.
Third Round
Billy Constantinou is going strong in Sault Ste. Marie and is surely being watched closely again for 2020. Now on his third OHL team, there were some concerns over Constantinou's character and how he handled his first trade — from Niagara to Kingston, before moving on to the Sault — but his skill level has always been draft worthy. Assuming those maturity issues are behind him, there should be NHL interest in Constantinou going forward.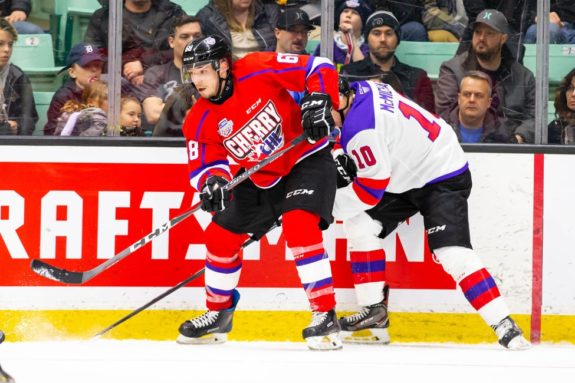 Dmitri Sheshin is in the running for the scoring title in Russia's junior league and looks like a good bet to get drafted in 2020. He is undersized — and that hasn't changed — but he is putting up big numbers that can't be ignored. Somebody should take a chance on Sheshin.
Iaroslav Likhachev has taken a nice step in the Q, producing at a point-per-game pace and becoming more consistent as a sophomore in North America. This Russian was one of the younger prospects for 2019 — with a Sept. 2 birthdate — and he may still be scratching the surface of his potential. Likhachev is an intriguing talent that should be getting the attention of NHL teams by now.
Josh Williams got off to a hot start and seemed determined to prove a point — that he should have been drafted in 2019 — but has since cooled off statistically and become something of a question mark again for 2020. Williams will likely be judged on his playoff performance and whether he can elevate his game to help carry a young contender on a deep run in the Dub.
Fourth Round
Vojtech Strondala is still small — which presumably scared teams off in 2019 — but plays bigger and was a catalyst of sorts for the host Czechs as a late addition to their roster at the World Juniors. He scored against Canada there and flashed the skill that had him ranked here for me.
Taylor Gauthier is having a good season on a bad team but shockingly didn't get traded at the WHL deadline. Gauthier would have been a good fit for his hometown team, the Calgary Hitmen, but stayed in Prince George and seems destined to miss the playoffs again. He could have benefitted from more exposure in backstopping a contender and the Cougars already have his successor in fellow first-round bantam draft pick Tyler Brennan.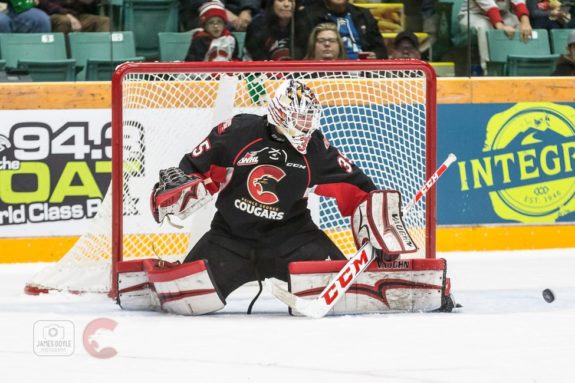 Fifth Round
Xavier Simoneau is another little guy — note the trend there — but he makes the most of his low centre of gravity and shouldn't be held back by his lack of size. Simoneau is lighting up the Q and should get a long look leading up to the 2020 draft. He is a solid prospect.
Logan Barlage performed well in the absence of Dylan Cozens during the World Juniors, taking on more of a leading role for Lethbridge. Barlage is a big kid with skating concerns, but he can be unstoppable at times — a man among boys at the junior level — and should be able to carve out some type of role as a pro.
Artyom Galimov could be a rare example of the fourth time being the charm after getting passed over in 2017, 2018 and 2019. This is his final year of eligibility — finally — and some team could totally take a flyer on him in the later rounds. I quite liked Galimov in my live viewings at last year's World Juniors and his KHL stats are impressive.
Yegor Chinakhov is yet another Russian trending in the right direction despite going undrafted. Like Sheshin, Chinakhov's numbers will get him noticed this time around and NHL scouts should like what they see upon further evaluation. The progression is nice to see on paper.
Evgeny Oksentyuk has been a huge hit for Flint, looking like a poor man's Artemi Panarin. Oksentyuk came on to the 2019 radar relatively late — as a revelation for Belarus at the under-18 worlds in April — so NHL teams may have worried about him being a one-hit wonder. Now that he is looking like the real deal in North America, Oksentyuk should get selected at some point in 2020 — even though he is another small forward.
Sixth Round
Samuel Hlavaj is getting plenty of exposure, slated to play in this year's CHL Top Prospects Game as an overager — as is Nico Daws — after backstopping Slovakia at the World Juniors. That wasn't a great showcase for Hlavaj — nor Canada's Daws, who was among the 1,142 prospects on my radar for 2019 — but Hlavaj has been stellar in the Q, impressing enough that NHL scouts wanted to see more of him in the Top Prospects Game.
Kristian Tanus emerged as a standout for Finland at the World Juniors, leading his country in scoring with nine points (two goals, seven assists) over seven games. Tanus has always been an offensive catalyst capable of putting up points but — at risk of sounding like a broken record — there are size concerns with him too. He is small but I could see Carolina taking a chance on Tanus because of his chemistry with Hurricanes prospect Patrik Puistola.
David Aebischer also impressed at the World Juniors, dishing out six assists in five games for Switzerland. His six points were tops among Swiss defencemen in that tournament — ahead of NHL-drafted Nico Gross and Tim Berni. Aebischer is doing fairly well in North America too, so don't rule him out for 2020.
Tag Bertuzzi has been staying healthy this season — knock on wood — and is starting to make up for that lost development time to injuries. The son of former NHL power forward Todd Bertuzzi came into the OHL with plenty of hype as the second overall pick in that league's draft (behind 2019 first-rounder Ryan Suzuki). Bertuzzi's upside remains a matter of debate, but he is making strides and those bloodlines might work in his favour.
Jonathan Brinkman had one of his best games of the season here in Kelowna — a three-point, first-star performance — and that live viewing renewed my hope for him. He initially caught my eye with Denmark at last year's World Juniors in Vancouver — also in live viewings — and I believe he has the skill-set to be a late-bloomer through continued development in North America. His stats aren't jumping off the page in the present, but Brinkman could trend similar to fellow Dane Joachim Blichfeld, who has worked his way into San Jose's lineup as a seventh-round pick.
Seventh Round
Amir Miftakhov shared the Russian crease with top 2020 prospect Yaroslav Askarov at the World Juniors but posted the better stats and got the start in the gold-medal loss to Canada. Miftakhov shut out Canada in the preliminary round and finished the tournament with a .919 save percentage and 2.12 goals-against average over five appearances. That should improve his stock, but Miftakhov is on the small side as a goaltender — listed at six foot even — and height is such a big factor at that position when it comes to getting drafted.
Eli Zummack's 17-game point streak came to halt on Tuesday — it dated back to Nov. 29 — but he has been a consistent producer for Spokane all season. This should come as no surprise by now, but size is the concern with Zummack as well. He has quality skill as a quick playmaker, but he can't change the fact he is under 5-foot-10 and that reality has prevented him from getting drafted in 2018 and 2019. He has taken another step statistically this season, but it is more likely Zummack will be signed as a free agent following the 2020 draft.
Joonas Oden surprised some people with his contributions for Finland at the World Juniors, producing three goals and six points in seven games to finish third in team scoring. He passed the eye test too, looking projectable as a third-liner in the NHL. That is probably worth a late-round pick in 2020.
Alex Yakovenko is no longer draft eligible but don't forget his name just yet. He is taking a very interesting career path — as a Russian now developing in Finland following an impressive stint in the USHL — but it seems to be working for him. He is producing everywhere he goes and that could eventually lead him back to North America with a shot at the NHL.
Vladimir Sartakov is another undersized Russian goalie — standing only 5-foot-11 — but his numbers are looming large at the junior level. I like my Russian netminders and Sartakov still has nice upside as one of the younger prospects from that 2019 class — sharing the same Sept. 2 birthdate as his aforementioned countryman Likhachev.
Honourable Mentions
[table id=332 /]
Honourable Mentions
Trevor Kuntar is one of the USHL overagers that many have pegged to get picked in 2020. He is putting up numbers across the board and looks like a legitimate prospect.
David Kope is another kid that had a strong showing here in Kelowna, with his size and skating ability proving hard to contain in that live viewing. But that kind of effort has also been hard to sustain for Kope, with consistency issues holding him back from truly breaking out.
Pavel Gogolev is doing all kinds of damage in the OHL and thus the third time could be the charm for him after getting passed over in 2018 and 2019. Somebody will sign him if nobody drafts him in 2020.
Ilya Altybarmakyan has picked up the pace in Russia's junior league, coming on strong and surging back onto the draft radar for 2020.
Alexei Tsyplakov is one of the top players in that Russian junior league and has nice tools that could translate to pro success in the years to come. He is another overager that many scouts have circled for 2020.
Logan Stein is shining in the USHL and he has decent size at 6-foot-2, so NHL teams should give him serious consideration for the 2020 draft.
Tarun Fizer was the straw that stirred Victoria's offence prior to the deadline acquisition of 2019 first-rounder Brayden Tracey. Fizer is still underrated because he is on the small side and doesn't have any real stand-out skills. He is well rounded and finds a way to produce, reminding me a little of former Royal Matthew Phillips and another B.C. Division alum in Garrett Pilon.
Josh Maniscalco is no longer draft eligible but is putting up big NCAA numbers for a blueliner and warrants a shout-out. It will be interesting to see how his career plays out, with the potential to be a coveted college free agent at some point as a good-sized, right-shooting defenceman.
Brett Chorske is chugging along nicely with BCHL Wenatchee and NCAA recruiters are taking notice, which presumably means NHL scouts are too. The son of former NHL forward Tom Chorske is a 6-foot-6 right-handed centre.
Last but not least, Egor Sokolov was a force for Russia at the World Juniors, scoring three goals and growing his role by being a physical presence. NHL scouts had to like what they saw there, making me think Sokolov could go relatively high — perhaps in the top 100 — in his third time through the draft.
Mock Swaps
[table id=333 /]
These five overagers aren't likely to get drafted in 2020, with Topping no longer eligible and the other four fading from the radar — at least for the time being.