Jim Benning was hired on as general manager of the Vancouver Canucks, largely based on his astute scouting ability. That quality is more important than ever, with the rebuilding Canucks in need of some draft day home runs.
After 28th and 29th place finishes in back-to-back years, the draft is becoming an important spectacle in Vancouver. Benning's work at the draft looks solid through three seasons. Selecting Jake Virtanen and Olli Juolevi raised eyebrows, but Benning has unearthed some other gems.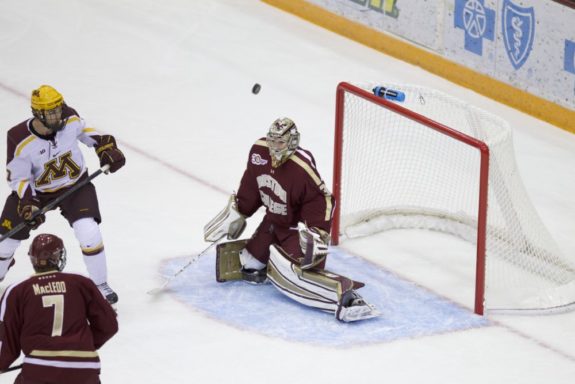 His other first-round selections of Brock Boeser and Jared McCann are chalked up as victories. In the later rounds, he's made other applaudable choices. In 2014, he drafted Thatcher Demko, Nikita Tryamkin and Gustav Forsling. After Boeser in 2015, he also found Guillaume Brisebois and Adam Gaudette. Last year, the third-round selection of William Lockwood surprised most people. Lockwood was recently selected to join the 2017 U.S. World Junior Summer Showcase.
Here are the Canucks Selections for the 2017 NHL Entry Draft
1st round, 5th overall
2nd round, 33rd overall
2nd round, 55th overall (from the Columbus Blue Jackets as compensation for John Tortorella
3rd round, 64th overall
4th round, 95th overall
4th round, 112th overall (from the San Jose Sharks, along with Nikolay Goldobin, in exchange for Jannik Hansen)
7th round, 188th overall
With six of the top 112 selections, the Canucks can change their future outlook with some astute drafting. In the last two drafts, the Canucks had traded away earlier picks, limiting their ability to restock in earlier rounds. They had three top 120 selections in 2015, and only two in 2016. That's an undesirable position for any rebuilding club.
Canucks Draft Needs
The dilemma for the Canucks is that they have a number of organizational holes to fill. The most pressing needs are at center and on defence. The Canucks have some good, young organizational depth on the wings. They also have a potential starting goalie in-waiting with Demko.
Unfortunately, finding elite centerman and top-pairing defensemen are arguably the hardest players to unearth. The Canucks missed out on a top-two pick in the draft lottery, but that shouldn't be a huge loss.
Despite there being two clear top centremen at the top of the draft, there isn't a significant drop-off. Cody Glass in particular had more even-strength primary points per game (0.68) than Nolan Patrick (0.58), and slightly less than Nico Hischier (0.7).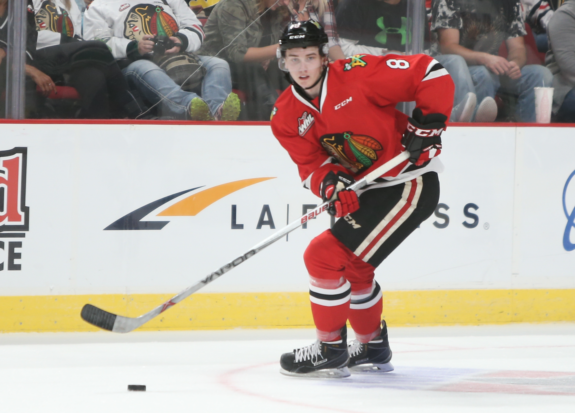 After drafting Juolevi last year, odds are the Canucks take a center at fifth overall. Benning did have some interesting comments about what was more coveted – a number one center or power play quarterback.
"They're both hard to get, but I think anytime, especially in today's game, if you can get a power play defenceman, a defenceman that has the mobility to go back and get the puck and control the game from the back end… we see what [Erik] Karlsson does in Ottawa, so I think there's a premium on that position," said Benning.
Potential Draft Targets
This comment makes it seem that Benning is considering a defenceman in that slot more than most believe. The Canucks showed incredible interest in Cale Makar after the Draft Combine. A four-person entourage from the Canucks brass took Makar out to dinner after the combine to gauge interest.
Most think Makar is gone by the number five slot. If he's not, there's a good bet the Canucks take him. Don't sleep on Timothy Liljegren either. The Canucks have reportedly been high on him for months.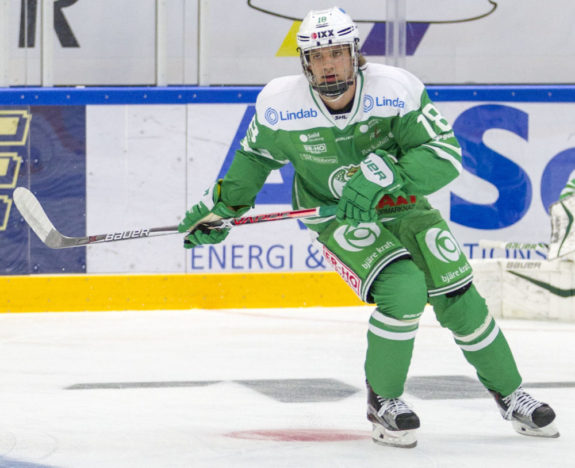 My personal choice at number five is Glass. He's really elevated his game throughout the year, to the point where he isn't much worse than Patrick or Hischier. Here are some other NHL Mock Drafts, with their choices for the Canucks.
Although there's some disparity, Glass is the Canucks choice in five of the ten Mock Drafts above. Interestingly enough, no one has the Canucks selecting a defenceman.
If they do go with a forward with the fifth overall pick, they should strongly consider targeting a defenceman at 33rd overall. I really like Henri Jokiharju or Conor Timmins in that slot, if they're still available. The Canucks could reach by drafting other defencemen such as Max Gildon or Robin Salo if Jokiharju and Timmins are gone.
The Canucks lack prospects with high-offensive ceilings on both offence and defence. Identifying these prospects in later rounds should be a main goal for the Canucks. With six picks in the first four rounds, they can afford to take some chances. Josh Brook, Evan Barratt, Ostap Safin are players I think the Canucks should target with some of those picks.
Benning Willing to Deal?
Speculation is aplenty this time of year. The Canucks aren't omitted from the rumour mill themselves. With Jim Nill publicly stating an openness to trade the third overall selection, it made sense to connect him to Vancouver.
The Dallas Stars need a reliable defenceman. Vancouver has one of the best defensive defencemen on the market with Chris Tanev. Despite the fit, it sounds like a deal won't happen between these two teams.
The Canucks don't have too many trade chips to play other than Chris Tanev. Alex Edler might draw some interest, but he has a no-movement clause. It appears that Edler has no desire to leave the only team he has ever played for.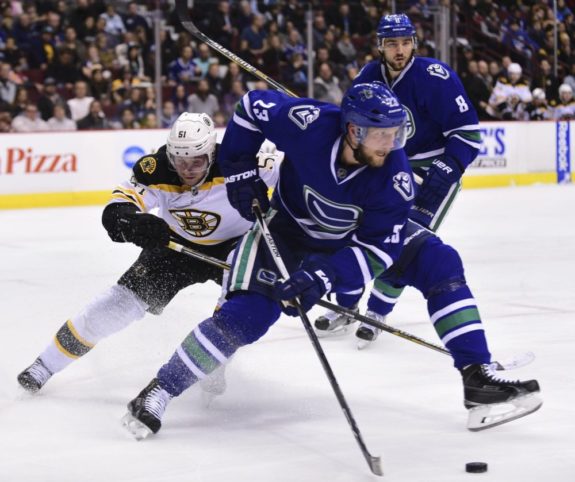 That would really only leave the Sedin twins as potential trade chips. Trading them is highly unlikely either. The Canucks would have to eat half of their salary in any type of trade. Even then, there aren't many teams who would save seven million dollars in cap space for two 37-year-old players.
If the Canucks want to get creative, they could package their late second-round pick, or their early third round pick in a trade with Tanev. Benning has traded away three second-round selections as general manager already. He traded a second-rounder for Linden Vey, and another for Sven Baertschi. Chalk that up as a loss and a victory. The third second-rounded he traded was in the Brandon Sutter deal.
A team like the Canucks already lacks assets, so their probably best off building through the draft. You know, like most successful teams do in the NHL. Benning was hired based on his scouting ability, and this weekend is his time to deliver.
KPU Journalism Graduate. Trevor has been writing for The Hockey Writers since October 2014. He has contributed articles related to the Ottawa Senators, Vancouver Canucks, and other issues/stories regarding the game of hockey. Trevor currently lives in White Rock, B.C.