The Vancouver Canucks will have to wait until Oct. 7 to make their first selection of the 2020 NHL Draft. Lots can happen before then, but as of right now they don't have a pick until the third round. This will be the first year they have not had a pick in the first two rounds since 2010 when they had to wait until the fourth round to make their first choice.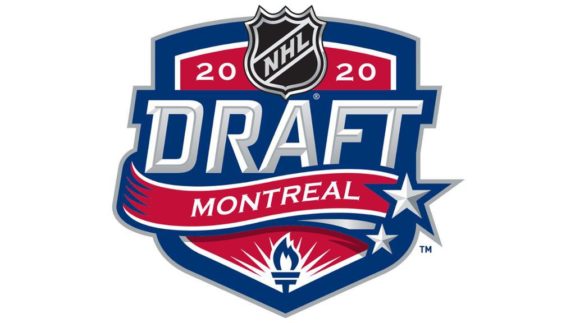 Fortunately for Jim Benning, this draft has a lot of depth in the later rounds from small dynamic forwards to defencemen that could be future steals. The Canucks success in the later rounds has been well-documented, especially from the 2019 draft where they selected Ethan Keppen, Carson Focht, Aidan McDonough, Jack Malone and, Arvid Costmar in the third round or later. They all have shown the potential to become NHL options down the road in their various leagues. Maybe they can find some similar success this year?
Canucks 2020 Draft Picks
Here are the draft picks the Canucks have in their arsenal as of this writing:
Third round – 82nd overall
Fourth round – 113th overall
Fifth round – 144th overall
Sixth round – 175th overall
Seventh round – 191st overall
The Canucks will have to try and find value in the later rounds if they are not able to swing a deal for a pick in the first two rounds. Ideally they will find a trade partner for Jake Virtanen or Troy Stecher and recoup at least a second-round pick, but as of this moment, I am not holding my breath.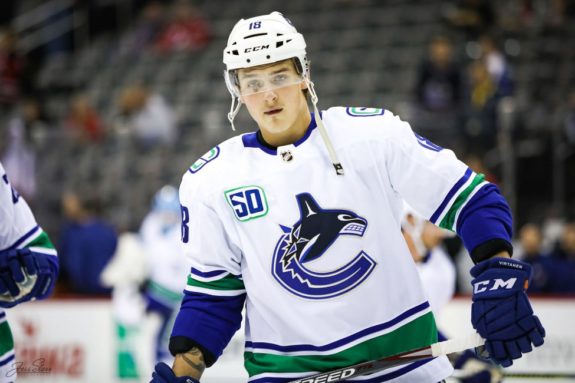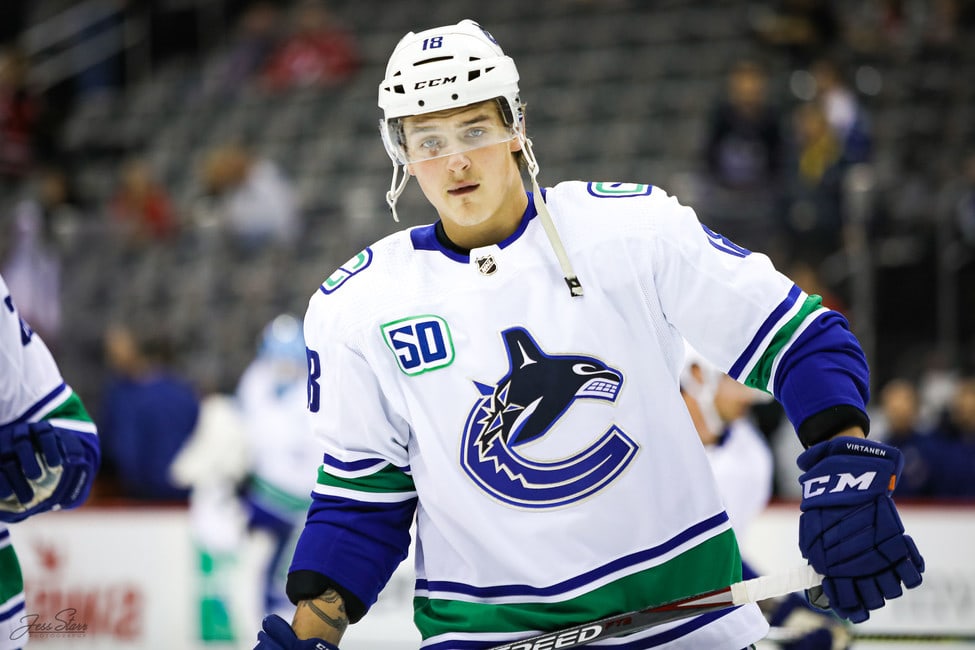 Without the services of their former head of amateur scouting Judd Brackett, who was a guru in the later rounds, they will have to rely on their present scouting staff to mine some diamonds in the rough. Hopefully one of them gleaned some wisdom from their former boss, and they can still find a special player in those rounds.
What the Canucks Need
Going into this draft, the Canucks will not be walking away with a sure-fire prospect like they have in the past three with Elias Pettersson, Quinn Hughes and Vasili Podkolzin as part of the haul. So Canucks' fans will likely have to wait a few seasons for their 2020 draft picks to make any sort of impact on the current lineup. That being said, they still should be looking to fill some needs in their prospect pipeline.
Centermen
The Canucks are quite thin at center right now after trading away Tyler Madden to the Los Angeles Kings in the Tyler Toffoli deal earlier this season. Focht, Costmar and Marc Michaelis are the top prospects in that position, but after them there's not much else.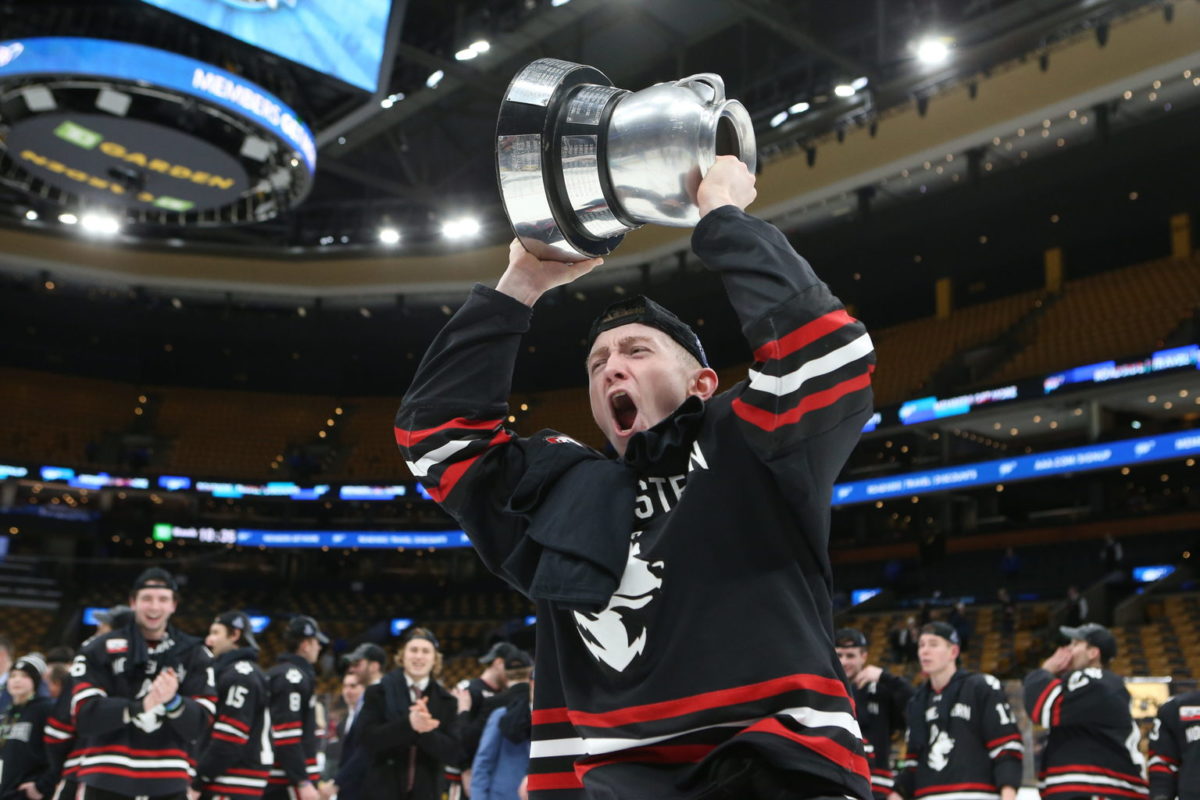 The Canucks have enviable talent at the NHL level right now with Elias Pettersson, Bo Horvat and Adam Gaudette up the middle, but they need to replenish their depth at the prospect level. This draft could be the time to do it as there are a lot of intriguing options that could be available in the later rounds.
Puck Moving Defencemen
The Canucks are built on speed and puck movement, so they need defencemen that can help in that pursuit. Admittedly, they do have a lot of depth in that department with Jack Rathbone, Olli Juolevi, Toni Utunen and Jett Woo, but other than Woo they don't have much depth on the right side.
There are a lot of those types of defencemen available in the later rounds that could interest the Canucks, including some potential steals. If they play their cards right, they could come away with another Rathbone in the later rounds.
---
---
Potential Targets To Address the Canucks' Needs
Even though the Canucks will most likely be waiting until the third round to make their first selection, there are players that could fill some needs in the organization. At this point in the draft, selecting the best player available is not always the best option. Here are a few prospects they could target as they venture through the later rounds.
82nd Overall: Eamon Powell, Right-Defenceman, USDP
The Canucks need to keep filling out their defensive depth with mobile defencemen that are strong in transition. Eamon Powell from the US Development Program fits that description to a tee. He's one of, if not the best skater in the entire draft and he's not afraid to jump up in the rush. In fact, he often looks like a forward out there. He's not a liability defensively either as he usually makes the right decisions on when to activate and when not to.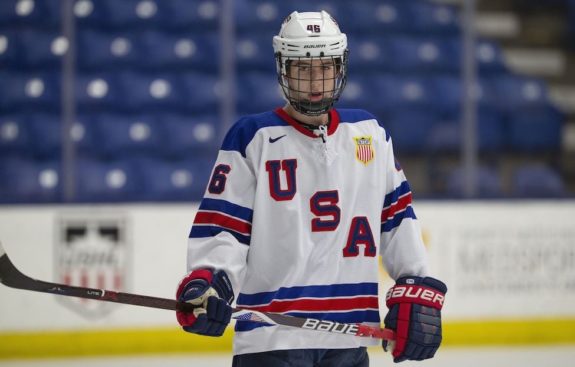 Powell has a strong first pass out of his own zone and readily uses the stretch pass as well. With all the skilled forwards the Canucks have on their team and in their pipeline, they will need more defencemen that can pass the puck up to them. It's much easier to generate offence when you don't have to worry about what your defencemen are doing in their own zone.
Powell is a bit undersized at 5-foot-10, but as we've seen with Quinn Hughes, skating and hockey IQ can overcome that weakness rather easily. If he is available at this position in the draft, the Canucks should strongly consider adding his skillset to their prospect pool.
Alternatives
There are a couple of other defencemen that could be available at this point in the draft including the Czech Republic's Samuel Knazko and Finland's Ruben Rafkin. Both are great skaters with terrific hockey IQ similar to Powell, but are a couple of inches bigger. Of the two, Rafkin is the only right-hand shot, so the Canucks probably should target him if Powell is not available at the 82nd position.
113th Overall: Oskar Magnusson, Center, J20 SuperElit
As long as Tomas Gradin is head of European scouting, the Canucks will always have their eyes on players from the Tre Kronor. That's why I believe they will be targeting a dynamic Swedish centermen like Oskar Magnusson when the draft enters its later rounds.
Magnusson is another undersized forward in this draft but has tons of offensive potential. Not only is he a great forechecker, but he also has a high hockey IQ and a solid two-way game. He could be the perfect third or fourth-line center down the road.
That's not to say that Magnusson couldn't develop into a top-six forward though. He has all the tools of a top-two center and he can play the wing as well. The thing that could hold him back from that ceiling is his skating and overall lack of size. However, his work ethic and energetic game could overcome those weaknesses.
Alternatives
The Canucks could also look to a player like Russia's Pavel Tyutnev, who plays a similar skilled, high energy game to Magnusson. He is undersized as well, but with the NHL shifting to speed and skill, determination, not size, makes a bigger difference in the end. Apart from him, they could go with another center in Rory Kerins of the OHL's Sault St Marie Greyhounds, who plays a consistent 200-foot game similar to Canucks' captain Bo Horvat.
144th Overall: Brock Faber, Right-Defenceman, USDP
Brock Faber is all over the place in the rankings, finishing as high as 103rd to as low as 143rd. So the Canucks could have a play on him in the fourth round or right here in the fifth round. It will all depend on what other teams do before the draft gets to this point. Regardless, he should be a defenceman that is on their radar.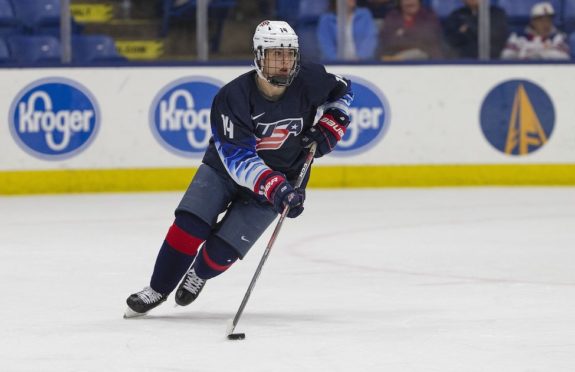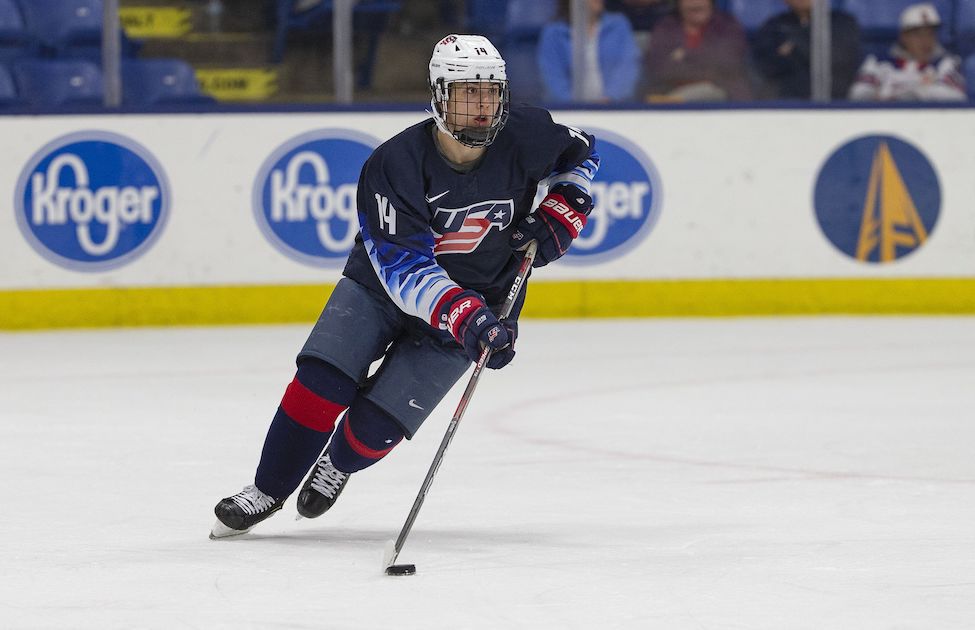 When it comes to doing things on the ice the right way, Faber does it in spades. He rarely makes a mistake defensively, and as THW's own Mathieu Sheridan points out in his profile, he is a very smart defender as well.
Faber is a defender who does all the little things right. He reads plays well and has an active stick. He intercepts passes in the neutral zone and can transition play quickly. When the puck is shuffled up the half-wall, Faber knows when it is safe to pinch and when it is not.
Just like most of the prospects I have targeted for the Canucks, Faber also has a strong work ethic and isn't afraid to get his nose dirty to get the job done. If you look back at a lot of the players Jim Benning and his scouts have drafted, a number of them have those qualities to their game.
Alternatives
If the Canucks want to target a more defensively-minded defender in the mold of Chris Tanev, they could look to Luke Prokop of the Calgary Hitmen. He plays on the same team as Woo, so the Canucks probably saw a lot of Prokop when they were watching him. Prokop plays an extremely sound defensive game and he's a right-hand shot. Remind you of anyone Canucks fans?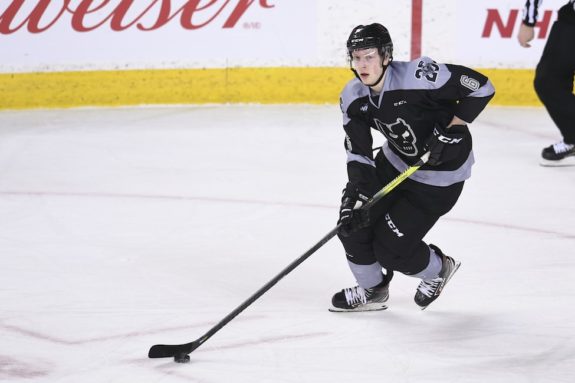 If not him, they could also look at Noah Ellis of the USHL's Des Moines Buccaneers. He is another defensive defenceman who could surprise everyone by making it to the NHL. As noted by Bell in his late-round sleepers piece, his strength lies in his own zone where he calmly moves the puck up the ice and rarely makes a mistake.
175th Overall: Cole Shepard, Center, WHL
This pick probably won't happen considering the Canucks seem to shy away from drafting players from their own backyard, but I think Cole Shepard is too enticing not to take a closer look. The West Vancouver native played his first season with the Vancouver Giants in 2019-20 and had a relatively successful debut with 11 goals and 29 points in 50 games.
Shepard has been ranked as high as the fifth round, so he could be gone at this point, but considering his size at 5-foot-10 and 157 pounds, teams may be hesitant to take him until the final two rounds. His dynamic speed, agility, and motor might change people's mind though, not to mention he has a heck of wrist shot as well.
Shepard is one of the most elusive forwards with how he is able to attack with elite speed and also be able to change direction quickly. Explosive deft acceleration both with and without the puck. One of the best quotes I ever got from a scout on Shepard was "If he was a speed skater, he would be in the olympics" because he is just that fast as a player and his motor/endurance is marathon level.

The Draft Geek
If that quote and highlight package doesn't get you excited, I don't know what will. However, before we get too enamored with his speed and shot, Shepard does have some weaknesses which could prevent him from making the NHL. His strength and overall offensive skillset do not match his elite speed, that's why he's not rated to go higher in the draft. His ceiling may top out as a high-energy third-line center. Although that is something all NHL teams need more of in their lineup, including the Canucks.
Alternatives
If Shephard is too much of a gamble for the Canucks, they could go with the bigger 6-foot-3 Isak Garfve from Sweden. He's got a high-compete level and could be suited to a bottom-six role in the future. Also available here could be another center who played for the Giants in Lukas Svejkovsky. He's another great skater and puck handler that may be capable of becoming a solid offensive contributor in the middle of an NHL lineup.
191st Overall: Gunnarwolfe Fontaine, Forward, USHL
If his numbers from 2019-20 are any indication of future NHL success, Gunnarwolfe Fontaine could be a steal in the later rounds. Playing for the USHL's Chicago Steel he scored a career-high 26 goals and 57 points in 45 games. He was a threat every time he was on the ice and showed everyone why he should been drafted last year instead of being left on the outside looking in.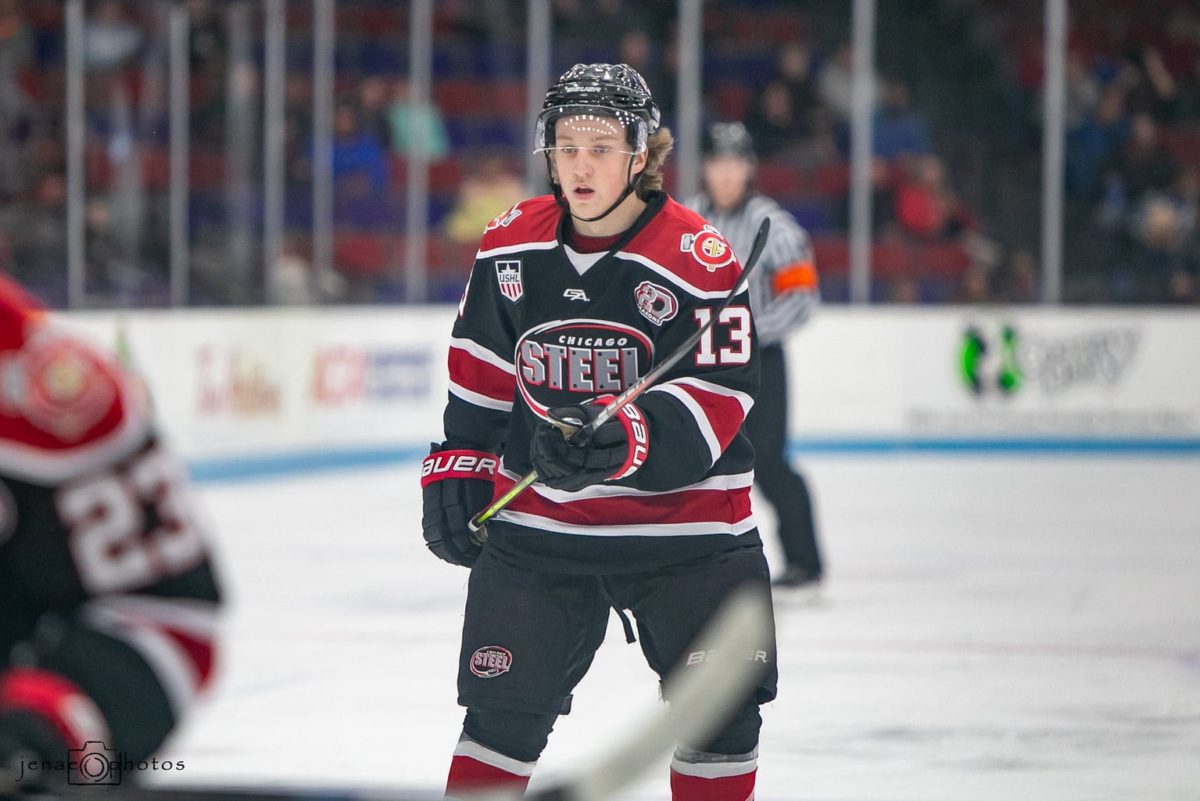 Fontaine has a great work ethic and a solid toolbox of offensive skills. He may not fill a pressing need, but the Canucks could always use more offensive depth in all areas of their prospect pool. As Bell pointed out, he is an excellent puck retriever and intense forechecker, which could make his transition to the NHL that much easier.
Fontaine has always brought a strong level of compete to his game, always battling for the puck, and always trying to get it back if the other team has it. He also holds a wicked shot, that has a lot of strength and accuracy with it. He took all of this to a new level this season, able to go through opposing defences and fire more past goaltenders, hence the higher production.
In the end, the Canucks do need more depth on their wings, especially in their bottom-six where they were exposed in the playoffs against the Vegas Golden Knights and St Louis Blues. The seventh-round could be the place to add some low-risk, high reward type players to their depth chart.
Alternatives
Another player the Canucks could look at is Drummondville Voltigeurs' captain Xavier Simoneau. He went undrafted in 2019, but after a season that saw him score 28 goals and 89 points, he probably will get selected this time around.
Simoneau is already off to a running start in 2020-21 where he has three goals and five points in two games, so I would expect someone to take a risk on the physical 5-foot-7 offensive dynamo at some point in this year's draft.
The Canucks could also target a goaltender in Devon Levi. He has a similar frame to current prospect Mike DiPietro, albeit a little lighter, and he's as competitive as they come, again similar to DiPietro. He also has leadership and character qualities that could catch the eye of the Canucks, who have taken those things very seriously when choosing their prospects in the past.
Canucks Could Still Walk Away With Some Quality Prospects
Even though the Canucks won't be part of the festivities until the third round, they could still walk away with some great prospects when all is said and done. The elite sure-fire players probably stop after the second round, but that doesn't mean they can't get some potential gems in the later rounds. Here's hoping they can find some more Rathbones and McDonoughs this year or find a way to get into at least the second round with an astute trade or two.
Whatever the case may be, the draft is almost upon us and we can finally start talking about adding some new blood into the Canucks prospect pool. It's an exciting time, so let's get the party started!