Heading into what they hope will be their tenth Western Hockey League season in 2020-21, the Victoria Royals have already seen their fair share of big talent and unforgettable performances at the Save-On Foods Memorial Centre.
The franchise began as the Chilliwack Bruins for five seasons (2006-11) before they relocated to Victoria for the 2011-12 season. Since that time, the Royals have established a new identity on Vancouver Island thanks to several great players and memorable performances in the team's first decade.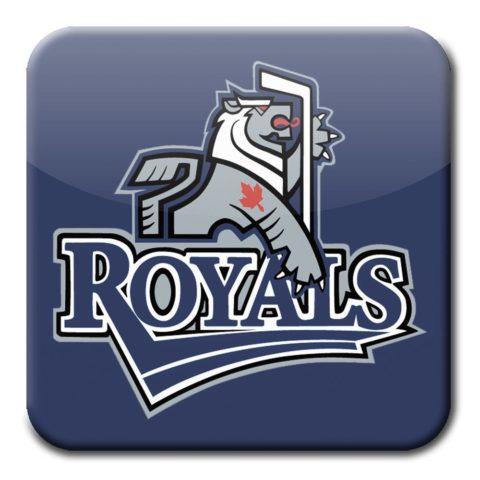 A few common threads are weaved through the pages of the Royals record book, reflecting one recent era of the team in particular that saw a trio of stars put their signature all over the team's story.
Victoria Hockey History
Before diving into the first nine seasons of Royals' action, it helps to have an understanding of Victoria's hockey history to know their place in the city.
More than a dozen hockey teams at varying levels have called Victoria home since 1918. The Royals are the second WHL team to call the B.C. capital home after the Cougars had a successful run from 1971-94. Three of the biggest NHL stars who first wore a Cougars uniform, were the Courtnall brothers, Geoff and Russ, and goaltender Grant Fuhr.
Geoff Courtnall played 1,049 games in the NHL with five teams and won a Stanley Cup with the Edmonton Oilers in 1988. Before all of that, he played parts of three seasons (1980-83) in Victoria for the Cougars. In his last season of junior, Geoff finished third on the Cougars with 114 points, including 41 goals. 
Brother Russ Courtnall, who went on to play 1,029 games in the NHL and was an all-star in 1993-94 as a member of the Dallas Stars, first played two seasons (1982-84) with the Cougars. In 1982-83, he finished just behind his brother Geoff with 97 points and 36 goals.
The Cougar who left the greatest mark in the NHL was Fuhr, who played two seasons (1979-81) in Victoria, winning 78 games with six shutouts in 102 games. He then famously went on to win five Stanley Cups with the Edmonton Oilers dynasty (1983-90) at the start of his NHL career that lasted 19 seasons with six teams. Fuhr led the NHL in wins twice and finished with 403 victories in his career.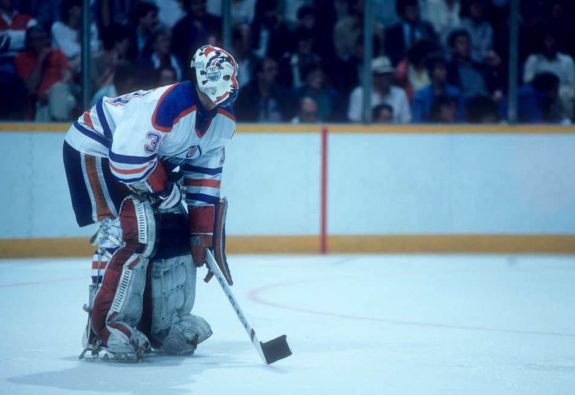 Since the Cougars departed in 1994, Victoria has been home to four teams in the junior-A British Columbia Hockey League, including the modern-day Victoria Grizzlies, which began in 2006. The Grizzlies have produced NHL players Tyler Bozak, Jamie and Jordie Benn, and Tyson Barrie.
The Save-On Foods Memorial Centre opened in downtown Victoria in 2005 and previously hosted the Salmon Kings (2004-11) of the ECHL before the Royals arrived in the fall of 2011.
Tyler Soy
Career: Goals, Points, Assists, Games Played
Centerman Tyler Soy wreaked havoc on opposing goaltenders throughout his career with the Royals, on his way to claiming four of the franchise's major career records.
After debuting in 2012-13, Soy played five full seasons in Victoria (2013-18) and played in a franchise-high 323 games. Along the way, he scored more than 25 goals four times, including leading the team with a career-high 46 in 2015-16 and finishing second to captain Matthew Phillips with 36 in 2017-18.
That combination of skill and longevity allowed Soy to set Royals' franchise records in both goals (151) and points (327). His best season of 92 points came as an overage player in 2017-18, after scoring 85 points two seasons prior while eclipsing the 50-point mark four times. With that, came his Royals-record 176 assists.
Phillips ranks second to Soy in both of those categories after producing at a blazing pace during his three seasons in blue and white. In just 215 games, the Calgary Flames prospect put up 286 points including 136 goals
A seventh-round pick of the Anaheim Ducks in 2016, Soy was an alternate captain for three seasons (2014-17) and played part of the 2018-19 season in the AHL before heading to the University of Alberta.
Matthew Phillips
Single-Season: Goals, Points, Assists
Though Phillips' time in Victoria was shorter than Soy, it was every bit as spectacular as evidenced by his name appearing three times on the Royals' top-five single-season goal totals.
Phillips' first full season in the WHL came in 2015-16 as a 17-year old. Entering the league a year older than some, the Calgary, AB native needed no adjustment period, finding the back of the net 37 times with 76 points in his rookie campaign, earning WHL Rookie of the Year honors. The Flames took notice and selected him in the sixth round of the 2016 NHL Draft.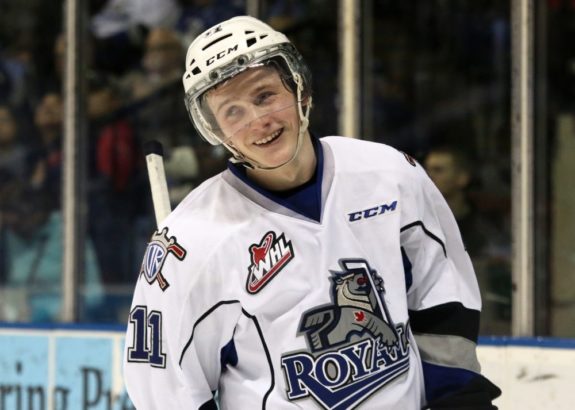 Linemates throughout much of their WHL careers, Phillips and Soy formed two-thirds of a dynamic Royals top unit, oftentimes centered by playmaker Dante Hannoun.
Using his great speed and release, Phillips followed up his freshman showing by scoring 50 times in 2017-18, which broke Soy's record of 46 from the previous season and earned him the Royals' MVP title. His 90 points that season still ranks fourth in club history. After the Royals were eliminated from the playoffs, the Flames added Phillips to the roster of their American Hockey League affiliate Stockton Heat, where he saw action in one regular-season game plus two playoff contests.
Phillips was named Royals captain to start the 2017-18 season upped his game again, registering 112 points. That established the new franchise record, while Soy's output of 92 that same season, ranks second.
The two-time WHL first-team all-star made the jump to the AHL as a 20-year old in 2018-19 and has played the past two seasons in Stockton, posting 28 goals and 61 points in 103 games. The Flames recalled Phillips in December of 2019, but he did not dress for a game. With a little more seasoning, he figures to get his shot in Calgary very soon.
Griffen Outhouse
Goaltending: Career Games Played, Wins, Shutouts, Single-Season Wins
Another member of that core with Soy and Phillips who led the Royals during Dave Lowry's tenure as head coach was goaltender Griffen Outhouse. He enjoyed one of the winningest careers for a goaltender in WHL history and re-wrote the Royals goaltending record books.
Outhouse played his way onto the team as a 17-year old in 2015-16 and won 18 games in 27 appearances in support of primary starter Coleman Vollrath. After Vollrath graduated at the end of that season, Outhouse seized the net and never gave it back.
A workhorse throughout his career, Outhouse appeared in 60-plus games for two straight seasons (2016-18) before playing 46 in his overage season, taking home team MVP honors. The product of Likely, B.C. put up the top-two seasons for wins by a Royals goaltender in successive campaigns, winning 34 in 2016-17, and 35 the following season. Outhouse owns the Royals record for career wins by a wide margin with 114.
Outhouse collected a team-record 10 shutouts along the way and was known for his acrobatic saves that landed him on the highlight reel with regularity. He also appeared in 30 playoff games, tops among Royals' netminders.
After his final season in Victoria, Outhouse split one season (2019-20) between the ECHL and AHL affiliates of the Winnipeg Jets before opting to play U SPORTS at the University of New Brunswick.
Next Wave
The Royals have been retooling since Outhouse, the last of their three stars, graduated two seasons ago. The boldest move was made by former general manager Cam Hope, who landed former Ducks first-rounder Brayden Tracey at the 2020 trade deadline, in the second-biggest blockbuster trade in franchise history. In His last two significant moves in his eight seasons with the club, Hope unloaded top-scorer Kaid Oliver and tenured defenseman Mitch Prowse.
Head coach Dan Price inherited the GM position and has tinkered with the roster, including the acquisition of the rights to defenseman Wyatt Wilson in June.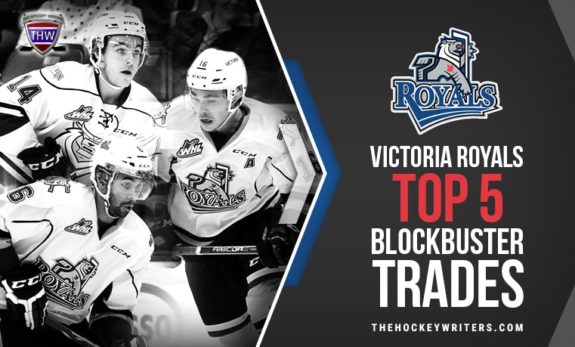 No player currently with the Royals is within striking distance of any of the club's career marks, suggesting that those will stand for some time to come. If the WHL receives government and health approval to play in B.C. in 2020-21, as is the case in Saskatchewan, perhaps the next wave of young stars will begin to emerge.
---
---
Jonathan covers the Saskatoon Blades and the Victoria Royals of the WHL. He has extensive experience in hockey and sports journalism and broadcasting. This includes bylines at Sports Spectrum, Toronto Blue Jays, Victoria Grizzlies, DUBNetwork as well as a long-time role with the Canadian Baseball Network.