Only a week ago, the New York Rangers were in a great spot, having defeated the Montreal Canadiens in six games in the first round of the Stanley Cup Playoffs. Their three straight victories to close out the series were a result of head coach Alain Vigneault making the proper adjustments after the team had fallen behind 2-1 in the series.
One week later, the narrative around the Rangers has changed, as it commonly does for all teams in the volatile Stanley Cup Playoffs. If there is anything to be gleaned for those residing in Rangerstown, with their club down 2-0 against the Ottawa Senators, it's that Vigneault still has a lot to figure out if this team is going to continue deeper into this postseason.
Indefensible Defensive Decisions
Skjei It Ain't So
Rookie defenseman Brady Skjei and trade-deadline acquisition Brendan Smith have formed a solid pair on the blue line for the Rangers throughout this year's playoffs. Skjei, in particular, has impressed with sound play in his own end and significant contributions on offense (his four goals in eight postseason contests lead the team).
Sure, Skjei has had some hiccups in his own end, such as an accidental shot on his own goalie in Game 1 against the Senators, and his inability to keep Mike Hoffman from driving the net for an eventual goal by Marc Methot in Game 2.
Brady Skjei accidentally fires a shot on Henrik Lundqvist. #NYRangers pic.twitter.com/ABSIguQGrd

— Grady Sas (@GradySas) April 28, 2017
Still, though, Skjei's good moments outweigh the bad ones. His elite skating ability and defensive awareness have also been on display against the Senators. Perhaps no single sequence illustrates his abilities better than the one that culminated in his second goal of Game 2.
Skjei broke up a Senators three-on-one rush as the lone defender and then skated the other way as the Rangers regained possession for a rush of their own. He received a pass from his partner, Smith, and then made a nifty move to get around a sliding defender before wristing it home for a 5-3 Rangers lead that seemed to provide enough breathing room at the time.
One would rightfully assume that this type of play and ability would earn Skjei more minutes. Vigneault, however, somehow did not see things the same way.
Skjei and Smith had the two lowest total ice times out of all Rangers defensemen in Game 2. In the double-overtime affair, Skjei played just over 22 minutes while Smith played south of 21 minutes. Nick Holden and Marc Staal, meanwhile, played over 28 and 26 minutes respectively despite their very shaky play, especially as a pair.
Disconnect Between Stats and Ice Time
What makes this situation all the more baffling is that before Game 2, Vigneault said he looks at scoring chances when evaluating player and team performance.
Consider Alain Vigneault *not* part of the analytics community. #NYR #NHL pic.twitter.com/1ajcN52Hh7

— Brett Cyrgalis (@BrettCyrgalis) April 29, 2017
OK, that certainly doesn't seem unreasonable. So let's look at the scoring chance percentages for the Rangers' defensemen in Game 2 (i.e., the number of scoring chances the Rangers had when the given player was on the ice, as a proportion of total scoring chances that occurred for either team while the player was on the ice).
According to Natural Stat Trick, Skjei's scoring chance for percentage (SCF) at five-on-five play was an outstanding 68.75 percent (11 chances for, five against). That was the best mark among all Rangers defensemen. In addition to that, four of those 11 scoring chances for the Rangers were of the high-danger variety, while the Senators only had one high-danger chance while he was on the ice.
Smith, meanwhile, had a respectable five-on-five SCF mark of 52.38 percent. Holden and Staal, meanwhile, had the two worst marks not only among Rangers defensemen, but among the entire team (33.33 percent and 31.58 percent, respectively). Holden was on the ice for four high-danger chances against while Staal was on the ice for three.
What could possibly justify Holden and Staal getting more ice time than Skjei and Smith? There is not a readily apparent and valid explanation, as the stats fly in the face of Vigneault's pregame comments.
Vigneault also reduced his deployment of Skjei and Smith even more dramatically late in the game. Skjei did not see the ice for the last 6:48 of regulation, even after his awesome display earlier in the third period. Smith, meanwhile, was stapled to the bench for the final 5:37 of regulation.
Of course, the Senators scored two goals to tie the game in the final minutes while Skjei and Smith were sitting as spectators. Then, in the second overtime period, it was a terribly ill-advised pinch by Holden that led to a Senators two-on-one, where Jean-Gabriel Pageau sniped home the game-winner. Incredibly, the goal was Pageau's fourth of the game.
— Shayna (@hayyyshayyy) April 30, 2017
The lack of ice time for Skjei and Smith down the stretch, while the Rangers were protecting a lead, was eerily similar to Game 2 of the previous round. In that game against the Canadiens, Skjei and Smith also saw limited action late, and the Habs tied the game before winning it in overtime. Vigneault does not seem to have learned from that debacle, as it cost him and the Rangers yet again.
Inexplicable Forward Deployment
Vigneault's questionable (to be kind) deployment decisions in Game 2 were not limited to his defense corps. Oscar Lindberg, a consistently effective and reliable player for the Rangers, played only 5:07 for the entire game. Similarly, Pavel Buchnevich, who Vigneault unfairly keeps on a short leash, only saw the ice for 5:46 in total. Jimmy Vesey also did not get on the ice again after 7:28 had elapsed in the first overtime period.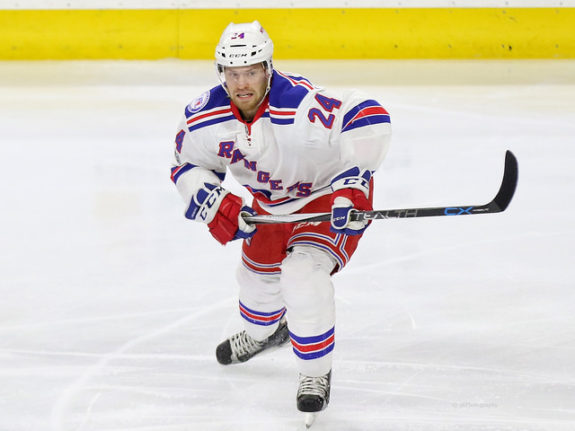 During five-on-five play, the Senators did not have a scoring chance while Lindberg was on the ice in his limited minutes. The Rangers, meanwhile, had four. Buchnevich and Vesey each had a SCF percentage of 50 percent—not great but certainly not egregious enough to warrant such benchings, particularly in a double-overtime game where fatigue becomes a factor.
It's vital to be able to roll four effective forward lines, especially in the postseason and even more so in long overtime games. For Vigneault to bench multiple forwards and give the Rangers a self-induced shortage of skaters was counterintuitive to everything regarding the situation in which the Blueshirts found themselves. It's no surprise that no one could get back to negate the game-deciding two-on-one rush for the Senators; they had to have all been depleted.
Vigneault made the right moves against the Canadiens, outcoaching Claude Julien and propelling the Rangers to a series victory as a result. Now, he is being thoroughly outcoached by Ottawa's Guy Boucher. Vigneault needs to learn from his mistakes and stop favoring veteran players (despite what completely contradictory explanation he provides). Instead, he needs to deploy his players based on what they actually do on the ice. Otherwise, this series could be over quickly.