The Washington Capitals are coming off a weak season that they're quickly looking to put in the past and move on from in hopes of finding success in 2023-24. With the eighth overall pick in the 2023 NHL Entry Draft and some solid selections throughout the entire draft, the Capitals were able to strengthen their prospect pool after coming out of last season as one of the weakest. With Connor McMichael and Aliaksei Protas making their way into the NHL and having graduated from "prospect" status, they are looking to maintain a strong pipeline without the two.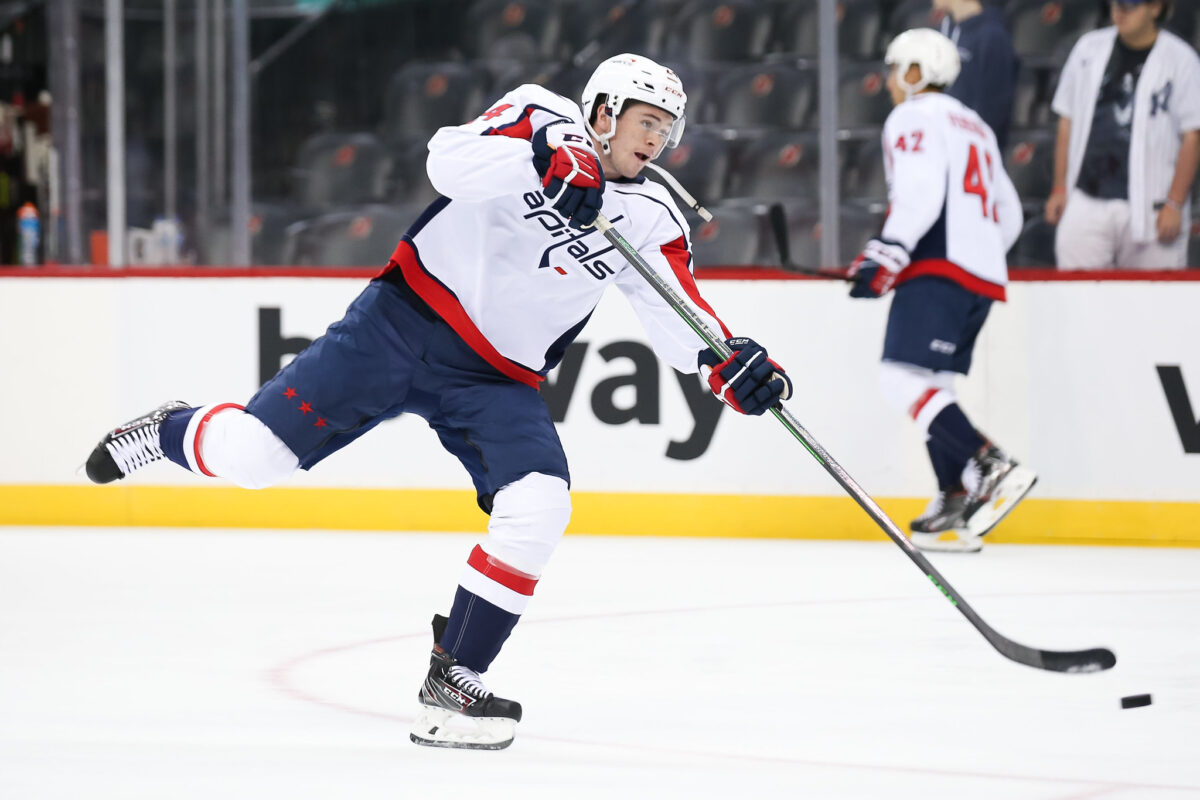 With the draft now over, it's time to take a look at the top prospects within the Capitals organization. To do so, let's define what a prospect is. For the purposes of this list, as mentioned by The Hockey Writers author Marcus Ashpaugh in his article, we'll go with Corey Pronman's rules as a guide: A player is considered a prospect if he has played less than 25 games in one campaign (regular season and playoffs combined), less than 50 games total in their career, and is 25 years old by Sept. 15 (from "Pronman: 2019-20 NHL Farm System Rankings").
10. Ludwig Persson
2022 3rd Round, 85th Overall
Age: 19
Height: 6-foot-0
Weight: 185 pounds
Position: Center/Left Wing
Ludwig Persson most recently played with BIK Karlskoga in the HockeyAllSvenskan league in Sweden where he scored four goals and added 11 assists for 15 points through 45 games. He will likely play with the Capitals minor league team the Hershey Bears in the American Hockey League (AHL) this season and will look to prove himself as more than just a career AHL player. He is best known for his solid playmaking abilities but will need to strengthen the other areas of his game if he plans to ever try and make a jump to the NHL level.
Potential: Bottom-Six/13th Forward
9. Cam Allen
2023 5th Round, 136th Overall
Age: 18
Height: 6-foot-0
Weight: 194 Pounds
Position: Defense
Cam Allen most recently played for the Guelph Storm in the Ontario Hockey League (OHL) where he scored five goals and added 20 assists for 25 points through 62 games last season. He earned the opportunity to be team captain of the U18 team for Team Canada at the World Junior Championship where he had four assists through seven games. As a late-round pick, he has a long path to the NHL, but he is a solid two-way defender who just needs to clean up the small areas of his game.
Potential: Top-Six Defenseman
8. Henrik Rybinski
2019 5th Round, 136th Overall (Panthers selected him, Capitals signed him in 2022)
Age: 22
Height: 6-foot-1
Weight: 172 Pounds
Position: Winger/Center
Henrik Rybinski is coming off his first season of professional hockey where he spent the year in the AHL with the Bears. In 51 games, he scored five goals and added 13 assists for 18 points. He earned a reputation as a solid offensive producer during his time in the Western Hockey League (WHL) split between the Seattle Thunderbirds and the Medicine Hat Tigers where over five seasons, he scored 50 goals and added 126 assists for 176 points through 233 games which comes out to a 0.76 points per game average.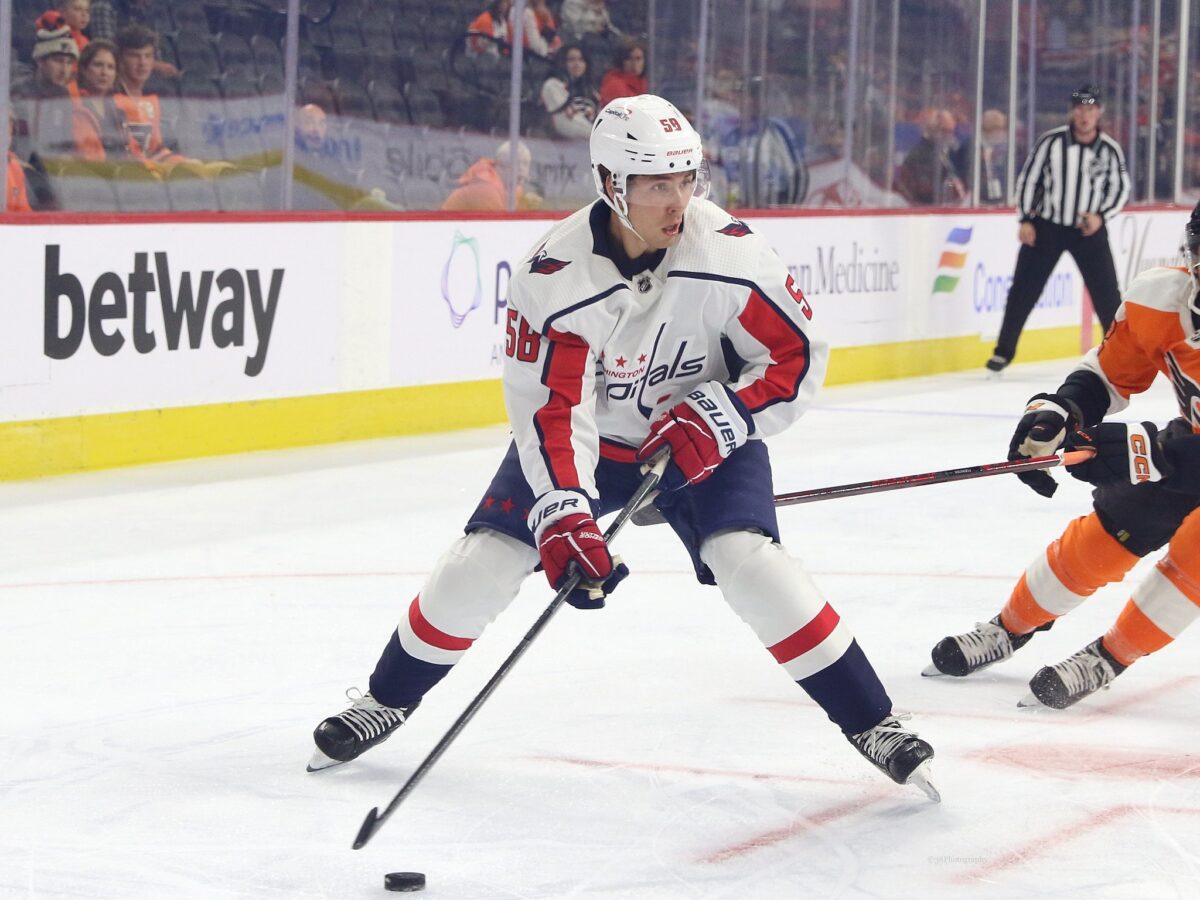 He is a solid player that, if he continues to improve, could become a solid bottom-six contributor. He needs to try and fix up his defensive game a bit and work on his skating, but as he improves on his play in the minors, he will slowly move up this list.
Potential: Bottom-Six Forward
7. Ryan Chesley
2022 Round 2, 37th Overall
Age: 19
Height: 6-foot-0
Weight: 200 Pounds
Position: Defense
Ryan Chesley most recently played in the NCAA with the University of Minnesota where last season, he scored two goals and added ten points through 36 games. He doesn't put up many points but is a really strong stay-at-home defenseman that can be relied on to be mistake-free during breakouts from the defensive zone.
Potential: Bottom-Four Defenseman
6. Alexander Suzdalev
2022 Round 3, 70th Overall
Age: 19
Height: 6-foot-2
Weight: 176 Pounds
Position: Left Wing
Alexander Suzdalev made a huge jump last season in his first year playing in North America. He scored 38 goals and added 48 assists for 86 points through 66 games with the Regina Pats of the WHL. He finished the season second on the team in goals and points, as well as fourth in assists. He is a creative offensive forward who will be looking to step up even more with another solid season with the Pats.
Potential: Third-Line Scoring Forward
5. Hendrix Lapierre
2020 Round 1, 22nd Overall
Age: 21
Height: 6-foot-0
Weight: 185 Pounds
Position: Center
---
Latest News & Highlights
---
Hendrix Lapierre is one of two players on this entire list that have played a game with the Capitals already. He scored his first NHL goal and that was his only point when he played six games with the team during the 2021-22 season. Last season, he scored 15 goals and added 15 assists for 30 points through 60 games with the Bears in the AHL. He will likely get a shot with the Capitals this upcoming season, but he has to beat out a couple of solid players to earn a spot on the roster for opening night.
Potential: Middle-Six Forward
4. Vincent Iorio
2021 Round 2, 55th Overall
Age: 20
Height: 6-foot-3
Weight: 201 Pounds
Position: Defense
Vincent Iorio is the only other player on this list with NHL experience. He played three games with the Capitals last season notching one assist, and then spent the rest of the season in the AHL with the Bears. He scored two goals and added 20 assists for 22 points through 63 games with the Bears last season.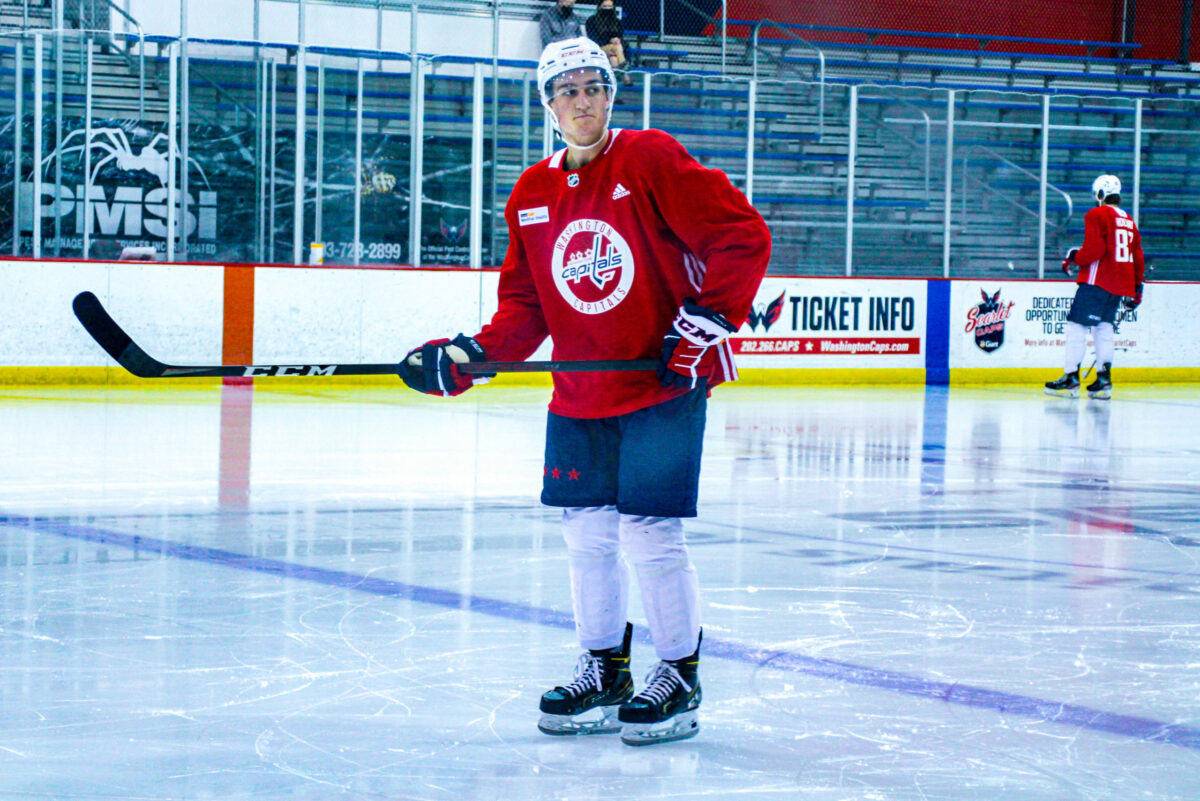 A solid, big defender, Iorio will have a chance to make the Capitals' roster right out of training camp. He played well defensively when he was called upon during the three games last season, but he'll have to beat out some players that are considered locks in order to crack the roster in 2023-24. More than likely, he'll end up playing one more full season with the Bears and be the first defenseman they call up in case of injuries.
Potential: Top-Four Defenseman
3. Ivan Miroshnichenko
2022 Round 1, 20th Overall
Age: 19
Height: 6-foot-1
Weight: 194 Pounds
Position: Left Wing
If not for his unfortunate health scares around the time of his draft year, I am confident Ivan Miroshnichenko would be in the NHL already. He is a warrior that battled his way back to playing hockey and will play his first season in North America this upcoming season. He is coming off a solid campaign where he scored ten goals and added four assists in the MHL with Omskie Yastreby through 12 games as well as three goals and one assist through 23 games with Avangard Omsk in the Kontinental Hockey League (KHL).
Potential: Top-Six or Middle-Six Forward
2. Andrew Cristall
2023 Round 2, 40th Overall
Age: 18
Height: 5-foot-10
Weight: 174 Pounds
Position: Left Wing
Andrew Cristall was a projected first-round lock heading into the 2023 NHL Entry Draft, so for day one to come and go without his name being called was a surprise. For the Capitals to get him eight picks later at 40th overall, it was shocking, but it was a phenomenal selection. He is considered an offensive powerhouse, who is coming off a really impressive campaign with the Kelowna Rockets of the WHL where he scored 39 goals and added 56 assists for 95 points through 54 games, and was an alternate captain.
Potential: Top-Six Forward
1. Ryan Leonard
2023 Round 1, 8th Overall
Age: 18
Height: 6-foot-0
Weight: 190 Pounds
Position: Center
Ryan Leonard was not expected to be on the board at eighth overall when the Capitals were selecting. In Leonard, they have gotten a future stud who, after he fine-tunes the little areas of his game, will be a force to be reckoned with in the NHL. In 57 games in the National Team Development Program (NTDP), he scored 51 goals and added 43 assists for 94 points. In the U18 tournament where he represented the United States as an alternate captain, he scored eight goals and added nine assists for 17 points through seven games.
Leonard is easily the best prospect the Capitals have and will be a difference-maker when he's ready to make the jump to the NHL a couple of seasons from now.
Potential: Top-Line Forward
Honorable Mentions
Ryan Hofer – Center (WHL)
Brent Johnson – Defense (NCAA)
Joaquim Lemay – Defense (NCAA)
Brett Hyland – Left Wing (WHL)
Final Thoughts
The Capitals had one of the weakest prospect pools before the 2023 NHL Entry Draft. With it now concluded, they have been able to not only strengthen their pipeline and breathe a little easier looking into the future but have likely found themselves two future studs in Leonard and Cristall. With the aging core on its way out and looking to make one final push before the inevitable long rebuild, they have a stronger prospect pool than many may realize.