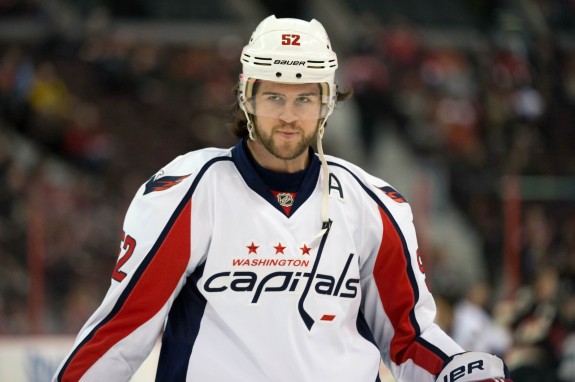 Even as we hit the two week anniversary of the New York Rangers advancing to the third round of the Stanley Cup playoffs, it still hurts. All the Capitals needed was one win out of three, and they couldn't get it done. Again.
Yes, this season is significantly better than last season and, yes, this season had tied 2012 with the best playoff run in the Alex Ovechkin era. Most importantly, Barry Trotz is significantly better than Adam Oates and Dale Hunter combined in terms of tactical nous and individual player development at the NHL level. That is what will make the Capitals better in the long term.
That being said, there is no doubt that Trotz got out-coached by Alain Vigenault in the playoffs. Vigenault's team stole the playbook on how the Capitals execute their breakout, and it changed the whole series. It is critical that the Capitals stop being predictable in this department heading into next season. What also hurt Trotz all season, let alone the Rangers series, was his lack of trust on younger players that, beyond a shadow of a doubt, have proven that they can outperform their veteran brethren and should have been getting more playing time.
Next year will prove whether the youngsters are ready for bigger roles as many pieces on the roster will be moving around due to free agency or trade. Washington may have over $21 million in cap space (assuming Gary Bettman keeps his promise of having the salary cap at $71 million), but that will be doled out to nine roster spots and, at least, two of them will be asking for over $5 million per season. With that in mind, here are the six most important free agents that general manager Brian McClellan will have to prioritize this off-season.
6. LW Marcus Johansson
It's pretty unbelievable that it has been five years since Marcus Johansson joined the team as a 20-year old rookie. Now at 24, Johansson had, by far, his best season ever. Despite producing his first 20-goal season, his relative puck possession is still not great and even when delivering on Trotz's suggestion of throwing more pucks to the net, it was still less than two shots per game in all situations and Johansson had another sub-par postseason. At such a young age, he still has room to grow, but Johansson and his agent will use that to suggest that his salary should be higher than the $2 million cap hit he has right now. Players that have performed at his level usually have been getting roughly $3-$4 million and that could be above Washington's budget when it comes to dollar's per roster spot. Thank goodness he's a restrictive free agent.
5. LW Evgeni Kuznetsov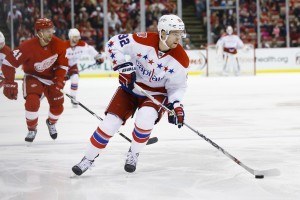 With Evgeni Kuznetsov, Washington can have the benefit in stating that his lack of NHL experience will be enough to give him a cheap offer. Again, though, this is an offer that has to be correct so that Washington can afford their more important free agents. At this point, $1-$2.5 million sounds pretty reasonable for Kuzya. Remember, it wasn't until March that he began to tear it up on the score sheet and he hasn't shown signs that he can be a complete driver of puck possession. Brad Marchand is a good example to look at when finding a comp with Kuznetsov during their developments into their careers. Both were undersized, both were horribly undervalued by their coaches despite their fantastic numbers from other leagues and both needed a full regular season and an outstanding playoffs to prove their worth in the NHL. For Marchand, his 2011 season resulted in an extension that only gave him a $2 million cap hit. Unless Kuznetsov desperately wants to move back to Russia, this should not be a difficult negotiation.
4. RW Joel Ward
This is where things get tricky for Brian McClellan and his staff. Joel Ward will be 34 years old, but he is a Swiss army knife within the Capitals forward ranks. Play alongside Ovechkin and Backstrom and he will score goals. Play with Eric Fehr, Brooks Laich and/or Jason Chimera and he will shut down scoring lines with the best of them. Oh, and he's probably one of the best penalty killers on the team. This is why I don't mind if he comes back despite a desperate need for younger players on the roster. However, Ward made $3 million as a potential bottom six forward that will step up come playoff time (because everyone is smart enough to predict that it will always happen). If he were to be expected to play bigger minutes, Ward will demand a higher salary. If that is the case, you have to let him walk under any circumstance. Until then, here's hoping he gets the Mike Knuble contract from 2009.
3. D Mike Green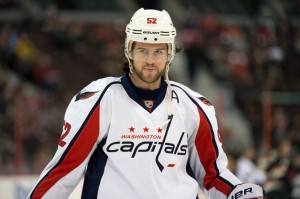 Here's the deal. Mike Green is not coming back, and it is all McClellan's fault. A good section of Capitals fans and the incredible majority of the hockey world think that Green is the embodiment of what is wrong with the Washington Capitals because of his vast amount of turnovers that lead to opposing goals. Just keep forgetting that Green has been injured for a good portion of the last four years and he has had to go through two of the most damaging coaching hires in team history that have prevented him from joining the rush better almost any defenseman in the world. Add the fact that he continues to be the team's best puck possession player and goal scorer from the back-end and is the best option from the point on some of the best power play units in the analytics era and Green should be seen as the best free agent commodity this summer.
Because Brooks Orpik and Matt Niskanen signed major long term deals that will run out when they turn 38 and 34, respectively and that John Carlson and Karl Alzner will be asking for similar deals in the future, it was set in stone what will happen to Green in the long term. Fortunately, Washington has Nate Schmidt, Dmitry Orlov and Kelowna Rockets superstar Madison Bowey ready to compete for his spot next season and play hockey at, at most, half as much as Green will in the short term and/or long term. Since last summer, handling Green's next contract was always going to be a financial decision and never an evaluation on performance.
2. LW Eric Fehr
Now you might find it odd that Fehr is the second most important free agent the Capitals will have to bring back, but check this out. It was almost two years ago that Washington traded for a fourth-round pick from Anaheim for cheap depth forward Mathieu Perreault. That fourth round pick was sent back to them to get rental Dustin Penner, but it's what Perreault has done afterwards that was so damaging to Washington and to George McPhee's future as a general manager at the NHL level. With increased playing time and consistently strong puck possession and goal scoring numbers at five-on-five, Perreault has become one of the most underrated and analytically beloved players in hockey while only making $3 million per season for two more years while turning 27 in January. Think about how much less homework McClellan would have done and how much more time could be added to see if Tom Wilson really was a top six forward if Perreault was still on the team and was trusted by the coaching staff?
The same fate that Perreault experienced could happen to Fehr if someone else snatches him up after only getting paid $1.5 million last year. Like Ward, Fehr can do just about everything a coach could ask of him and has proven earlier in the season that he can be a productive member of the team's top line when counted upon. With an extensive injury history and the fact that he'll be 30 in September, it will be fascinating to see where his salary is projected to go.
1. G Braden Holtby
He is the straw that stirs this whole drink. Whether you think he's good enough or experienced enough, Braden Holtby has to be given the most fair deal possible. In Holtby's case, and rightfully so, it will be for whatever the best goaltenders in the NHL make. Of the 10 goaltenders that have played more than Holtby's 178 regular season games up until their age-25 season, six of them would either start or be in the middle of a contract that is five years or longer. Five of those original ten also averaged over 0.19 point shares per 60 minutes during that span. Of those five, all but Kari Lehtonen would go on to receive or be in the middle of a contract that gave them a cap it over $5.6 million. Holtby has shown that he has been one of the best young goaltenders in the NHL for the last three seasons and with the 73 regular season games played last season, he has more than shown that he should be the cornerstone of a franchise. I would not right off the fact that he could make $6.5 million or even $7 million. Anything higher than that might cause all of twitter and, maybe, the internet to explode. Either way, once Holtby's contract is taken care off, everything else follows.
The further you go down the list, the more you can see how such a large amount of cap space gets smaller and smaller. Amongst the other free agents, it is clear that Tim Gleason, Curtis Glencross and John Erskine should not come back. Jay Beagle becomes expendable as soon as anyone else offers him over $1.5 million, and Nate Schmidt will struggle to make over $1.25 million because of his lack of NHL experience.
What do you think? Is this the right order of importance amongst the Capitals free agents? How much is each player worth? What else should the Capitals consider doing this off-season? How about the draft? Write a comment below to let me know your thoughts.
Ben covers the Washington Capitals at the hockey writers. He has been blogging about the NHL since March 2013. Follow him @DCSportsDork