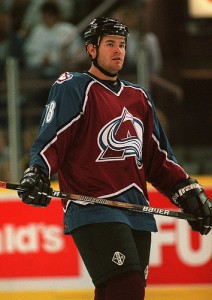 In the world of professional sports some players seem to play for a lifetime.  Other players seem to have their careers unfortunately cut short.  One such player in the NHL was Adam Deadmarsh.
Deadmarsh burst onto the NHL season on January 25, 1995 with the Quebec Nordiques after being drafted 14th overall in the 1993 NHL Entry Draft.  As a rookie Deadmarsh put up respectable numbers finishing with 9 goals and 17 points in 48 games.  Even more impressive was his two-way play, he finished a +16.  It wasn't his numbers that impressed the fans, however, it was his aggressiveness, willingness to do the dirty work and stand up for his teammates that made him a fan favorite quickly.  Unfortunately, the Quebec hockey fans would only get to see him up close for these 48 games and another 6 in the playoffs.
The following season, the Quebec franchise would move to Denver, Colorado and be renamed the Avalanche, but more on that later….
Deadmarsh played his major junior hockey with the Portland Winter Hawks of the WHL.  He began as a 16 year old during the 1991-92 season and scored 30 goals and 60 points, adding 111 penalty minutes in 60 games.  He followed that up with a point-per-game performance in the playoffs with 6 points in 6 games.  The following year he improved to 69 points in 58 games during the regular season and 15 points in 16 games during the playoffs.  He much improved second year in the WHL resulted in his being drafted in the first round by Quebec.
His third season in the WHL would be his breakout season with 99 points and 212 penalty minutes in only 65 games and another great performance in the playoffs with 17 points in 10 games.  Deadmarsh's last season in the WHL would see him play 29 games, scoring 48 points, before making his debut with the Nordiques.
During this time Deadmarsh also would gain some international experience playing for the United States under-20 team at the World Junior Championships in 1993, 1994 and 1995.  While born in Canada, Deadmarsh had dual citizenship since his father is Canadian and his mother American.  Deadmarsh previously represented the Canadian Pacific under-17 Midget team at the 1992 World Hockey Challenge and helped lead the Canadian under-18 Junior team to a gold medal at the 1992 Pacific Cup.
During Deadmarsh's sophomore year, the franchise's  first in Colorado, he would go on to score 21 goals and 48 points, a great improvement from his rookie year, and a key factor in the Avalanche winning the Pacific Division title.  However, it was in the playoffs where he would make a huge impact.   Playing most of the postseason on a line with Joe Sakic, Deadmarsh would score 17 points in 22 games to help lead the Avalanche to a Stanley Cup Championship, sweeping the Florida Panthers after a brutal series with the Detroit Red Wings in the Western Conference Finals.  On a team loaded with star players like Sakic, Peter Forsberg and Patrick Roy, many people (those outside of Denver, anyway) overlooked just how good of a player Deadmarsh was during this time.
His celebration did not last long, however, as Deadmarsh was invited to join Team USA for the the first World Cup of Hockey in 1996 (previously the Canada Cup).   He would score 2 goals and 4 points in 7 games, helping Team USA win the gold medal.  He would also play for Team USA in the 1998 and 2002 Olympic Games, winning a silver medal in 2002.
During the 1996-1997 season, Deadmarsh would follow up a Stanley Cup Championship by leading the Avalanche with 33 goals as the team won the Presidents' Trophy with a league best and franchise record 49 wins and 107 points. He would also set a career-high 60 points. In the playoffs, he scored nine points as the Avalanche advanced to the Western Conference finals before losing in a rematch to the eventual Stanley Cup Champion Red Wings.  Deadmarsh would go on to have three more solid seasons with the Avalanche franchise.
After six seasons in Colorado/Quebec, Deadmarsh was traded to the Los Angeles Kings midway through his seventh season with the organization.   While the Avalanche did receive Rob Blake in the deal, who helped them win another Stanley Cup, the fans would miss what Deadmarsh constantly brought to the team.  He was so popular with the fans in Denver that he had a line of pickles named after him, "Deadmarsh Deli Dills," and a line of tie-dyed t-shirts with "Grateful Deadmarsh" on the front are collectors items to this day.
Deadmarsh would play parts of 3 seasons with the Los Angeles Kings.  The LA fans will always consider him a playoff hero for their upset of the Detroit Red Wings in the 2001 playoffs, after trailing late in Game 4 by three goals while his team was already down two games to one.  Deadmarsh would be his usual solid, consistent self during the 2001-02 season, his first full year with LA, in which he scored 29 goals and 62 points in 76 games, while playing on the top line with Jason Allison and Ziggy Palffy.
The following season, Deadmarsh would put up the best goal-per-game numbers of his career, unfortunately, it was in only 20 games.  Deadmarsh would go on to miss most of the 2002–03 NHL season and the entire 2003–04 NHL season due to two concussions. The next season was canceled completely due to the NHL lockout.  Still having concussion like symptoms 3 years later, never recovering from being accidentally kicked in the head by a teammate at practice, he (unofficially) announced his retirement on September 22, 2005.  Deadmarsh was honored by both his former teams on March 20, 2006 before a game between the Avalanche and Kings at Staples Center in downtown Los Angeles, California for his dedication to both teams.
The love for Deadmarsh by the fans in Denver is stated best in a May 26, 2009 article in the Denver Post by Irv Moss, "It has been eight years since Deadmarsh played for the Avalanche, but the memories still seem fresh. The floppy hair, the pigeon-toed skating stride, the aw-shucks grin — any Avs fan worth their salt instantly knew them as "Deader" trademarks."
Deadmarsh has made peace with how his career ended and spent a couple years away from hockey living a quiet life, primarily in Idaho, with his wife Christa and twin daughters Alexis and Madison.   Deadmarsh dabbled in the construction business during this time but hockey never left his heart.
On June 19, 2009, it was announced that Adam Deadmarsh was returning to the Avalanche organization in a coaching role.  He was named Video and Development Coach.  Those of us who saw the determination Deadmarsh put out on the ice believe that this position is only a pit stop for him on the way up the coaching ladder.  I doubt you will find an Avalance fan out there who would be surprised if "Deader" ended up being a head coach for their team some day.
For Deadmarsh's career stats refer to The Internet Hockey Database
A nice tribute to "Deader" on YouTube
photo of  Adam Deadmarsh courtesey of  Håkan Dahlström on Flickr